4 years ago · 1 min. reading time · visibility 0 ·
The Portable Boatyard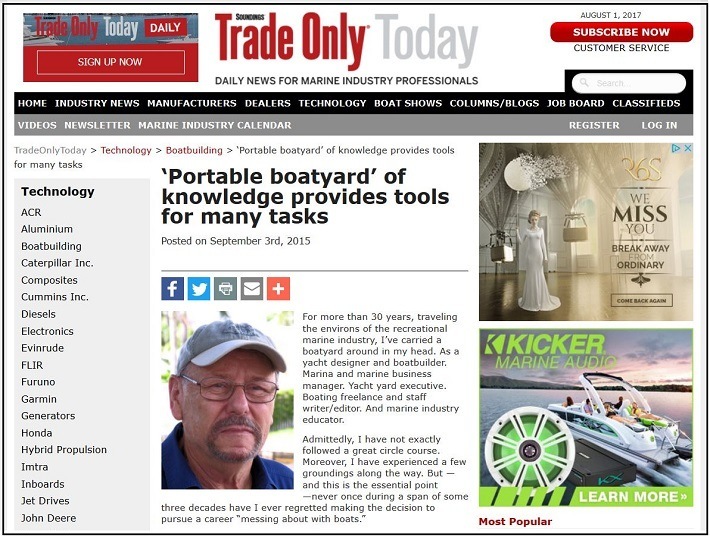 PHIL FRIEDMAN, MARINE INDUSTRY CONSULTANT AND FORMER CEO OF LUXURY YACHT BUILDER, PALMER JOHNSON, SPEAKS TO TRADE ONLY TODAY ABOUT HIS JOURNEY
Never once during a span of some three decades have I ever regretted making the decision to pursue a career "messing about with boats"...


Phil Friedman in Soundings Trade Only Today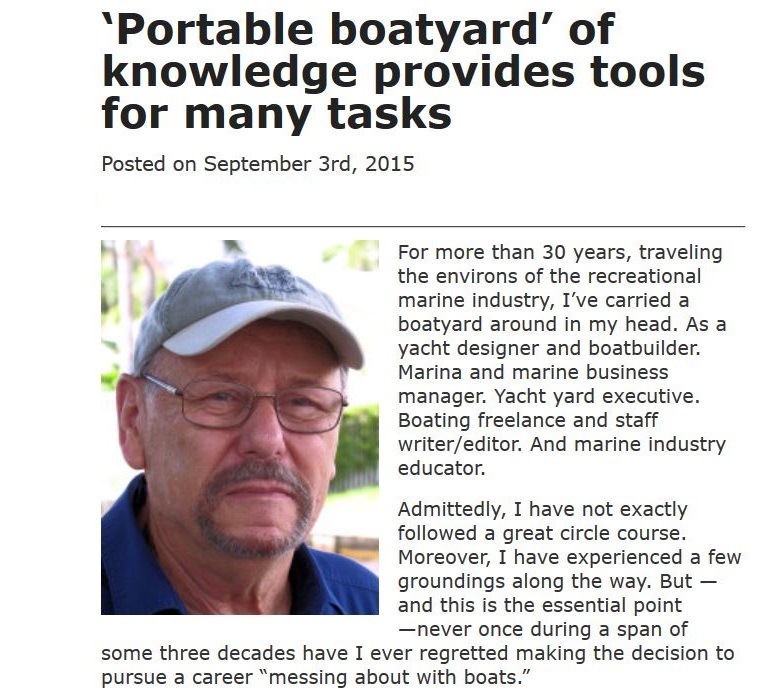 Not exactly an auspicious beginning, but it did lay the seeds of a fascination with boats and boating...


Phil Friedman in The Portable Boatyard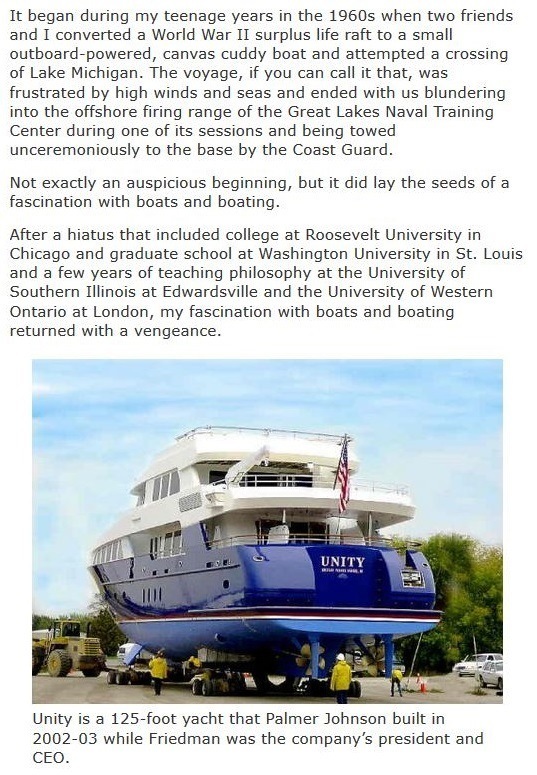 The sum was a "portable boatyard" that I would carry around in my head to this day...


Phil Friedman in The Portable Boatyard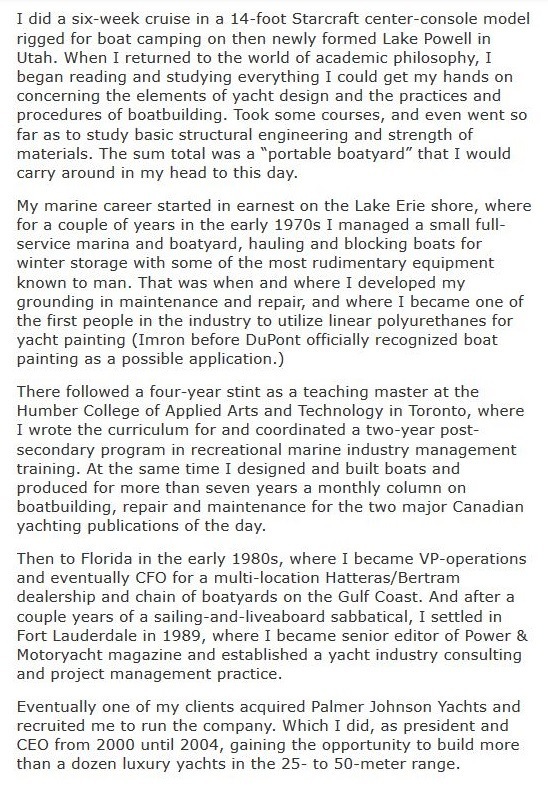 The journey ... is ongoing ...


Phil Friedman in The Portable Boatyard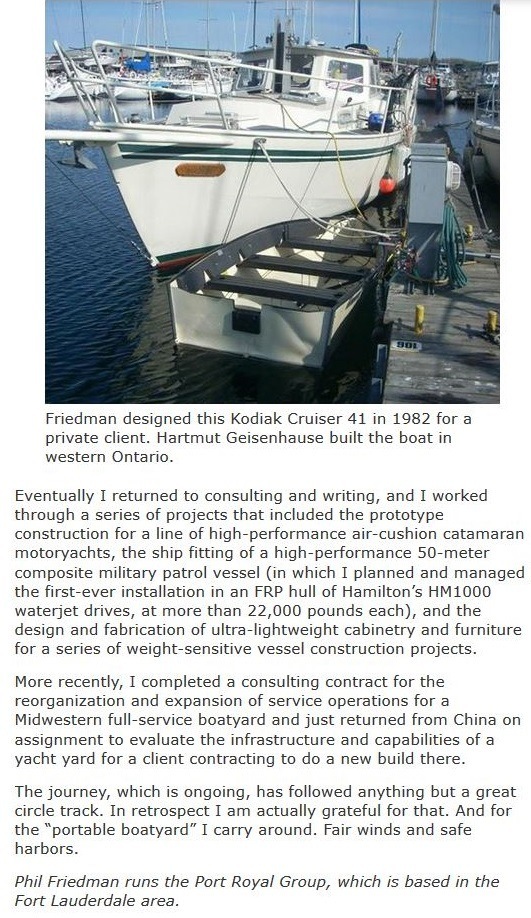 Notes:  If you found this article interesting, you might want to follow Phil Friedman's blog here on beBee, so that you will be notified via email when installments appear. And you might want to take a look at 

Small Solutions... Big Results

You might also be interested in Phil's eBooks:
Ten Golden Rules for Successful New Build Projects
Small-Business Primer: Real -World  Tips for Starting and Running Your Own Small Business

The Portable Boatyard  (scheduled to be published late Fall, 2017)

For information on securing a copy of one or more of these, email phil@portroyalgroup.com and put "eBook" on the subject line.
More about Phil Friedman:  With 30 some years background in small business and the marine industry, I've worn numerous hats — as a yacht designer, boat builder, marine operations and business manager, marine industry consultant, marine marketing and communications specialist, yachting magazine writer and editor, yacht surveyor, and marine industry educator. I am also trained and experienced in interest-based negotiation and mediation. In a previous life, I taught logic and philosophy at university.

Are you starting up or currently operating a marine or other small business and facing a problem or issue on which you could use some help? Consider the limited-time  offer below: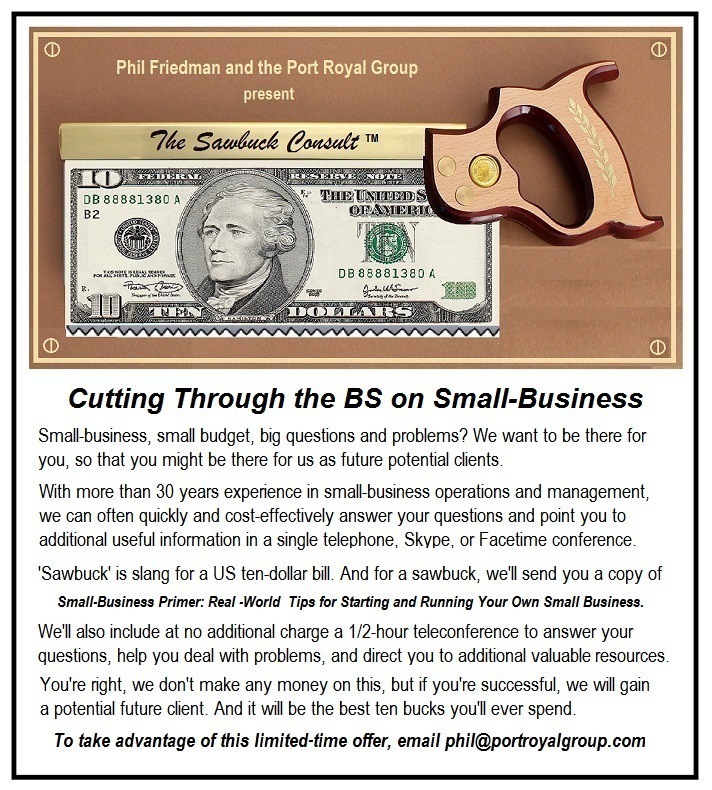 #ENGINEERING #ENGINEERINGSOLUTIONS #MANUFACTURINGSOLUTIONS #BOATBUILDING #SHIPBUILDING #MARINEOPERATIONS #MARINEMANAGEMENT #DESIGNSOLUTIONS ##MARINEBUSINESSCONSULTING #SMALLBUSINESS #BUSINESSMANAGEMENT #BOOSTPROFIT #BETTERBUSINESS  #BUSINESSCONSULTING  #ENTREPRENEURSHIP  #STARTYOUROWNBUSINESS #ENTREPRENEUR #BUSINESSSTARTUP #RUNNINGYOUROWNBUSINESS

"""""""""""""
You have no groups that fit your search