6 years ago · 7 min. reading time · ~10 ·
I Wish, I Wish for... a Perfect Publisher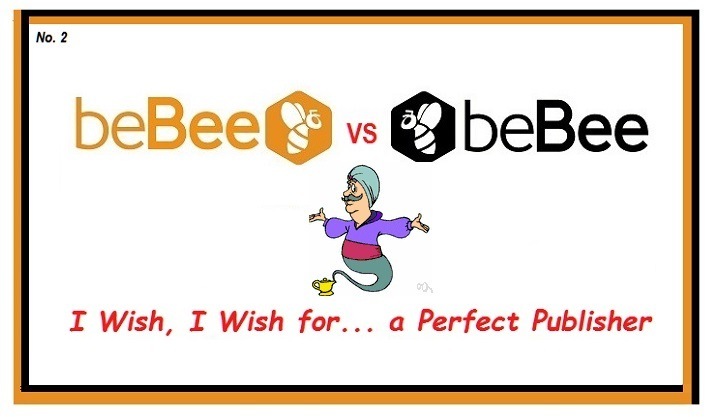 TAKING A LOOK AT WHAT MATTERS MOST TO WRITER-PUBLISHERS ON beBee

Preface: For the record, I'm a beBee booster. Have been since beBee Social Marketing Director John White, MBA first suggested to me that it was going to be a great place for independent writers to hang out. John and I had been online friends on LinkedIn for quite a while at that point, co-members of several groups, and fellow group owners. So I trusted his recommendation, gave beBee a try, and have never looked back. Well, at least, not often, anyway.
However, there are boosters and there are boosters. I've never been of the variety that is all whoops and back slaps. Rather, I am of the variety which believes that caring authentically is evidenced in the willingness and ability to constructively criticize, and to engage in a mutual journey of support and improvement. Be warned that this post is offered in that vein. And if that makes you uncomfortable stop here. 

As a writer —or perhaps more aptly, a professional who writes — the self-publishing function on any social media platform is what attracts me first and foremost. Indeed, I did not become really active on beBee until the Producer function was introduced. But wait, I don't want to get ahead of myself.
I began publishing long-form posts on LinkedIn in April, 2014, when the platform was opened to the first 25,000 independent writers (non-Influencers). And some 80 posts later, I continue to publish there to this day.
In between the time I began on LinkedIn and the time I started seriously on beBee, I took a run at publishing on Medium, although with lackluster results, at best. Starting before my LinkedIn days and continuing into the present, I also published  several industry-specific blogs, on both Blogger and WordPress. And I've also done a fair amount of guest-blogging on websites owned by others, using whatever publishing functions those sites employed.
Consequently, while I do not pretend to be a UX expert — I'll leave UX to John Vaughan — I have accumulated sufficient hands-on experience to know what I like and what I don't like, and more importantly, what works for me, and what doesn't. What follows is my "short list" of essentials. To which I invite you to add yours in the comments following this article. 
First, however, let me detour slightly to a pet peeve I had for almost two years with LinkedIn, and which I'd like to call to beBee's attention here.
As an exercise in updating and comparison, I recently published a piece on "Chasing the Trend" on both beBee's Producer and LinkedIn's long-form publisher, in the native format respectively of each platform...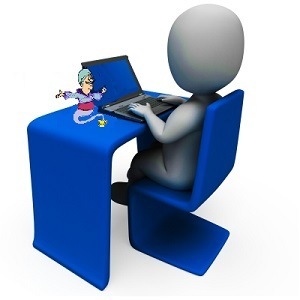 In doing so, I learned that the LinkedIn publisher has been updated recently, and looks and feels more like the publisher on Medium, with fewer obvious composing icons, and to my mind, a much less user-friendly system than before. If I had to guess, the change is likely driven by the desire to make formatting as uniform and automatic as possible, so as to minimize the need to acquire formatting skills as a prerequisite to publishing on the platform. Just rattle off some copy, use one or two composing  functions, and press publish. Maximum quantity of posts onto the platform, and in typical LinkedIn fashion, damn any and all considerations of quality, as though it mattered not a whit.
Anyway, let's not get into all that. Over the last year and a half, I published several rants against LinkedIn management publishing policies, with a resulting fairly high level of engagement among LinkedIn and beBee users. If you've never run across them, and happen to be interested, you can find the relevant links at the end of this article.
Instead, let's talk about a surprising discovery I made when I posted the piece to LinkedIn. One of the evolutions that really ticked off me and a number of other independent writers at LinkedIn was the later LI practice of tagging the posts of anointed Influencers onto the ends of our posts. This, in effect, turned us into warm-up acts for the "main performers".

In other words, when a reader scrolled to the end of one of my pieces, which was what attracted that reader in the first place, he or she would be jumped over onto the post of an Influencer or other LI-anointed writer. This meant that whatever following I personally developed, and whatever attraction my followers felt toward my work —  my "personal brand", if you like — was being subverted and used by LI to promote a group of writers from which I was excluded.

Understand that it wasn't always that way on LinkedIn. Initially, when you scrolled to the end of one of my long-form posts, you found a couple more of my earlier posts. So, if you liked the first one you, you could continue on to read more of my work. But that all changed about four to six months into the life of the long-post platform, and despite my railings and those of other independent writers, the practice continued. Until, apparently, very recently.
When I published my latest long-form post on LinkedIn, this is what I saw...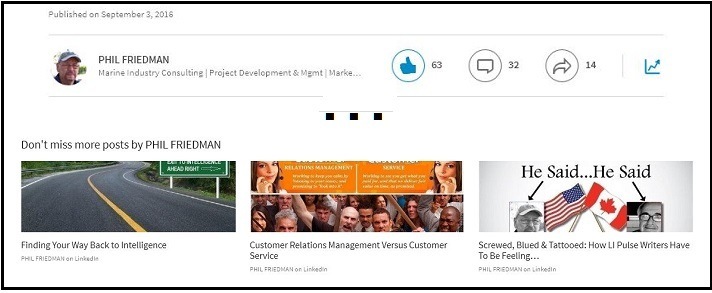 What you see here are the heading and the end of the post. Note that at the end, the LinkedIn Influencers have disappeared, and been replaced by links to three of my earlier posts. Which is the way things were to begin with, before LinkedIn set off on its disastrous course of Influencer-marketing. And which is the way things should be, IMHO.

I doubt that any of my published calls for a return to this practice really played a part in the reversion, although one never knows. What I do know is that it takes someone with publishing sense to understand this particular issue, and so I am hopeful that the reversion is a signal that the new ownership of LinkedIn has brought with it some respect for the core relevance of the publishing function to the overall health of the platform.
Compare my current experience with this post on beBee...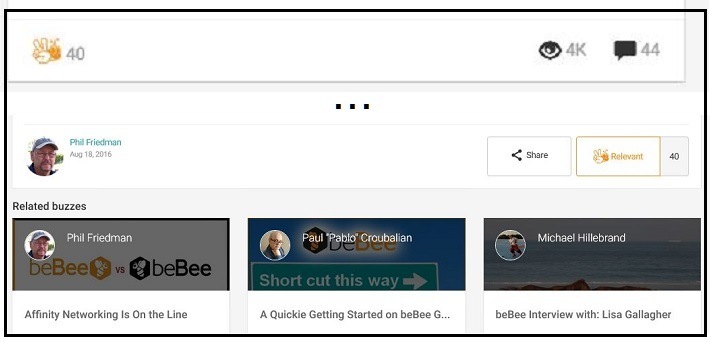 Notice that beBee still uses my post to promote the work of other writers. This is something I find difficult to swallow in its present form.
I understand how promoting the work of a wide variety of writers helps the platform and the community to grow and strengthen. So, I do not have an objection per se to having blurbs about the work of other writers at the ends of my posts. I simply believe that who gets highlighted should be my choice. Provided only that two out of the three notices point to beBee producers other than myself.
I should be able to make those choices immediately prior to publishing a post, just as I choose three hives in which I want to share the piece. And if I fail to make the choices, then the slots should be filled by default by beBee according to whatever system of selection it has in place.
Please understand that I am not necessarily objecting in this case to having, for example, one of Paul Croubalian's posts promoted at the end of my post. Paul and I often comment on, and share each others posts. But speaking bluntly, there are writers out there whom I have actually "muted" in my own feed, and whom I have no interest in, nay, actually object to promoting. Elitist? Absolutely not. Clique-ish? Again, no. If anything, it's a matter of structuring things from top to bottom in the spirit of Affinity Networking. Where affinities should be self-designated and not imposed.
End of gripe and recommendation No. 1...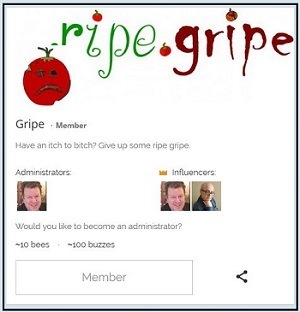 I will be sharing this complaint and suggestion in
Bennie Pinto's Gripe Hive
. And now let's turn to a list of other suggestions in the service of
wishing for a perfect publisher
.
It would be great to have a reliable mechanism for going back to the last saved interim draft. As it stands, if you botch or accidentally delete a section of text, and before you can back out of the draft, the auto-save kicks in, the only version you can recover is the botched one.

It would be great to have better control over the font size of body text. Right now, body text seems to get bigger or smaller at random, no doubt because of some unseen sequence of commands that have been inserted by the publishing software.

It would be advantageous to be able to better control the left/center/right placement of images. Right now some pretty strange things happen in the dynamic reformatting for mobile devices; and the only consistently reliable way to place images is to center them with no text wrapping.

It would be terrific to reach a position of true WYSIWYG, or in the alternative have a "preview" mode that would allow one to see what the published piece will look like, without actually publishing it. Now, at times what one gets is not what one sees in the publisher draft/edit mode.


It would be nice to have some explicit guidelines as to acceptable image sizes (in pixels) that can be accommodated by the publisher.

It would be less aggravating if the publisher accommodated a greater number of symbols such as the em-dash and the international copyright symbol.

It would be helpful to be able to group one's past posts on one's Producer Profile Page in an order other than just chronologically by date of publication. This to facilitate putting together parts of a series of posts, or groups of posts related by general topic or genre.

It would be a big help to authors seeking to build a readership to have available a button for following the author that could be placed in the post itself. 

This list is far from complete, and there may be features suggested that you disagree with. As well, you are cordially invited to add your suggestions, comments, and criticisms to this post.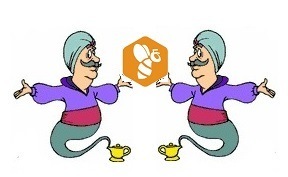 Remember, we are here wishing for the perfect publisher.  As aiming high is always the best way.  — Phil Friedman
Afterword:  Some of the points touched upon here were previously made, in one form or another, by John Vaughan in his article "The Mirror :  100 Posts : Our Content Profile". I highly recommend reading John's post as well, and the long chain of comments attached to it. Most of us recognize that beBee is young and, as such, is a work in progress. What I ask you to keep in mind is that often being constructively critical is more caring that unreflective cheerleading.—  PLF
Author's Notes:   If you found this interesting and worthwhile, and would like to receive notifications of my writings on a regular basis, click the [FOLLOW] button on my beBee profile. As a writer-friend of mine says, you can always change your mind later.
If you're curious about some of my previous postings about the publishing platforms on both LinkedIn and beBee, you can take a look at some of the following:
"Affinity Networking Is On the Line"

"Arrogant Control Is Not Leadership on Social Media... Or Anywhere Else"
"Take Your Algorithm and Shove It!"

"View Count on Pulse Posts Headed to Oblivion"

"Publishing in the Shadow of the LinkedIn Oracle"

"Lessons Learned from Publishing in the Shadow of the LinkedIn Oracle"

As well, feel free to "like" and "share" this post and my other articles — whether on beBee, LinkedIn, Twitter, Facebook, or Google+, provided only that you credit me properly as the author, and
include a live link
to my original post.
About me, Phil Friedman:  With 30 some years background in the marine industry, I've worn numerous hats — as a yacht designer, boat builder, marine operations and business manager, marine industry consultant, marine marketing and communications specialist, yachting magazine writer and editor, yacht surveyor, and marine industry educator. I am also trained and experienced in interest-based negotiation and mediation.
In a previous life, I was formally trained as an academic philosopher, and taught logic and philosophy at university.


The (optional-to-read) pitch: As a professional writer, editor, university educator, and speaker, with more than 1,000 print and digital publications, I've recently launched an online program for enhancing your expository writing: learn2engage — With Confidence. My mission is to help writers and would-be writers improve the their thought and writing, master the logic of discussion, and strengthen their ability to deal with disagreement.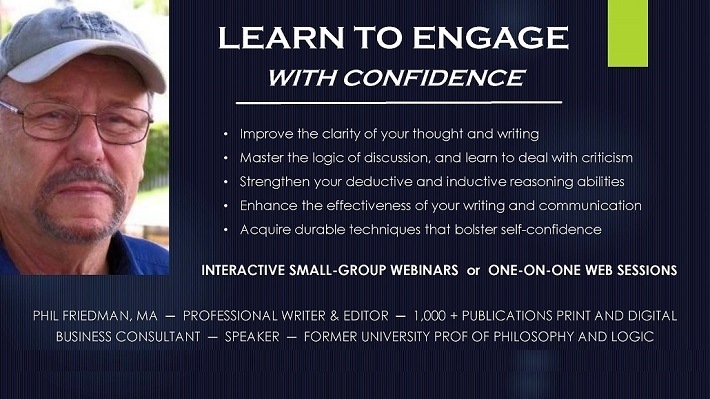 To schedule an appointment for a free 1/2-hour consult email: info@learn2engage.org. I look forward to speaking with you soon.



#BEBEEVERSUSBEBEE #AFFINITYNETWORKING #BEBEE

You may be interested in these jobs
Found in: Talent US± - 4 days ago

---

Modern Transportation

Menasha

CDL A - Local Company Driver · LOCAL HOME DAILY TANKER DAILY PAYModern Transportation the Employer of Choice for professional Drivers has Local Home Daily Tanker openings available. · $300 PER DAYHome Every DayGreat BenefitsWeekly PayPart-time AvailableLate Model TractorsMedical ...

Found in: Talent US± - 3 days ago

---

Whole Foods Market

Winchester

Assists the Team Leader in all aspects of daily operations including profitability, expense control, buying, merchandising, labor, regulatory compliance, and special projects as assigned. Leads and develops Team Members. All Whole Foods Market Retail jobs require ensuring a posit ...

Found in: Talent US± - 3 days ago

---

Mon Health System

Warrenville

JOB SUMMARY As an Ultrasound Technologist at Mon Health, you will provide quality radiologic care to patients for the purpose of diagnostic and/or treatment of anatomic and physiologic disorders to the patient and self, following all regulatory requirements, and while providing a ...