The Devil Often Wears Entrepreneur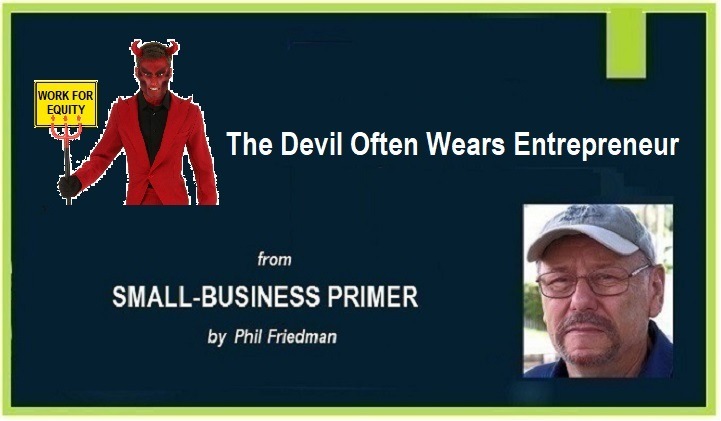 ACCEPTING EQUITY IN PAYMENT FOR SERVICES RENDERED OCCASIONALLY  WORKS OUT, BUT MORE OFTEN DOESN'T...

Preface:  This is the fourth installment of a serialization of my upcoming eBook, "Small-Business Primer: Real -World  Tips for Starting and Running Your Own Small Business". 
Subsequent installments will be published at irregular intervals over the next year. Should you not want to wait for the serialization to run its course, details of how to secure a copy of the book in its entirety will be found at the end of this article.
The "case studies" cited in this series generally involve the reorganization and expansion of boat yard operations which I've undertaken over the last decade of so, as part of my core consulting business. Keep in mind, however, that the suggestions and lessons-learned detailed here are equally applicable to just about any small-business operation that sells products and/or services.
When you run your own small business ―  especially if it involves providing consulting or other services ―  you will, from time to time, be offered equity in a client's company in lieu of cash payment. Sometimes, you will be tempted accept it. But be aware that, if you do, you'll likely end up working for nothing.
To be sure, in a few instances, vendors or employees, who have "partnered" with a startup by accepting equity or stock options in lieu of cash, have made a killing when the startup in question rocketed to huge success.

Unfortunately, the probability of that occurring is about the same as the ratio of wildly successful start-ups to those which fail. For the hard fact is, in such circumstances, you almost always lack any substantive control over whether the client is ultimately successful or not.

Granted, declining such offers is made difficult by a natural desire to gain the work and not chase away a prospective client ―  even if, as in my case, you've been negotiating agreements for nearly three decades.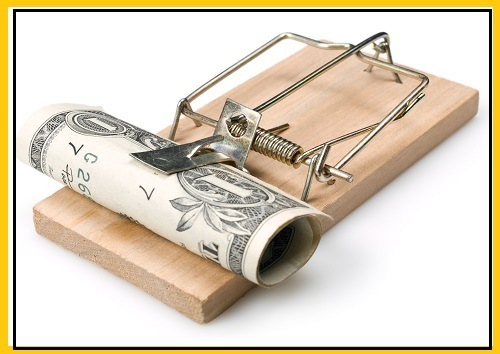 But, don't take the bait...The key is to set appropriate standards for yourself and your small business when negotiating an agreement... And to stick to those standards.

Consider a relatively recent experience of mine.
Several weeks ago, I received a query via Linkedin, from a prospect. He said he had reviewed my profile and work samples on LinkedIn and was very interested in securing my consulting input on his most recent project.

He explained further that he was a "tech guy" and a "serial entrepreneur" who was developing a new app for the marine industry. He'd recently lost a partner who had been serving as the industry expert for the project and that, while he and his team had the coding expertise to complete the app, none of them really knew anything about the marine industry.

According to the prospect, they would be looking to me to help with the design of the UX at the front-end (which had to fit the industry-specific users), as well as with the objectives for output at the backend (which had to fit the real needs of those users). He was also looking for strategic marketing advice for the marine industry. Finally, he estimated they'd need about ten hours per week of my time and a face-to-face once a month, on average.
I said I could comfortably work that into my current schedule and would be pleased provide him with the information and guidance he was looking for. Our telephone discussion ran on for about an hour, during which time I gave him a couple of concrete strategy suggestions as to the form the app needed to take in order to be accepted by the industry ― a kind of teaser demonstration of what I had to offer ―  and then explained my fee structure.

He said he wanted to move forward right away, and I suggested we meet either for breakfast or at his office to wrap up the deal in person. After setting a date and time, I said I'd send him a copy of my standard form of agreement for him to review prior to our meeting in person.
Finally, I expressed what has become my standard caution...
I said, "Pardon me for saying this, but I have, at times in the past, been contacted nominally to provide consulting services when, in fact, the potential client wanted to solicit me for an investment into his or her business. So to save us both from wasting time and energy, please understand I am not in the market to make any kind of investment at this time."
He said he understood completely and that this was not about that at all. He was raising the necessary capital on his own and that what he really needed was marine industry specific advice in helping to shape the app at a macro-level. We agreed to meet the following week for breakfast.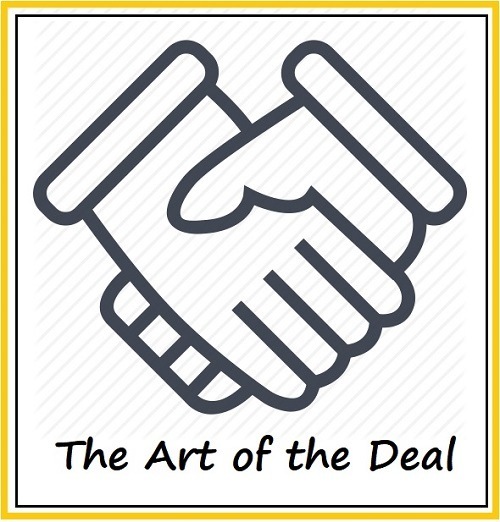 My wife and business partner, who is often more perceptive about people than I am, told me I was wasting my time. But I was coming off a major pretty profitable two-year gig and would not have my enthusiasm dampened. You know, positive attitude and all that stuff. So I spent several hours preparing for the meeting and feeling good about the chances of landing the contract. Then my entrepreneurial prospect and I met.
The first red flag went up when he asked me to go over my billing structure again ― for I had made it very clear in our prior telephone conversations.

The second red flag popped up when he asked me if I'd accept an equity position in the new company in lieu of cash payment. Notwithstanding that I had specifically addressed this during our earlier telephone conference, I calmly restated my billing rates and reiterated that I was not interested in investing in his startup ― not because I didn't like his idea, but because I didn't know very much about him or his entrepreneurial track record.

He backed off quickly and said he understood and wanted to proceed in any event. So we agreed on the scope of work, the fee structure, and that I would draft an agreement for review and signatures within a day or two.
He then pulled out a list of a dozen specific questions he said he hoped to get answered before we wrapped up our meeting. Red flag number three.

By then, my enthusiasm was definitely waning. However, you never really know for sure. So I took the list of questions and said I would begin work immediately and have the answers ready by the time we had mutually executed a consulting agreement. He agreed without further discussion. We finished our breakfast, shook hands on the deal, and each went our separate ways.
When I told my wife about the meeting, she repeated her previous warning. But I told her I'd made it all very clear and just couldn't see why he'd want to waste his time if he didn't intend to execute. I then spent a day sending my standard form of agreement to the prospect, modifying some of the terms to fit his requests, and executed at my end with a copy to him for his signature, which he added to the document, with a copy back to me.

I gave my wife a rousing Bronx cheer, which I enjoyed almost as much as "landing" the gig. Unfortunately, several days passed without the retainer check specified in the agreement showing up.
Okay, let me back up a bit. For as long as I can now remember, my standard practice has been to ask for an initial "retainer" with the execution of an agreement for my consulting services. My billing is then generally done monthly on the basis of what is called in accounting "in arrears", that is, after the fact.

For example, if billing is to be done monthly, I ask for a month's retainer up front. Then bill the agreed monthly amount at the end of each month subsequent to the initiation of the contract term, with the held retainer applied against the last month's bill.  And assuming I'm billing on a monthly basis, this protects me in the event of non-payment, as long as I don't let the client get more than one month in arrears.

I usually construct the initial retainer to equal the anticipated amount for one billing period. If billing monthly, then the retainer equals one month's anticipated billing. If billing is to be bi-monthly, the retainer would be equal to the anticipated billing for a two-month period.
Anyway, in this case, my entrepreneurial prospect called me after about a week to explain he wanted to go ahead with the work right away, but that his cash flow was structured such that he always paid at the end of the month. Big FLASHING red flag number four.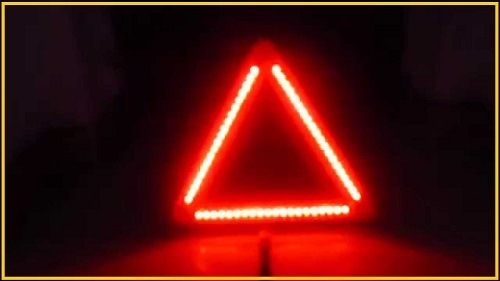 Not wanting to be overly rigid, I offered as a courtesy to reduce the retainer by 50% and adjust the billing period to bi-weekly ― which accommodation he declined, saying he preferred simply to wait until the end of the current month to begin work under the agreement.

Clearly, the deal was dead. Indeed, it was very likely never alive in the first place, as it was unlikely the intent to actually pay cash for the work ever existed...

I can't say for certain what would have happened had I gone ahead to do at least the initial the work out ahead of being paid. But my best guess is that, at the end of the first month, there would have been an excuse for not paying timely, which excuse would have been extended for the next month and so on until an offer for equity in lieu of cash payment was finally made.
In knowledge- and experienced-based consulting, the consultant is being paid not so much for what he or she does, but for that which he or she knows. And the major portion of the benefit to the client is delivered during the first 25% to 35% of the projected term, with the remainder of the term devoted primarily to implementation and fine-tuning. Consequently, if a startup client gets out ahead of you by, say three or four months on a one-year contract, your prospects of collecting fully for the value you've delivered drop dramatically.

Unless, of course, you're dealing with a well-capitalized startup. In which case the startup should be able to pay a nominal retainer up front to secure, at least pro forma, the future billings...

Negotiating a consulting or other agreement for services to be rendered is always a balancing act. You don't want to leave more on the table than necessary, but at the same time, you don't want to overprice and, as a result, lose the job.
Moreover, a lot depends on how busy or hungry you are at the time. If you're in the midst of a lull you might choose to work for the time being at a discount from your normal rate. Or you might elect to take more of a chance on eventually collecting your fees due via stock options (always preferable to minority equity). But you always have to balance the risks against your potential gains and losses.
Keep in mind that those potential losses include not only the time and effort you might expend directly on a given project but also the cost of "lost opportunity". That is the cost to you of being busy with work for which you may not ultimately be paid, while you are not pursuing generation of work for solid clients who will pay you.
Keep in mind also that, in a startup situation,  if you accept equity in lieu of either full or partial payment in cash, you are betting not only on the idea (which might be off-the-charts great) but also on the abilities and tenaciousness of the entrepreneur involved, not to mention his or her integrity. And the fact is, in the world of Internet-based startups, someone needs only a computer, a telephone, and maybe some decent clothes in order to call him- or herself an "entrepreneur." And many self-declared "entrepreneurs" these days apparently think nothing of working people for free information and the unpaid benefit of their services.

Which is why you should always remember that the Devil often wears Entrepreneur. 

Now, if you will excuse me, I have to get ready to take my wife out to dinner, in order to make up for that Bronx cheer I threw at her when she tried to talk some sense into me. Good thing she doesn't care for Prada ― or I'd really be in deep financial do-do.    ― Phil Friedman

Postscript: This is an excerpt from my upcoming eBook, Small-Business Primer: Real -World  Tips for Starting and Running Your Own Small Business. For information on securing a copy, email  phil@portroyalgroup.com and put "small-business book" on the subject line.
Author's notes:   If you found this article of value, you  might also want to look at some of my other writing about small business operations, management, and marketing:
"Common Myths About Starting Your Own Small-Business"
"Tips for Successful Consulting"
To receive notifications of my writings on a regular basis, click the [FOLLOW] button on my beBee profile. Better yet, click [Subscribe To This Blog by Email].  As a writer-friend of mine says, you can always change your mind later.
And feel free to "like" and "share" this post and my other LinkedIn articles — whether on LinkedIn, Twitter, Facebook, or Google+. I ask only that you credit me properly as the author, and include a live link to the original work.
About me, Phil Friedman:  With 30 some years background in small business and the marine industry, I've worn numerous hats — as a yacht designer, boat builder, marine operations and business manager, marine industry consultant, marine marketing and communications specialist, yachting magazine writer and editor, yacht surveyor, and marine industry educator. I am also trained and experienced in interest-based negotiation and mediation. In a previous life, I taught logic and philosophy at university.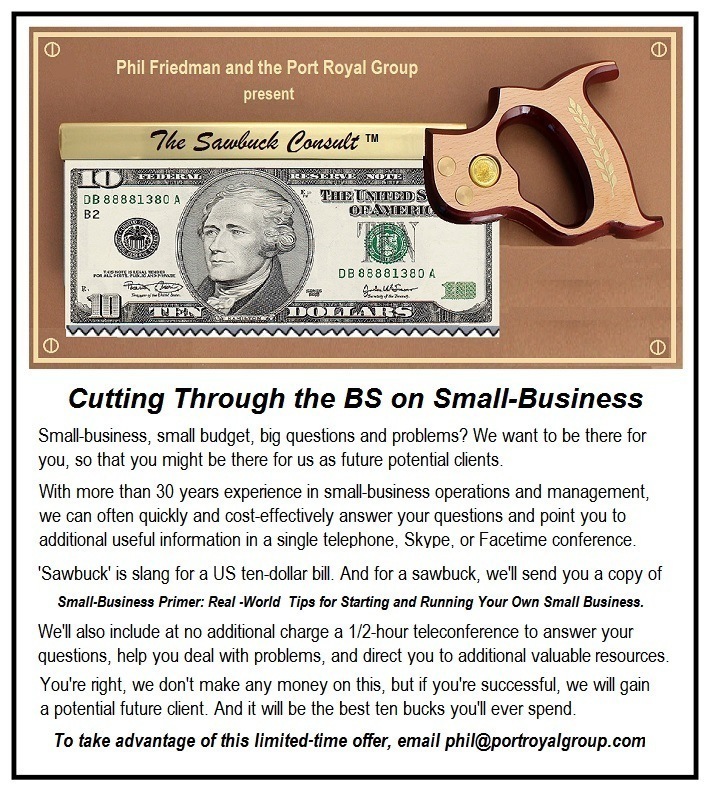 #SMALLBUSINESS #BUSINESSMANAGEMENT #BOOSTPROFIT #BETTERBUSINESS  #BUSINESSCONSULTING  #ENTREPRENEURSHIP  #STARTYOUROWNBUSINESS #ENTREPRENEUR #BUSINESSSTARTUP #RUNNINGYOUROWNBUSINESS

"""""""
You may be interested in these jobs
---

Express Employment Professionals Defunct

Miami, United States

Top Job · Located in Doral, FLSalary: · $16-$18 / hour · Responsibilities: · Check that incoming and outgoing shipments meet the specifications described in the work order (sales order, purchase order ...

---

Great Clips

Geneva, IL, United States

Got shears and a winning attitude? Have a yearning to earn and a desire to support other stylists? Then let's talk Maybe you're a stylist who wants more responsibility, or you're looking for a new opp ...

---

Encompass Health

Baldwin City, KS, US, United States

Kansas Rehabilitation Hospital, a joint venture of Encompass Health and Stormont Vail Health · Hiring for all positions full-time, part-time and PRN days and nights available. · 5k Sign On Bonus Avai ...