Self-Ascription, Self-Certification, and Snake Oil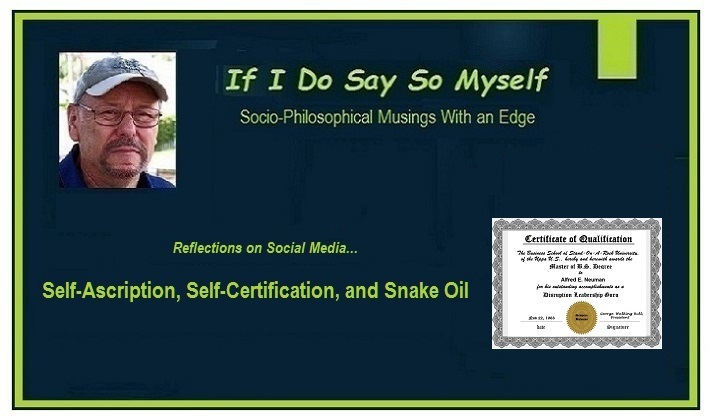 WHERE THE BLABBER MEETS THE ROAD... CAVEAT EMPTOR...

Social media is the ultimate equalizer. It gives a voice and a platform to anyone willing to engage...
Amy Jo Martin,  CEO of Digital Royalty
Social media may be the Great Equalizer, but it is also a playground for those who are fully prepared to fake it, while they try to make it. People who invent and reinvent themselves — and their training, skills, and experience — at will, with a few thousand keystrokes and mouse clicks on a computer. The scammers, the delusional, and the completely unrealistic daydreamers and wannabes.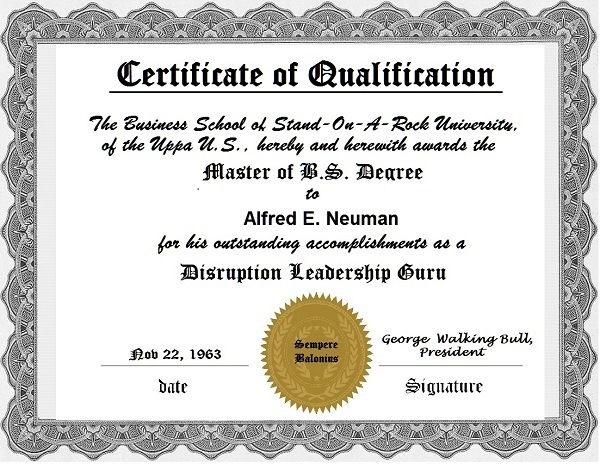 This post, however, is not about them. It's about the rest of us.
About how we need to sharpen our skills and resolve at withholding belief. How we need to look for substantiation and evidence for claims made by people on social media about who they are and what they can do for us, whether on a paid or unpaid basis. Before we engage them to do anything.
Yes, I said unpaid as well as paid. Because accepting even unpaid services or advice or consulting or counseling usually involves a significant residual cost to the recipient, especially when the advice, consulting, or counseling is badly misinformed and proffered without any basis in experience or reality.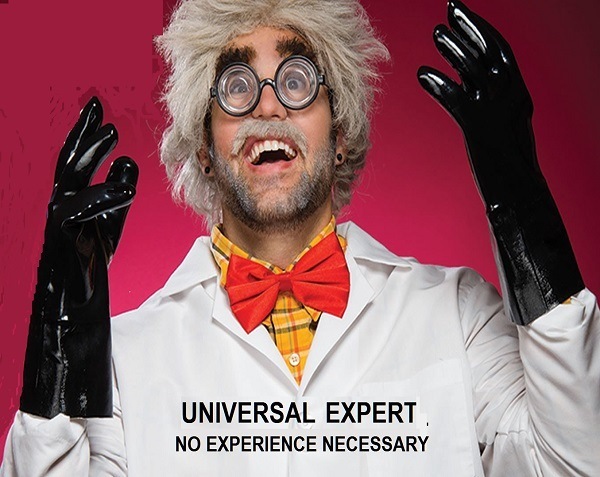 Because someone is not an expert doesn't mean what they say is false...

Anonymous
That is true. Just as a stopped timepiece can be correct twice a day, non-experts, indeed the completely inexperienced, can be right ... at times.
But that is not what matters when we're looking to benefit from the accumulated wisdom and recommendations of others. What matters then is expertise and experience.
Experience is almost always key because it's not only knowing what to do that is critical, but just as much knowing what not to do. And the only way to find that out is by doing.

Granted, I'm likely preaching to the choir here because I think everyone agrees that expertise and experience are critically important. Even those who fake up their profiles and resumes. For if the posers didn't appreciate the value of expertise and experience, they wouldn't go to such pains to self-ascribe and self-certify that expertise and experience.
There are more than 230,000 posts on LinkedIn about spotting "fake" profiles...
Yet, most of them, I suggest, miss the point entirely. For most of them treat the faked up profile as being, in and by itself a danger. Which it is not.

I've personally never heard of a fake profile jumping off the page and mugging or strangling anyone. No, if there is a danger associated with faked up profiles, it is in regard to what we do with, and how we respond to them. Which is why I say we need to sharpen our skills at remaining skeptical and seeking always to substantiate the claims as to expertise and experience made in the profile of anyone whom we are even considering hiring as a consultant. Or buying from as a vendor. Or listening to as an advisor or coach.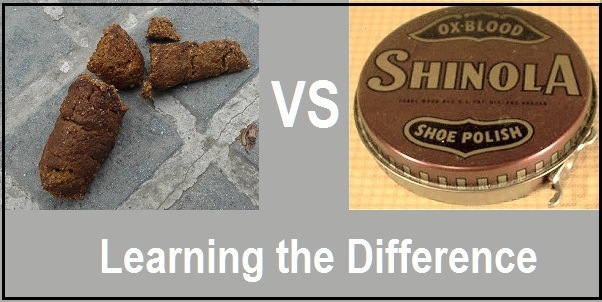 You might assume performing that kind of due diligence is onerous and time-consuming, but in reality, it is much simpler and less time consuming than you think. For it can be broken down into two main components:  1) Verifiable samples of prior work, and  2) Letters of recommendation (not "endorsements" of the LinkedIn variety, for those are less than useless) from identifiable, real people, particularly colleagues of the person in question, who are themselves known in a given business or social sector and can be contacted directly for verification.

Moreover, performing the kind of due diligence I'm talking about is a lot less time-consuming and costly than having to reconstruct a good portion of your business or life after having paid for and followed patently bad or incompetent advice.
Whenever someone tries to verify a claim about his or her expertise, qualifications, experience. or X-Men level super-powers by simply repeating the original claim(s) bolstered by an increased volume and tone of certitude — and perhaps a "trust me" or two — I recommend running, not walking to the nearest exit. For I've seen too much harm done by the self-ascribers and self-certifiers to believe that their's is only a harmless game.

Which brings us to the subject of snake oil...

The term "Snake Oil" is generally taken to refer to useless remedies of the 19th and 20th centuries, and also known as "patent medicines". But it turns out that the term "Snake Oil" did not always carry the connotation of being, at best, a placebo or, at worst, a scam.
According to an article published on National Public Radio (NPR.org), "The 1800s saw thousands of Chinese workers arriving in the United States as indentured laborers to work on the Transcontinental Railroad. According to historian Richard White's book Railroaded, about 180,000 Chinese immigrated to the United States between 1849 and 1882 ... Among the items the Chinese railroad workers brought with them to the States were various medicines — including snake oil. Made from the oil of the Chinese water snake, which is rich in the omega-3 acids that help reduce inflammation, snake oil in its original form really was effective, especially when used to treat arthritis and bursitis. The workers would rub the oil, used for centuries in China, on their joints after a long hard day at work. The story goes that the Chinese workers began sharing the oil with some American counterparts, who marveled at the effects."
Somewhere along the way, a "salesman" named Clark Stanley began entertaining crowds at carnivals by killing rattlesnakes on the spot and rendering oil from their bodies into what he referred to as "Snake Oil Liniment".

The catch was that rattlesnakes did not have the same kind of body oils as the Chinese water snakes, and Stanley's Snake Oil Liniment was, in fact, mostly mineral oil — and totally ineffective as a homeopathic cure for anything.

Clark Stanley's Snake Oil Liniment was a fraud from start to finish, but so well known that the name eventually morphed into a generic term for any outrageous scam remedy. It was, however, only one of a host of purported cures of questionable value, known as "patent medicines" — perhaps the most well-known and longest enduring of which was Carter's Little Liver Pills.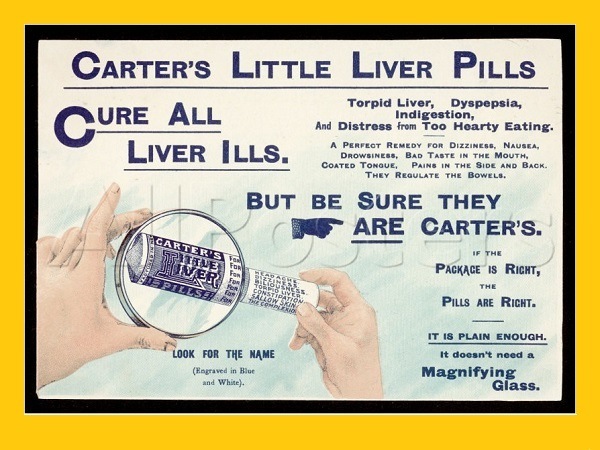 Carter's Little Liver Pills were the subject of much argument between the company and U.S. regulatory agencies over decades, until 1951 when the Federal Trade Commission forced the company to remove the word "Liver" from the name as being deceptive. Then, Carter's Little Liver Pills became simply Carter's Little Pills.
All of which may be, I suppose, historically interesting, but may cause you to ask what relevance it has in this discussion...
The relevance is that snake oil and patent medicines are concrete examples of how completely unsupported claims can take hold in the public mentality and be accepted as fact and truth. All that appears to be necessary for that to happen at times is a sufficiently slick and persistent huckster who repeats the claims loudly and often enough — and who finds an appropriate platform like, say, a carnival fairway.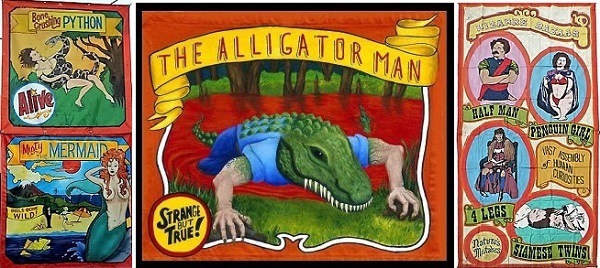 The bottom line is that social media — with its tolerance of, indeed encouragement for self-ascription and self-certification —  can be a modern-day version of a carnival fairway. Where anyone with enough chutzpah can claim to be anything and able to do anything. And the only defense that stands between us and delusion is a healthy dose of Missouri-style don't-just-tell-me, show-me skepticism. — Phil Friedman

Postscript:  It is inevitable that some people will take offense at this post, each such person thinking that it is specifically aimed at him or her.  However, I assure you that it is not, and suggest that, if you are moved to take it that way, well ... you might just ask yourself why that is the case. For if the shoe doesn't fit, why in the world would you insist on wearing it?   —  PLF

Author's Notes:  Several writers on beBee have inadvertently provided inspiration and encouragement to me for this post. They include:  1) Jim Murray and Don Kerr, who are tireless fighters of BS on social media in general and beBee in particular.  2) Kevin Pashuk, who also exhibits zero tolerance for bull chips, and who recently published a great article titled "I'm Looking for Genuine People", which I highly recommend.  3) Wayne Yoshida, who is a terrific science and technology writer, and who found and shared one of the best videos I've ever seen on the difference between opinion and advice. I cannot recommend too highly that you take a few minutes to watch it at  https://youtu.be/gsWoEh5wwxk?t=8.  4)  Graham Edwards, a self-professed "contrarian" who books no baloney either, and who recently published a great piece as well, "Disruption, Dislodgement and Optimism". And last but not least, 5) Gerald Hecht,  my favorite mad scientist, who is a champion of authenticity and scientific integrity. I owe all of these writers a debt, but remind you that I alone am responsible for the views and opinions expressed in this article.
If you found this post interesting and worthwhile and would like to receive notifications of my writings on a regular basis, click the [FOLLOW] button on my beBee profile. Better yet, elect there to follow my blog by email. As a writer-friend of mine says, you can always change your mind later.
Should you be curious about some of my other writings on social media, you're invited to take a look at the following:
"On the Limits of Free Expression"
"On Trees, Trolls, Trust and Truth"
As well, feel free to "like" and "share" this post and my other articles — whether on beBee, LinkedIn, Twitter, Facebook, or Google+, provided only that you credit me properly as the author, and include a live link to my original post.

About me, Phil Friedman:  With 30 some years background in the marine industry, I've worn numerous hats — as a yacht designer, boat builder, marine operations and business manager, marine industry consultant, marine marketing and communications specialist, yachting magazine writer and editor, yacht surveyor, and marine industry educator. I am also trained and experienced in interest-based negotiation and mediation.
In a previous life, I was formally trained as an academic philosopher and taught logic and philosophy at university.
Before writing comes thinking.  ( The optional-to-read pitch) :  

As a professional writer, editor, university educator, and speaker, with more than 1,000 print and digital publications, I've recently launched an online program for enhancing your expository writing: learn2engage — With Confidence. My mission is to help writers and would-be writers improve their thought and writing, master the logic of discussion, and strengthen their ability to deal with disagreement... all of which I have found to be natural precursors to improved writing.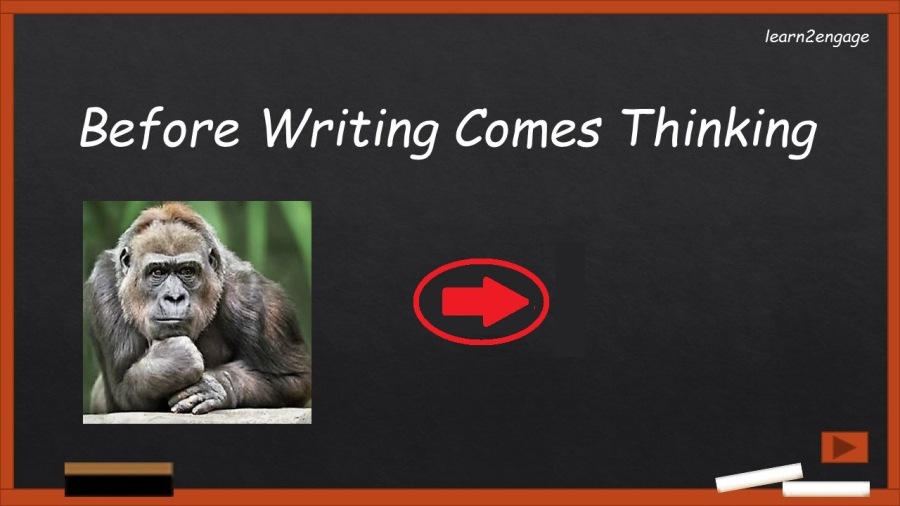 For more information, click on the image immediately above. And to schedule an appointment for a free 1/2-hour consult email: info@learn2engage.org. I look forward to speaking with you soon.
Text Copyright © 2017 by Phil Friedman  —  All Rights Reserved
Image Credits: Phil Friedman, Google Images, and FreeDigitalPhotos.net

""""""""
You may be interested in these jobs
Found in: Jooble US - 1 day ago

---

**Job Family** **:** · Digital Consulting · **Travel Required** **:** · Up to 75% **Clearance Required** **:** · None · **What You Will Do** **:** · As an Epic Ambulatory Optimization Senior Consultant on our Payor Provider Health EMR Enablement team, you will lead and/or partici ...

Found in: beBee S2 US - 1 day ago

---

Franchise Career Advisor

Huber Heights

Full time

Do you want to own your own business? · You are not alone, approximately 85% of the new franchise owners were professionals transitioning out of the corporate grind, and 25-30% keep their job and run their business on the side. · Our firm works closely with individuals who are op ...

Found in: Jooble US - 3 days ago

---

BrightStar Care

Fort Worth, TX

Are you looking for immediate work as a caregiver in the Fort Worth, TX and surrounding areas? Do you want a rewarding career helping others while receiving competitive pay, and flexible work shifts? We've got the job for you BrightStar Care of West Fort Worth is actively hiring ...