4 years ago · 1 min. reading time · ~10 ·
Golden Advice for Developing and Managing New-Build Yacht Projects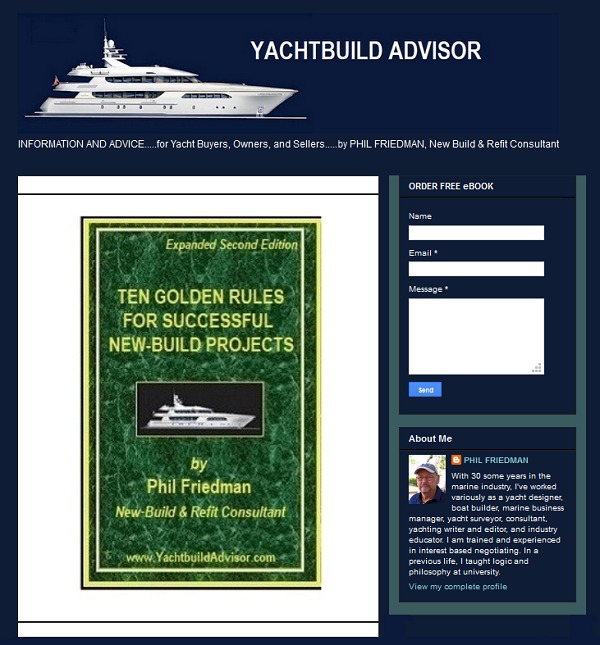 THE UPDATED AND EXPANDED SECOND EDITION OF THIS WELL-RECEIVED E-BOOK IS NOW AVAILABLE...
More than 6,000 copies of my eBook on yacht building have been distributed to date. And the strong response from readers, including noted industry professionals, motivated me to update and expand the original.  See what some reviewers and readers have said about Ten Golden Rules for Successful New-Build Projects ... 

From Douglas Sharp (Douglas Sharp Yacht Design, Inc., San Diego, CA, USA): "I read your e-book with great interest, and appreciate you sending it to me. The school of hard knocks has certainly taught us many of the lessons alluded to in your book, and I heartily agree with your conclusions and advice… Our industry needs to pay attention to hard-won accumulated experience."


From Stephen Moon (Board Certified Admiralty and Maritime Law Specialist, Stephen M. Moon, P.A., Cocoa, FL, USA):
"Your e-book is excellent. I should have been doing a lot of other things this morning but I could not resist reading the e-book as soon as I had a break… Your remarks are very insightful and will be appreciated by many. I have a much better understanding of the events leading up to the actual build process and the important issues to consider before construction now. Your e-book is a quick, must-read for anyone involved in a new build project or major refit."
From Harry Jorgenson, (Jorgensen Marine Ltd, Atatu, Auckland,.NZ):
"Having been involved with large yacht building since the late 70s in varying roles I understand your 10 Golden Rules better than most. It is the most sensible advice that I have read for some time and should be essential reading for all involved."
From Diane M. Byrne (Editor, Megayacht News, www.megayachtnews.com):
"I've just finished reading your eBook, and it contains sage advice for owners and their team of advisers."
From Kenny Wooton (Editor-in-Chief, Yachts International magazine):
"Each "rule" is explored in clear, concise prose easily accessible to non-experts."
This is just a sampling of the response, and my sincere thanks and genuine appreciation go out to all who have taken the time to read the eBook and send their comments.
For a FREE copy of the eBook, please go to my blog  YachtbuildAdvisor.com

And please, like, comment on, and share, share, share this notice with your networks of connections.
Fair winds and safe harbors  —   Phil Friedman


#YACHTING #YACHTS #YACHTBUILDING #YACHTCONSTRUCTION #BOATBUILDING #BOATS

You may be interested in these jobs
Found in: beBee S2 US - 4 days ago

---

The Lancet

London

Full time

The ReEntry Program is a 15-week fellowship program, beginning · March 20, 2023 and ending · June 30, 2023, with the prospect of an offer for permanent employment with JP Morgan Chase at the end of the program. · The program offers a reintroduction to corporate life for those r ...

Found in: Jooble US - 6 days ago

---

Schaeffler Group

Wooster, OH

Full-time

Schaeffler is a dynamic global technology company and its success has been a result of its entrepreneurial spirit and long history of private ownership. · As a partner to all of the major automobile manufacturers, as well as key players in the aerospace and industrial sectors, we ...

Found in: Linkedin WW - 1 day ago

---

ABOUT US: · Braintrust is the only network that gives in-demand talent all the freedom of freelance with all the benefits, community and stability of a full-time role. As the first decentralized talent network, our revolutionary Web3 model ensures the community that relies on Bra ...