1 year ago · 6 min. reading time · ~100 ·
Broken-thoughts & Hope for Human-onions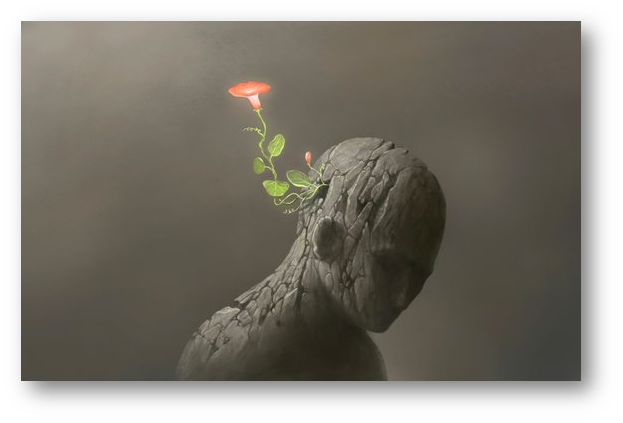 We are like human onions
.. born into a hurting world ..
Our outer skin we show as pearled
But peel it back .. a netherworld
Many layers .. many fears
Many burdens .. many tears
Buried feelings .. hidden scars
Wounded hearts .. lives are marred
Some are bitter .. some are sweet
Some mistakes .. we oft repeat
To "know thyself" .. these layers peel
Through tears that come .. a layer heals
Another layer .. bare my soul
Do I really want to know?
Another layer .. do I dare?
Give me courage .. hear my prayer
See the HURT .. in darkness hides
See the walls .. I've built inside
See the lies I tell myself
How I practice inner stealth  
~ Fay Vietmeier "Human-onions"
"I hurt myself today
To see if I still feel
I focus on the pain
The only thing that's real
The needle tears a hole
The old familiar sting
Try to kill it all away
But I remember everything" 
– Johnny Cash "Hurt"
Why would someone hurt themselves?
How complex are the wounds we bear
Sometimes people seem beyond repair 
There are shadows and specters of hurt
Deep pain has a way of creating converts 
Dark detours that drag souls through the dirt 
Don't be fooled by appearances on the outside                                                                      
Broken hearts & crushed spirits will aching amplify
Lies will dull your mind and fill your head with cyanide 
You become your own worst enemy and your life collides 
Dying on the inside .. a pit of self-loathing is where you abide 
There are many kinds of pits
For abundant living they are unfit
A "PIT" can be defined in many ways: from a hole in the ground, like a pothole .. all the way down to one that conveys a sense of hell: a place or situation of futility, misery, or degradation.
All "pits" are places of captivity. Filled with broken people: who are struggling, suffering .. tormented.                                     Personal devastation is a slow-burning fire that can last for years .. even decades of years.
Self-loathing is the twin of Self-hatred 
Both lead to Self-condemnation 
A constant risk: Self-harm 
BEWARE & Be aware
This is a serious subject to write about .. even more serious to live with.
A disclaimer: 
I'm not a Psychiatrist or Psychologist. Though I have studied human-behavior for many years.
I share from personal experience. I lived in a pit for many years. I offer hope through faith .. share my personal testimony. In my journey I was lifted out of a pit & brought into the Light.
https://us.bebee.com/producer/pits-prisons-palaces-promises-to-lay-hold-of
This post is my "in the Light" reflection to Alan Geller's "After Dark invitation" to share an "Interlude" 
Artist: Johnny Cash "Hurt"  .. Subject: Self loathing

What is self-loathing?
Self-loathing is extreme criticism of oneself. It may feel as though nothing you do is good enough or that you are unworthy or undeserving of good things in life.
According to Dr. Lisa Firestone and Joyce Catlett in the book Conquer your Critical Inner Voice, the causes of self-loathing lie in the past, when, as children, we were trying to cope with our lives in the best way possible. 
They explain: The nature and degree of this division within ourselves depends on the parenting we received and the early environment we experienced.
A truth: 
Hurting people .. hurt others.
"What have I become?
My sweetest friend
Everyone I know goes away
In the end
You could have it all
My empire of dirt
I will let you down
I will make you hurt
I wear this crown of thorns
Upon my liar's chair
Full of broken thoughts
I cannot repair" 
– Johnny Cash "Hurt"
Why are people full of "broken thoughts"  
We are fractal beings .. "broken" at birth
.. as we enter life upon this earth ..
Ring the bells that still can ring
Forget your perfect offering
There's a crack in everything
That how the light gets in
~ Leonard Cohen from the song "Anthem"
                                                                                Human beings are "broken"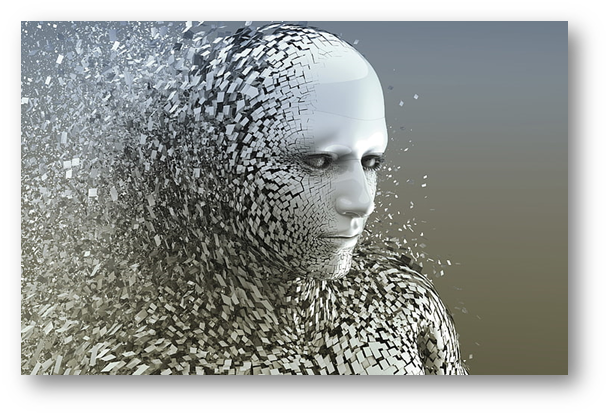 "Broken" in spirit: at the "fall of man" the "flesh" gained authority over the spirit 
.. thus, we live our lives governed by the "flesh": oriented to self, governed by fleshly desires, ruled by externals and focused on the temporal 
.. unless or until we are "born of the Spirit" .. then our spirit comes alive to God's Spirit
.. and thus, we become a "new creation" and we can begin to "walk by the Spirit" & be "led by the Spirit"
This spiritual "rebirth" begins the transformation & sanctification process.
We are transformed & spiritual growth occurs AS we cooperate with the Spirit of God .. the Holy Spirit can only do for us what we allow Him to do in us.
"Broken" in our physical body: as a result of the "fall of man" we age
.. we are afflicted by disease, life circumstances or events & the earth has become polluted & corrupted by man 
.. thus, we die
"Broken" in our soul (mind-will-emotions)
.. the thinking of man is corrupted when he rejects God's laws & principles
.. the will of man rebels against God: through unbelief & doubt (including mocking)
.. without the wisdom of God: emotions & feelings govern behavior & actions .. "self"  governance opposes God
Since the beginning of creation: this "broken" condition has been passed from generation to generation. 
Human beings are born "broken" .. into a "broken" world system
.. out of this "broken" (sinful) condition flows everything that confirms our "broken" nature: 
Fear, selfishness .. wrong self-orientations: self-loathing, self-hatred, self-condemnation 
EVIL, lying, murder, pride .. GREED, rebellion .. then death (this is the short list)
"The Fractal State of Humanity" 
https://us.bebee.com/producer/the-fractal-state-of-humanity-d3DloZJs87ez
The war you don't see ..  
At its root: self-loathing/self-hate is a spiritual condition
The evil one: who is called "the prince of this world"
Aka the "god of this age"  .. is ever-pouring poison
.. unknowingly souls drink this cup of DARKNESS  
.. it is a venom that produces SELF-LOATHING
.. which in turn .. becomes self-condemnation
"If you had a person in your life treating you the way you treat yourself, you would have gotten rid of them a long time ago" - Cheri Huber

A critical inner voice says "you are unworthy"
.. at times so subtle it is barely heard 
.. at times it will scold & berate you
.. from your true self .. to separate 
You are unable to fight back 
Left with feelings of inadequacy
You can fall into a pit of depression .. 
Self-blame is a flame that ignites shame
Might addictions be able to numb the pain
Cutting only leaves scars & blood is a stain
But the turmoil & condemnations still remain
For some ills .. there are no pills
No matter what the world unrelentingly advertises
Spiritual problems .. require spiritual cures.
The only cure for darkness .. is Light
The path to healing is a spiritual fight
Beneath the stains of time
The feelings disappear
You are someone else
I'm still right here
If I could start again
A million miles away
I would keep myself
I would find a way" – Johnny Cash "Hurt"
Jesus said: "I AM the Way" .. that is "Good News" !!!
If you decide to believe in Him & follow Him 
.. then you can  "start again"
Jesus also said "I Am Truth" .. God said: "Listen to Him."
The voices inside your head that say you are "unworthy" are LYING to you.
As morning follows night .. in His light .. a new life will break through 
"I am the way and the truth and the life. No one comes to the Father except through me." - Jesus Christ 
A "believer" is "in Christ" at which point they have become a "new creation" 
They are a new entity, the same way that a newborn baby is a new person. 
The old person has gone away, and a new person has arrived.
"God has delivered me from going down to the pit and I shall live to enjoy the light of life." 
"For with You is the fountain of life; In Your Light we see light." - Psalm 36 & Job 33
Only God who is LOVE .. can teach you about Love & Light
Your heart will find the path to abundant Life & living right
See the Truth & be set free
Peel away these layers of me
In Your Light .. I can fully be
Being healed by knowing Thee
May 28th 2021
To your HONOR Alan Geller .. you ever INSPIRE 
This Week's Submission: Hurt

Artist: Johnny Cash

Subject: Self-loathing
https://www.linkedin.com/feed/update/urn:li:activity:6802036045295738880/
Image:
https://stock.adobe.com/uk/images/life-and-freedom-and-hope-concept-imagination-of-surreal-scene-flower-with-broken-human-sculpture-digital-artwork-illustration/307877903

References:
"Human-onions & Divine Art"
https://us.bebee.com/producer/human-onions-divine-art
https://www.psychalive.org/self-loathing/
https://www.compellingtruth.org/new-creation.html
https://www.biblegateway.com/passage/?search=John+14&version=NIV
"In His Light" .. I write
All rights reserved:  Fay Marmalich-Vietmeier 
If my words make you think … Great ;~)
As "iron-sharpens-iron" … I enjoy bantering with other BEES … please know, your feedback is as "honey"
A glimpse of the "Bee" called "me" ;~)
My caring nature makes me an advocate. My curious nature makes me a "queen of questions" but gifted with the ability to listen ;~) I am a woman of deep faith, a blessed mother, a voracious reader, a blossoming writer, a grateful person, and a lover of beauty. I treasure family, true friendships & my loyal clients. A "student at heart, I love learning: in every human dimension. Enjoy traveling, good books, good movies, good wine gardening & golf. 
I'm a "heart-to-heart" communicator.
https://www.bebee.com/@fay-vietmeier-pennsylvania
https://www.linkedin.com/in/faymarmalichvietmeier/detail/recent-activity/
https://twitter.com/femvietmeier
You may be interested in these jobs
Found in: Talent US± - 1 week ago

---

Franchise Career Advisor

Boyertown

Do you want to own your own business?You are not alone, approximately 85% of the new franchise owners were professionals transitioning out of the corporate grind, and 25-30% keep their job and run their business on the side. · Our firm works closely with individuals who are open ...

Found in: Talent US± - 1 day ago

---

Access Exclusive Echo Tech/Cardiac Sonographer Jobs at Top-Rated Facilities Across the Country Now · We have immediate nationwide openings for Echo Tech/Cardiac Sonographers. Make up to $3,661/week (depending on the location, housing and benefits options you choose). · Here's wha ...

Found in: Jooble US - 3 days ago

---

Boston Public Schools

Boston, MA

POSITION OVERVIEW: · The Department of Early Childhood (DEC) is the lead education agency for Boston Universal Pre-K and partners with Community Based Organizations (CBOs) across the City. The goal of Boston Universal Pre-K is to ensure every three and four-year-old in Boston has ...