The Fractal State of Humanity. Hidden Forces for you & against you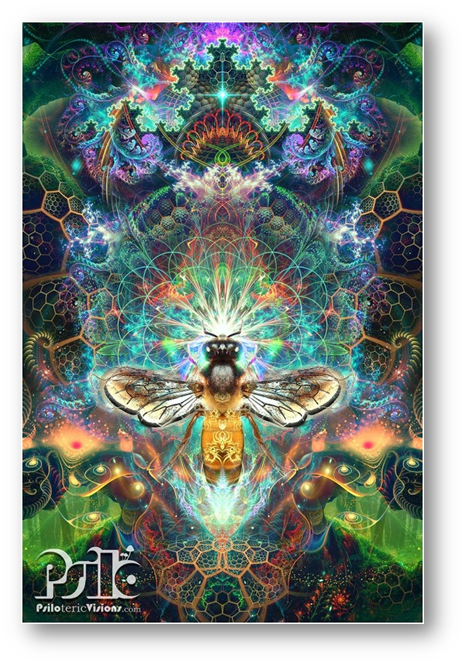 "To see a world in a grain of sand
And a heaven in a Wild Flower,
Hold Infinity in the palm of your hand
And Eternity in an hour"
~ William Blake ~
 Seeing fractals in different ways:
· Fractals in nature
· Fractals in people
· Fractal State of Humanity
· Forces: For us & Against us

 In the spirit of alliteration: What the frick are fractals and why are they so relevant?
First a brief explanation of the more obvious & natural: fractals in nature & then we move to the not so obvious & supernatural: hidden-unseen-invisible realm of fractals … which is the destination of this writing.
The term "fractal" was coined by the brilliant mathematician Benoit Mandelbrot in 1975. He is best known for his discovery in mathematics of the "Mandelbrot Set" which can be programmed into basic lines of code that create an infinite stream of changing, self-similar patterns. In his seminal work The Fractal Geometry of Nature, he defines a fractal as "a rough or fragmented geometric shape that can be split into parts, each of which is … at least approximately … a reduced-size copy of the whole."

Fractals are "Bio-mimicry" in action … that should inspire awe and wonder 
Fractals in nature
Math + Nature = Beauty!!!
A forest is the perfect example for fractals are found at every level of the forest ecosystem from seeds and pine cones, to branches and leaves to the self-similar replication of ferns, and plants & trees. Trees are natural fractals, patterns that repeat smaller and smaller copies of themselves to create the biodiversity of a forest. Each tree branch, from the trunk to the tips, is a copy of the one that came before it.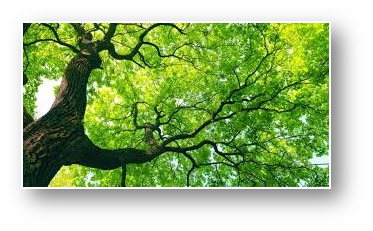 Glorious !!!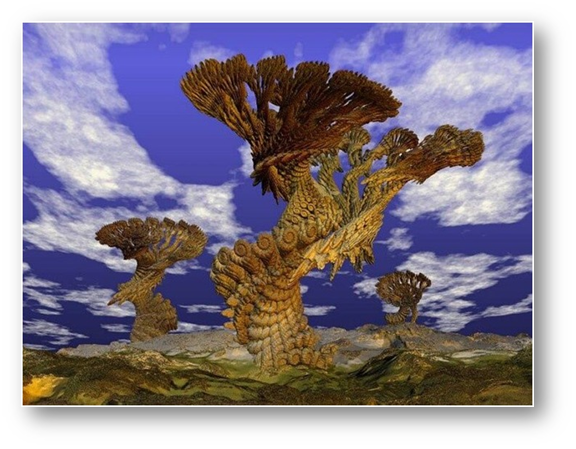 Gardens are another place to explore the fractal nature of growth … to observe the self-replicating patterns of how plants & flowers bloom to attract bees & other creatures.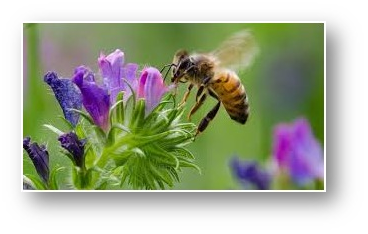 Once you know what to look for… you can see them everywhere in nature:
But there's more to fractals than meets the eye: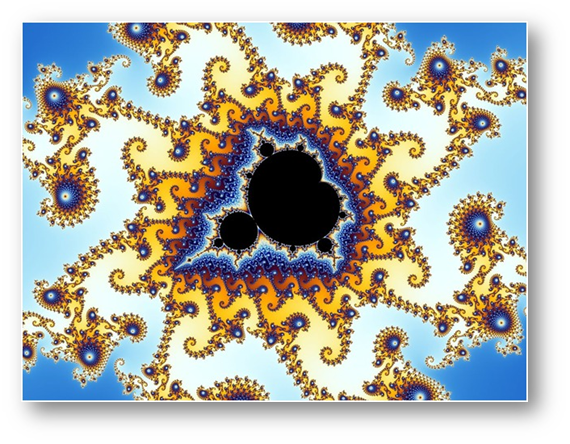 "Humans are living breathing fractals" ~Ben Weiss
Fractals found in the human body: lungs, circulatory system, the kidneys, the liver, the pancreas are all organs constructed along self-similar fractal rules. So too is the most remarkable of all the fractals we know on the planet … the human brain.
http://www.fractal.org/Life-Science-Technology/Publications/Fractals-and-Human-Biology.pdf
Ben Weiss reasons in the following: "It could be the brain is not a fractal but the mind is"
Fractals: a world in a grain of sand | Ben Weiss
Ben's Fractal App "FRAX" www.fract.al
And now to shift to the main point of this writing:
"The Fractal State of Humanity" and the "Forces" for you and against you
"Fractal"… from Latin means "broken" 
Ring the bells that still can ring
Forget your perfect offering
There's a crack in everything
That how the light gets in
~ Leonard Cohen from the song "Anthem"

 Human beings are "broken"
"Broken" in spirit: at the "fall of man" the "flesh" gained authority over the spirit 
.. thus, we live our lives governed by the "flesh": oriented to self, governed by fleshly desires, ruled by externals and focused on the temporal 
.. unless or until we are "born of the Spirit" .. then our spirit comes alive to God's Spirit
.. and thus, we become a "new creation" and we can begin to "walk by the Spirit" & be "led by the Spirit"
This spiritual "rebirth" begins the transformation & sanctification process.
We are transformed & spiritual growth occurs AS we cooperate with the Spirit of God .. the Holy Spirit can only do for us what we allow Him to do in us.
"Broken" in our physical body: as a result of the "fall of man" we age
.. we are afflicted by disease, life circumstances or events & the earth has become polluted & corrupted by man 
.. thus, we die
"Broken" in our soul (mind-will-emotions)
.. the thinking of man is corrupted when he rejects God's laws & principles
.. the will of man rebels against God: through unbelief & doubt (including mocking)
.. without the wisdom of God: emotions & feelings govern behavior & actions .. "self"  governance opposes God
Since the beginning of creation: this "broken" condition has been passed from generation to generation. 
Human beings are born "broken" .. into a "broken" world system
.. out of this "broken" (sinful) condition flows everything that confirms our "broken" nature: 
Fear, selfishness .. wrong self-orientations: self-loathing, self-hatred, self-condemnation 
EVIL, lying, murder, pride .. GREED, rebellion .. then death (this is the short list)
… All is not lost…
"Never be afraid of broken things because Christ is redeeming everything"   The Broken Way by Ann Voskamp

 The hidden-unseen-invisible "Forces" for you and against you:
"We don't see the wind, but we see the wind's effects on moving the trees and blowing flowers and seeds. We see the force by its actions. Likewise; I believe there is an overlooked force- this is what I call the hidden fractal force." ~Ali Anani
https://www.bebee.com/producer/@ali-anani/the-fractal-hidden-force
These words, when spiritually applied, are profound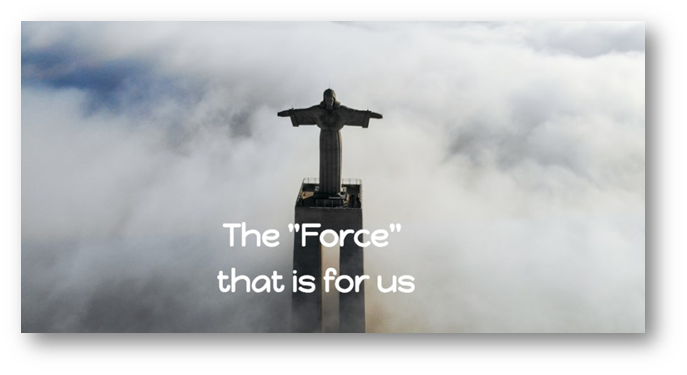 "Hidden Force" (number 1)
Almighty GOD the Creator of the heavens & the earth 
The Great "I AM" 
The Alpha & The Omega 
All-seeing, All-knowing, All-powerful, All-sufficient, Omnipotent & Omniscient God 
His names reveal His character
· Yahweh (Lord, Jehovah … God who is always there)
· Abba (God the Father)
· Jehovah Shalom (The Lord Is Peace)
· Jehovah Raah (The Lord Is My Shepherd)
· El Elyon (The Most High God)
· Adonai (Lord, Master … God who is in charge)
· El Shaddai (The Almighty God)
· Jehovah Jireh (The Lord Will Provide)
· Jehovah Rapha (The Lord Who Heals You)
· El Roi (our God who sees)
· El Olam (The Everlasting God)
God is for us and nothing can separate us from the love of God
"If God is for us, then who can be against us?   He who did not spare his own Son, but gave him up for us all … how will he not also, along with him, graciously give us all things? … Christ Jesus who died … more than that, who was raised to life … is at the right hand of God and is also interceding for us. Who shall separate us from the love of Christ? Shall trouble or hardship or persecution or famine or nakedness or danger or sword? … No, in all these things we are more than conquerors through him who loved us. For I am convinced that neither death nor life, neither angels nor demons, neither the present nor the future, nor any powers, neither height nor depth, nor anything else in all creation, will be able to separate us from the love of God that is in Christ Jesus our Lord." ~ Roman 8 (starting with verse 31)
https://www.biblegateway.com/passage/?search=Romans+8&version=NIV
Do NOT miss the heart of God and the heart of the Gospel "the Good news"
Jesus Christ "lay down His life" He allowed Himself to be "broken that we could be unbroken"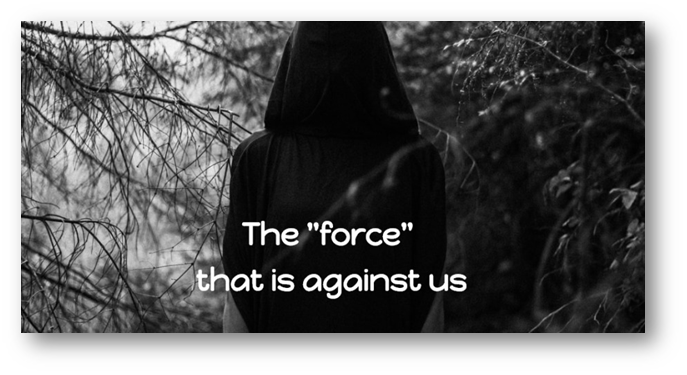 "Hidden Force" (number 2)
Satan. The Devil, the "evil one" … the "god of this age" the "prince of the world" … the "author of confusion"… the "father of lies" … he masterfully uses the same strategies & weapons against man: fear & greed to name just two (these are spiritual conditions)
"The god of this age has blinded the minds of unbelievers, so that they cannot see the Light of the gospel that displays the glory of Christ, who is the image of God. " 2 Corinthians 4:4
The question is: which spiritual force is being served?
Phillip Britts profoundly states in his book: Water at the Root 
"in the essential conflict (good Vs evil) .. the final result of knowledge is determined by the spirit is serves" 
https://www.bebee.com/producer/@fay-vietmeier-pennsylvania/water-at-the-root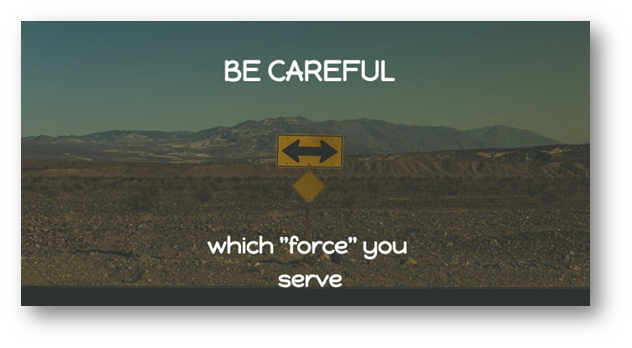 "We see the force by its actions" and by the fruit you can recognize the root.
"For since the creation of the world God's invisible qualities—his eternal power and divine nature—have been clearly seen, being understood from what has been made, so that people are without excuse." ~ Romans 1:20
"Languages are being scripted in the sky" ~ Debasish Majumder
 
"The heavens declare the glory of God; the skies proclaim the work of his hands. Day after day they pour forth speech;
night after night they reveal knowledge. They have no speech, they use no words; no sound is heard from them.
Yet their voice goes out into all the earth, their words to the ends of the world." ~ Psalm 19
Today: God speaks through His Son, Jesus Christ 
"Long ago God spoke to our early fathers in many different ways. He spoke through the early preachers. But in these last days He has spoken to us through His Son. God gave His Son everything. It was by His Son that God made the world. The Son shines with the shining-greatness of the Father. The Son is as God is in every way. It is the Son Who holds up the whole world by the power of His Word. The Son gave His own life so we could be clean from all sin. After He had done that, He sat down on the right side of God in heaven." Hebrews 1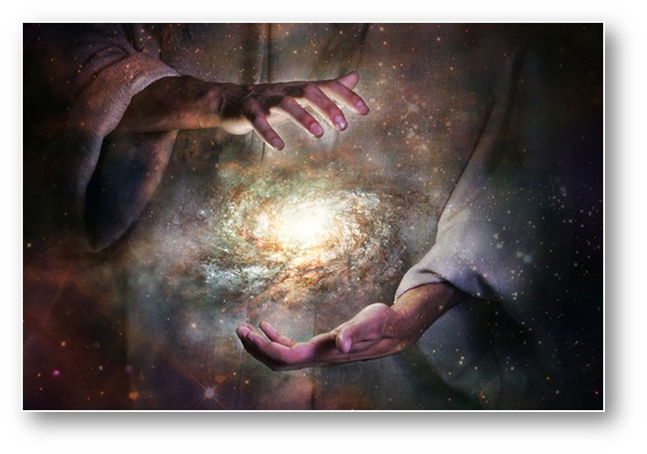 Concluding thought about fractals:
There is "nothing new under the sun" … all creation declares the glory of God.
Although they were not named until 1975, fractals are not a new discovery. Since creation they have existed and if anything they provide clear evidence of an unfathomable Intelligence and A Divine "Master-Architect" … a Master-Plan is revealed in fractals.
(Nothing so perfect evolves with "slime & time")
I hope the revelation of fractals universally displayed throughout creation:  in nature – in human beings, human thinking & human behavior ... causes examination of the Majesty, Divine workmanship & Sovereignty of a creative "Force" that is beyond our imagining.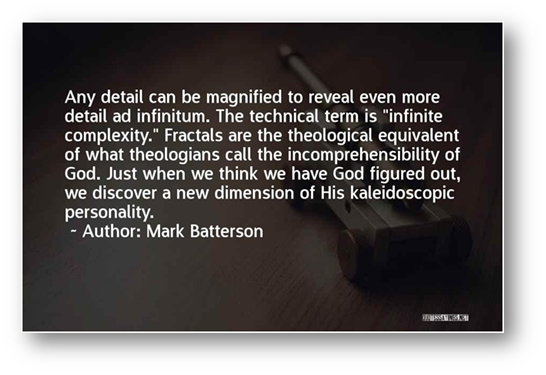 Life is infinitely more than what we can see or imagine.
"Count to infinity" ~ Ben Weiss
God is everywhere
A man can no more diminish God's glory by refusing to worship Him than a lunatic can put out the sun by scribbling the word, 'darkness' on the walls of his cell." ~ C. S. Lewis
Giving honor where honor where honor is due. It was a statement by @AliAnani in "The Fractals Hidden Force" that inspired me to pen these thoughts … with much respect, this buzz-post is dedicated to one of the "best of bees" … plus special thanks Ali for attributing to me the encouraging compliment of being a "well-spring spirit"
References
https://www.desiringgod.org/messages/the-war-within-flesh-versus-spirit

Written from my "well-spring spirit" 10-23-19
"In His Light"~ Fay Vietmeier
If my words make you think … Great ;~)
As "iron-sharpens-iron" … I enjoy brushing antenna's with other BEES … feedback is as "honey"
A glimpse of the "Bee" called "me" ;~)
My curious nature makes me a "queen of questions" … but gifted with the ability to listen ;~) I'm a woman of deep faith, a blessed mother, a voracious reader, a blossoming writer, a grateful person, and a lover of beauty … I treasure family, true friendships and my loyal clients ... enjoy traveling, learning, good movies, good wine and golf. I'm a heart-to-heart communicator.
https://www.bebee.com/@fay-vietmeier-pennsylvania
https://www.linkedin.com/in/faymarmalichvietmeier/detail/recent-activity/
You may be interested in these jobs
Found in: beBee S2 US - 4 days ago

---

Capital One

Dallas

Full time

Dallas-TimberCreek Branch #537 (31537), United States of America, Dallas, Texas · Full Time Branch Ambassador - Highland Park/Oak Lawn Area · The Reimagined Branch Experience: · Welcome to a new idea in banking. Here at Capital One, were redefining how people bank. You see, we be ...

Found in: beBee S2 US - 1 day ago

---

Air Culinaire Worldwide, LLC

Lakewood

OTHER

Air Culinaire Worldwide, LLC · Part Time US · ACW Manual Labor · Lakewood, CA, US · Job Purpose: · The Driver's primary duty is delivering all orders, shopping, maintaining delivery vehicles and providing stellar customer service at every FBO and Client location. · Responsibili ...

Found in: Jooble US - 5 days ago

---

Loves Travel Stops & Country Store

Calvert City, KY

Req ID: 404126 Address: 2966 US Hwy 62 Calvert City , KY , 42029 · Welcome to Love's · Where People are the Heart of Our Success · Deli Host · As a Deli Host, we want you to go beyond the day-to-day work and truly succeed. You will have the chance to interact with people fro ...