Soul-mates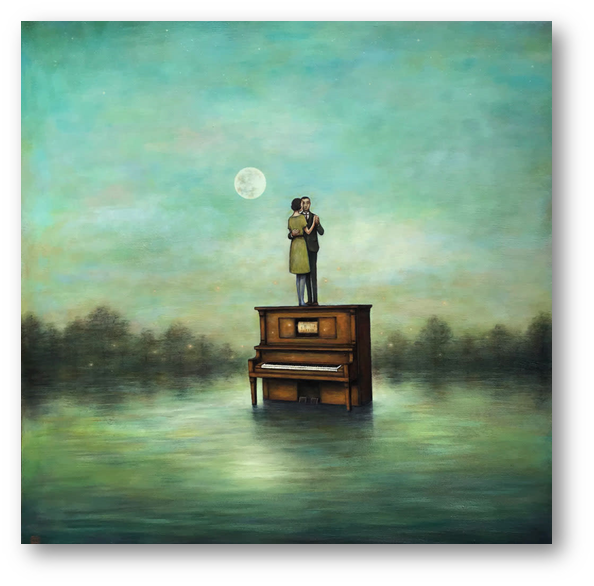 "I am the question
And you are the answer
I am the LYRICS .. with words like dancers
Need You the MELODY .. to give life to my song
I am a boat on the sea all alone
You are the North star guiding me home 
I'm the explorer .. and 
You are the treasure I seek"
 – Impossibly Beautiful – Jean Watson
This is a song of spiritual seeking .. finding the One True "lover of my soul" .. but it echoes the deep desire in every human heart .. that quiet quest to be known & loved & treasured. For all that we are and all that we hope to become.
Finding that one rare match .. is like a quest for some elusive treasure
For some this would be finding their "soul-mate" .. which is bookishly defined as:                                
1 : a person who is perfectly suited to another in temperament. 
2 : a person who strongly resembles another in attitudes, beliefs or ideology 
A soul-mate might be found in any life relationship: family, friends, colleagues, neighbors, lovers .. even enemies.
We are spirit beings with a soul. When we encounter other souls in our lives, the meeting of these two unseen forces can create intriguing attractions .. at times, challenging effects.  
One soul might feel a natural affinity for another .. at complete ease .. while others might  clash.
It is thought that a soul-mate might come into your life
.. for a Reason
.. for a Season 
.. for a Lifetime
This unique soul-relationship might help us grow in love and wisdom .. or might aid us in finding Truth .. or learning difficult life lessons.
There are different types of soul-mates
.. soul friend
.. soul teacher 
.. soul companion 
Soul relationships 
.. require caring .. sharing .. and daring
.. they are intentional .. at times emotional 
.. there is reward .. but there may also be loss 
.. they are not always rational .. at times painful 
.. there is intimacy but that is not always physical
There are three things that @Farooq Omar  identifies in his post "Soul-mates" that resonated:
The first is the ability to "be a friend"    
.. chemistry .. attraction .. ebbs & flows 
.. LOVE that does not cease .. but grows
.. all external beauty fades over time 
.. but soul-mates have a unique rhyme 
.. that carries an essence .. SUBLIME
The second reflects shared commitment .. "become together"
Human beings are always in process .. we are always "becoming" 
The question is: Becoming who? Becoming what? Becoming with?
Soul companions entrust their hearts to each other .. to grow in "oneness"
This is a wonderful transformative journey .. a great adventure .. a pilgrimage                                                                      
The "significant" qualities that Farooq describes for a "perfect partner" are universally esteemed.
.. someone who "moves me to improve .. to be a superior individual"
.. motivates me to "show my best side" .. 
.. the ability to "draw out the most incredible" in each other                              
In truth: there are no "perfect partners" .. because there are no perfect people.
Yet, we can be whole-hearted  in our imperfect state to give our best and to be our best
God's design for a man & a woman to "become together" is called "marriage" 
"And the two shall become one flesh" 
Genesis 2:24, Matthew 19:5, Mark 10:8, Ephesians 5:31
In the Christian faith .. marriage is a spiritual picture: a "profound mystery"             
"For this reason, a man will leave his father and mother and be united to his wife, and the two will become one flesh." 
This is a profound mystery—but I am talking about Christ and the church. 
However, each one of you also must love his wife as he loves himself, and the wife must respect her husband." – Ephesians 5
A Christian husband has been given a divine charge: to love his wife as Christ loves the church 
"Husbands, love your wives, just as Christ loved the church and gave himself up for her." – Ephesians 5:25 
The third strand of the cord Farooq says: "we complete one another"
.. the weakness of one .. will be lovingly supported by the others sure strength 
.. we may not always agree .. but we are lovingly joined in a "oneness" wavelength 
In an "extraordinary homegrown life"
Blessed are you .. if you find in another being .. a nest for your heart & soul 
Desire & commitment to "know" each other,  can make two halves .. WHOLE
Love brings spiritual completeness 
"Love is patient, love is kind. It does not envy, it does not boast, it is not proud.  It does not dishonor others, it is not self-seeking, it is not easily angered, it keeps no record of wrongs.  Love does not delight in evil but rejoices with the truth.  It always protects, always trusts, always hopes, always perseveres. Love never fails .. 
For we know in part and we prophesy in part, but when completeness comes, what is in part disappears .. Now I know in part; then I shall know fully, even as I am fully known."  1 Corinthians 13
There is One who is the lover & restorer of our soul 
"The Lord is my Shepherd 
I shall not want                         
He makes me to lie down in green pastures 
He leads in beside still waters 
He restores my soul" – Psalm 23
Giving honor ..
This post is a response to Farooq Omar "Soul-mates"
https://www.linkedin.com/feed/update/urn:li:activity:6839248054160248832/
The song: "Impossibly Beautiful" by – Jean Wilson is a song about loving the Lord Jesus Christ .. because He is faithful - True and "Impossibly Beautiful" from "Steady my gaze"
https://jeanwatson.com/album/309757/steady-my-gaze
Beautiful art:
https://www.duyhuynh.com/duy-huynh-artwork/
"In His Light" .. I write
All rights reserved:  Fay Marmalich-Vietmeier 
If my words make you think … Great ;~)
As "iron-sharpens-iron" … I enjoy bantering with other BEES … please know, your feedback is as "honey"
A glimpse of the "Bee" called "me" ;~)
My caring nature makes me an advocate. My curious nature makes me a "queen of questions" but gifted with the ability to listen ;~) I am a woman of deep faith, a blessed mother, a voracious reader, a blossoming writer, a grateful person, and a lover of beauty. I treasure family, true friendships & my loyal clients. A "student at heart, I love learning: in every human dimension. Enjoy traveling, good books, good movies, good wine gardening & golf. 
I'm a "heart-to-heart" communicator.
https://us.bebee.com/bee/fay-vietmeier-pennsylvania/blog
https://www.linkedin.com/in/faymarmalichvietmeier/detail/recent-activity/
https://twitter.com/femvietmeier
https://www.facebook.com/fayemv
You may be interested in these jobs
Found in: beBee S2 US - 5 days ago

---

LocumJobsOnline

Newburgh

TEMPORARY

Start Date: ASAP · Enjoy the locum tenens lifestyle knowing Weatherby is here to support you every step of the way. Call and speak to one of our consultants today for available dates and details.Weekdays · Up to 30 patients per day · Contact us for additional skills and procedure ...

Found in: Jooble US - 5 days ago

---

TrustaffTravel1

Madison, MN

TrustaffTravel1 is seeking a travel nurse RN Nursing Home for a travel nursing job in Madison, Minnesota. · Job Description & Requirements · Specialty: Nursing Home · Discipline: RN · Start Date: ASAP · Duration: 13 weeks · 36 hours per week · Shift: 12 hours, days · E ...

Found in: beBee S2 US - 3 days ago

---

University of California Los Angeles

Los Angeles

Full time

Junior Faculty Position in Black Experiences in · Engineering · University of California Los Angeles · Requisition Number: · JPF08064 · Building upon its commitment to foster an inclusive environment and · promote the success of underrepresented students, the UCLA Henry · Samueli ...