1 year ago · 4 min. reading time · ~100 ·
Breakthroughs. Your mind is a ship. Your heart gives wings.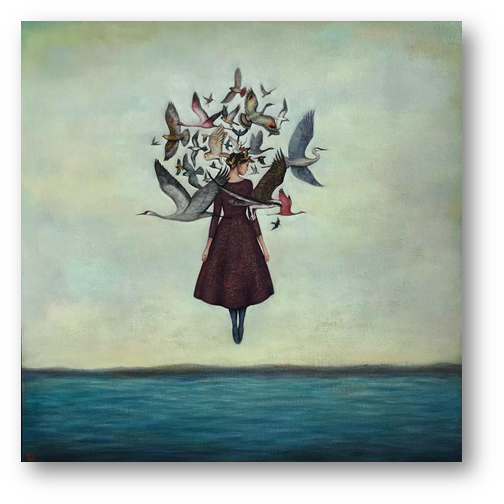 "Every challenge you encounter in life is a fork in the road. You have the choice to choose which way to go - backward, forward, breakdown or breakthrough." - Ifeanyi Enoch Onuoha
To have a breakthrough in your life .. requires "Breaking Free"
.. free from the pattern of the world 
.. free from the currents of the culture
.. free from the expectations of other people 
.. free from the walls you build inside & outside yourself                 
.. free from your own biases & break-downs & backwards thinking 
"Your mind is a ship; it can sail across the universe as long as you don't allow negative thoughts to sink it."
"You don't command wind in the direction it blows, but you command a ship in the direction it sails."
"When all seems to be against you, remember, a ship sometimes has to sail against the current, not with it."
"The storm only comes to teach you how to skillfully sail your ship."  - Mashona Dhliwayo
Breaking free from .. CONFORMITY.
Finding TRUTH and wisdom. That is key
Breaking free from .. UNSEEN captivity
.. will give you "eyes to see" AND perceive.

Breaking free from all the shadow-casters
Who rob true identity .. and create disaster
Do you know the devil is a persuasive pastor?
.. on silent airwaves .. a brilliant broadcaster
.. on the path of LIFE .. a subtle slave-master

Have you noticed this is an Age of ARROGANCE?
Which has given birth to a culture of IGNORANCE
Which has produced .. the Age of MIS-Information
Spreading LIES and corrupting truth in every nation

The world is leading you into the MATRIX
The Enemy is deceiving you and plays tricks
.. on your mind to take control of your life ..
.. to rob you of peace & fill you with STRIFE

"Dis-ease" causes disease but the race won't relent
Until you give EVERYTHING .. and all of you is spent
You are taught to react .. NOT thoughtfully respond
You are taught NOT to question .. ask what is beyond?

You are NOT told to seek the Truth but settle for LIES
"Will you walk into my parlor?" *said the spider to the fly
Satan is just like the spider. He knows exactly what to try 
As the "father of lies" .. he is ever so clever .. and ever so sly

He appeals to "self".. how deserving you are. Enter thru this popular door
He knows you're like an addict, never satisfied, you will always want MORE
He allures you with flattery. His seduction is sweet. His path is a LAIR
The enemy of your soul offers trinkets .. but you don't see the SNARE
Are you ANXIOUS? Are you weary? Are you awake in some nightmare?
Does your life feel chaotic? Is your heart BURDENED with many cares?
How often do you feel that LIVING .. just hinges on a wing & a prayer?


Broken hearts & broken dreams .. broken promises are endless streams .. that we all share
If you should wake before you die .. can you break FREE? Your striving only produces despair
Guilt & shame .. doubt and blame .. we all carry them the same. It's NO GAME .. they ensnare

Breaking free from your past is a catalyst to be born anew.
A mind packed with pain & regret will always block your view.
Lay down those burdens. Let them go. LIGHT will break through.
Do you know the ONE who can make you FREE. Will you accept His dare?
"I am the Way. I am the Truth & Life" said Christ. HIS life .. God did not spare.
"He laid down His life for us." By His SACRIFICE our brokenness can be repaired.
Jesus is the "Glorious-Glue." He will "make all things new." His GRACE is everywhere.
The GOOD news: We are not alone. Not left as orphans. Each day our burdens, He bears.
"It is for freedom that Christ set us FREE." Love others AS yourself. Such LOVE does all forbear.
His invitation "Follow Me." I AM the Good Shepherd, your place in eternity, I have gone to prepare.

"Every happening, great and small, is a parable whereby God speaks to us, and the art of life is to get the message." ~ Malcolm Muggeridge
This "Message" is for anyone seeking a breakthrough
Jesus said: "I am the Way, the Truth and the Life" – John 14
TRUTH is speaking to us during our brief earthly journey.
The question is are we listening?
"Just believe" – Jesus 
In a moment .. a willing heart believes. 
So simple. Yet so life-changing. 
This brief testimony: a "moment" came to me .. I chose to "believe" .. that choice changed my heart and changed my mind & in turn .. changed my life. Over time: I experienced breakthroughs in every area of my life: personally – professionally – spiritually
Over decades .. I became a woman of deep faith .. yet that journey began with a moment of simple, childlike belief.
Disclaimer: 
All breakthroughs are a process and require time. Outcomes will vary based on the unique mindset & heart-attitude .. *capacity and competency of each person. The breakthrough process is one of sowing & a reaping. 
A small step .. a small change can produce huge shifts in individual thinking & behavior = breakthroughs 
"Ideas are so simple, that we may think they are trivial. If we just consider their effect we know the real value of such ideas." - Ali Anani
July 10, 2021
Giving honor ..
This post is my "in the Light" reflection to Alan Geller's AFTER DARK invitation 
Subject: Breakthroughs in our Lives 
https://www.linkedin.com/posts/ageller_onerepublic-secrets-official-music-video-activity-6809661173580005376-DgkE/
Image: "A life more Aliferous" 
https://www.duyhuynh.com/about-duy-huynh/
"Breaking Free"
https://us.bebee.com/producer/breaking-free
https://us.bebee.com/producer/pits-prisons-palaces-promises-to-lay-hold-of
https://us.bebee.com/producer/the-synchronicity-of-serendipity-epiphany-coincidence
* Capacity - I have a unique definition for "capacity" – not found in any dictionary – if you are interested let me know 
"In His Light" .. I write
All rights reserved:  Fay Marmalich-Vietmeier 
If my words make you think … Great ;~)
As "iron-sharpens-iron" … I enjoy bantering with other BEES … please know, your feedback is as "honey"
A glimpse of the "Bee" called "me" ;~)
My caring nature makes me an advocate. My curious nature makes me a "queen of questions" but gifted with the ability to listen ;~) I am a woman of deep faith, a blessed mother, a voracious reader, a blossoming writer, a grateful person, and a lover of beauty. I treasure family, true friendships & my loyal clients. A "student at heart, I love learning: in every human dimension. Enjoy traveling, good books, good movies, good wine gardening & golf. 
I'm a "heart-to-heart" communicator.
https://us.bebee.com/bee/fay-vietmeier-pennsylvania/blog
https://www.linkedin.com/in/faymarmalichvietmeier/detail/recent-activity/
https://twitter.com/femvietmeier
https://www.facebook.com/fayemv
You may be interested in these jobs
Found in: Indeed US - 9 hours ago

---

Grow Financial Federal Credit Union

Tampa

Full Time

Overview: · At Grow Financial Federal Credit Union, we believe in service—to our 200,000+ members, 550+ team members and local communities. · We know happy, engaged people provide the best service, so we live by our mantra: · Be Bold. Be Great. Have Fun. (Especially the fun part) ...

Found in: beBee S2 US - 2 days ago

---

The Lancet

San Jose

Full time

IT has never been more important to Cisco and our communities. We provide the technological infrastructure and capabilities that support our employees, customers, and partners to accelerate Ciscos digital business. As a technical engineer, you will play a key role in crafting, im ...

Found in: beBee S2 US - 4 days ago

---

Whole Foods Market

Sudbury

Regular

Assists with the scheduling and supervision of Team Members as well as with the day-to-day flow of the department. Oversees and maintains compelling Prepared Foods, coffee, and juice displays. Supports the Prepared Foods Team Leader and Associate Team Leader(s) to ensure smooth o ...