5 years ago · 4 min. reading time · visibility ~10 ·
Small Businessman's Primer to Inbound Marketing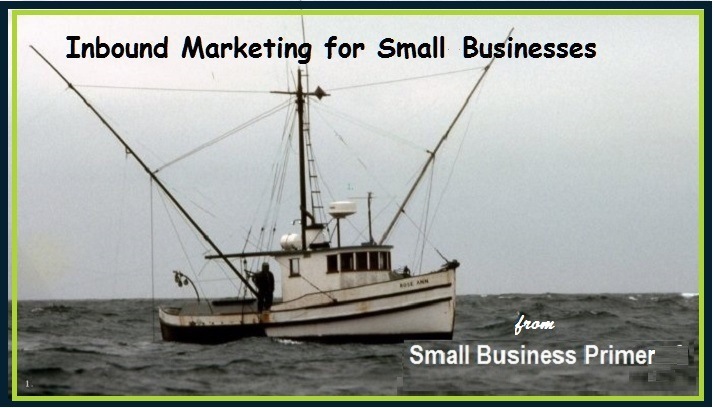 BOATYARDS AND OTHER SMALL BUSINESSES ARE PRIME CANDIDATES FOR
IMPLEMENTATION OF INBOUND MARKETING...
I do not pretend to be a marketing guru. I am a technical and business consultant in boat building and boat yard operations. But as a professional writer and editor, I have over the years worked on contract for several marine marketing and advertising firms, as an account executive and ghost writer. Consequently, I'm not totally ignorant of marketing approaches and principles. 
Actually, I bring something to a discussion of marketing that is not necessarily common... namely, experience on the business manager's side of the desk. In regard to dealing with the construction and implementation of marketing plans, goals, objectives, and  ― perhaps, most important ― in the selection of methods. And what I propose to share with you here are some hard-won perspectives and, hopefully, some useful clarity on contemporary marketing on social media.
Inbound Marketing is often confused with Content Marketing, even by many who represent themselves as ace marketeers...
This post is not intended as instruction for marketing professionals. Rather, it is intended to help small-business people who are often ideally positioned to take advantage of inbound marketing, but who may not understand adequately what exactly it is, and how it differs from content marketing and more traditional, non-digital forms.
Often content marketing promises, for example, an eBook or other take-away, then requires the reader to provide contact (lead information) before that respondent is allowed to access the content involved...
Just about everyone I have asked hates this practice. You click on a link that promises to give you information, then asks for something before sharing the information with you.
To be clear, Content Marketing involves push. Content, like advertising, is pushed out at targeted prospects. To be sure, a pretense is often made that, unlike with advertising, the content pushed out at the prospect has independent value, but the marketer's refusal to share that information (or value) with the prospect, until the latter has paid in something, does not in my experience work well to build brand recognition or loyalty.
In clear contrast, Inbound Marketing involves pull.  Inbound marketing on social media is an effective way to foster longer-term development and nurturing of brand recognition and loyalty. Inbound marketing is a subtle, though not deceptive method for encouraging customers to think of, and come to you as a known and trusted quantity, when they are thinking of buying. 
A keystone of these objectives is development of community...
Development of community begins with providing true take-away value ...
By consistently providing genuine take-away value, your inbound marketing program begins to develop engagement...
To achieve credibility and brand recognition..
It's neither easy, nor simple, and requires significant allocation of resources...
either in-house or contracted out. But which is best?
A lot depends on who you are, and what your business is. Despite what some may try to tell you, there is no single, one-size-fits-all solution to this question.
One point to keep in the foreground is that successful inbound marketing requires you to develop engagement. Engagement comes from conversation. Therefore, anyone ― in-house or outsourced ― has to know enough about the goods and/or services you market and sell.  And they must be sufficiently knowledgeable and experienced in your field to credibly carry on the conversation that is so essential to building engagement.
Forget what some marketing whiz kids will tell you, you can't fake it. Indeed, I can tell you for sure you can't fake it in the boating market, where many potential customers out there are relatively well educated, have read books and articles about their pastime and its hardware, taken courses in relevant subjects, spent days and days at boat shows, as well as years actively discussing issues on the docks with their compatriots.
So, you will either have to participate yourself (if you are your company's only expert in the field), or you will have to assign one or more employees, who are themselves expert and sufficiently articulate to carry on the conversation that, hopefully, your inbound marketing will be able to kick off and maintain. If necessary, you will have to contract outsourced help in packaging and managing that in-house participation.
But whatever you elect to do, never forget that the opportunity which inbound marketing presents for building credibility, brand recognition and loyalty, and eventually to convert conversation to sales, is double-edged. For that same opportunity can also become the occasion to make a fool of yourself and your company, if you allow unqualified people to represent you and your firm in the conversation. ― Phil Friedman
Author's Notes:  If you found this article of value, you may want to take a look at some of my other writing about small business operations and management:
"5 Key Outsourcing Tips for Small Businesses"

"Maximizing Throughput on Fixed Assets and Overheads"
If you'd  like to receive notifications of my writings on a regular basis, click the [FOLLOW] button on my beBee profile. As a writer-friend of mine says, you can always change your mind later.
Feel free to "like" and "share" this post and my other LinkedIn articles — whether on LinkedIn, Twitter, Facebook, or Google+. I ask only that you credit me properly as the author, and include a live link to the original work.
f you are interested in yachts, are allied with the yacht building industry,  or operating a small business in another sector, you should consider joining my beBee Hive, 
THE PORT ROYAL GROUP for Yacht Builders, Buyers and Owners,
where you will find experienced industry professionals discussing a wide range of topics. The ongoing conversation is always interesting, informative, and 100% industry insider.
About me, Phil Friedman:  With 30 some years background in the marine industry, I've worn numerous hats — as a yacht designer, boat builder, marine operations and business manager, marine industry consultant, marine marketing and communications specialist, yachting magazine writer and editor, yacht surveyor, and marine industry educator. I am also trained and experienced in interest-based negotiation and mediation. In a previous life, I taught logic and philosophy at university.


The (optional-to-read) pitch: As a professional writer, editor, university educator, and speaker, with more than 1,000 print and digital publications, I've recently launched an online program for enhancing your expository writing: learn2engage — With Confidence. My mission is to help writers and would-be writers improve the clarity of their thought and writing, master the logic of discussion, and deal confidently with criticism and disagreement.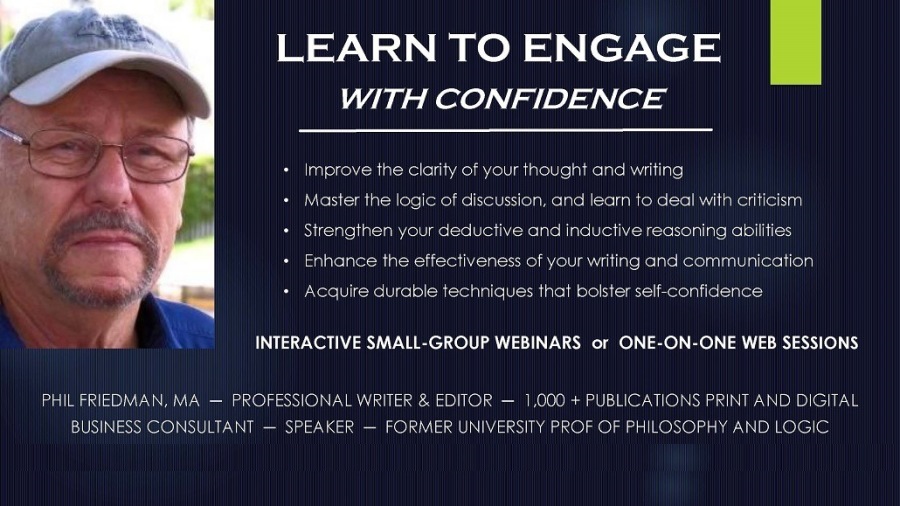 To schedule an appointment for a free 1/2-hour consult email:   info@learn2engage.org. 


Text Copyright 2016 by Phil Friedman — All Rights Reserved
Images Credits:  Phil Friedman, FreeDigitalPhotos.net, and Google Images
""""""""""
You have no groups that fit your search