Consultant Marketing Trust Story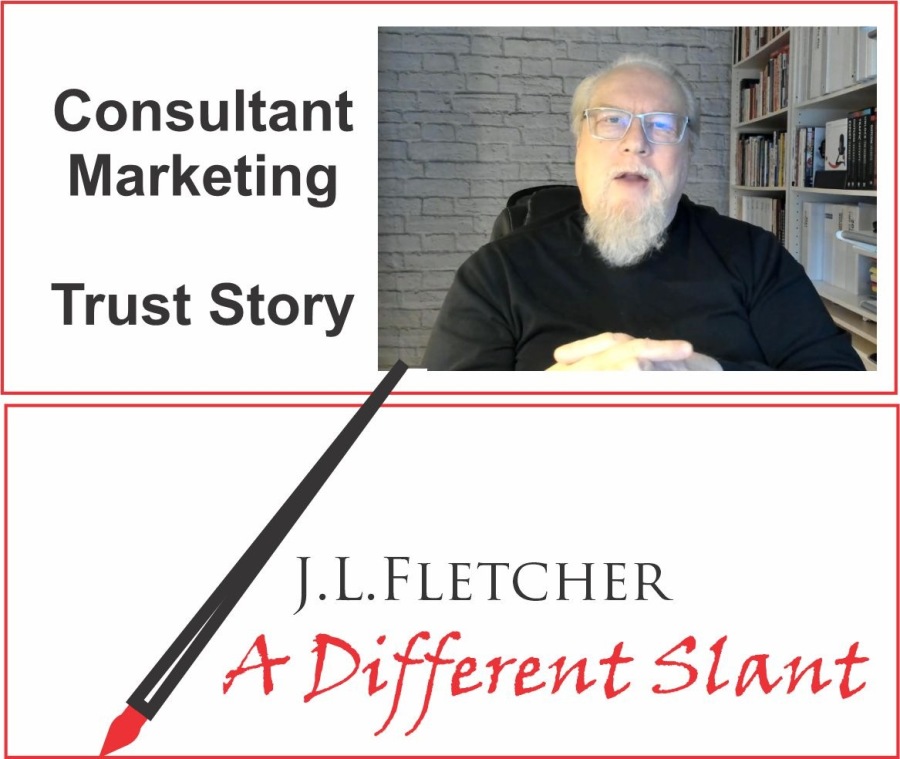 Since March first I have been scheduled to speak on Trust 15 times.
I admit, I've been doing some outbound marketing to get some dates but the remarkable thing is that so many of these events have been booked because of the snowball effect.
For the short haul
Early on in the Pandemic I built out the Virtual presentation studio I believed would get me through a few months using gear I already had to record quality video testimonials for clients on location. Little did I know. Slowly but surely I've added equipment, a Logitech Brio Camera, a mike stand and Fifine Microphone, a Sony walkaround camera, upgraded Camtasia software, and even some audio switching capability.
The most difficult thing was finding a way to disquise the back wall of my office. I tried the Zoom backgrounds but decided against a green screen that would have to be rigged before each call. Then I tried some wallpaper to look like paneling. It peeled as there is a water heater behind the wall and besides that I didn't like the partially concealed closet bifold door. Finally I found a photographers backdrop that looks like a white brick wall. It looks like the real thing on camera and disappears the closet door.
I had to learn how to use Zoom. I got educated on Hopin. And there are some other applications I'll be working in shortly. It took a while but I'm now Virtual ready and experienced. I just haven't had time to be certified by eSpeakers because I've been doing events!
Downhill and rollin'
So there I was, looking for speaking gigs. I went looking for exposure. I'd been lucky enough to have appeared for some event promoters and formed long term relationships for both live events and summits. I did every summit I could pushing for live panels rather than recorded slots in order to have the ability to do Q&A with participants and interact with hosts and other panelists.
It worked. Each summit generated other opportunities. One connected me to a Pod cast talent search engine that led to 4 pod casts. Another summit brought interest from Asia and Europe.
A week ago I went from breakfast to doing a virtual closing keynote and then to a Virtual Pub for a London based organization. Simon, one of the founders was kind enough to make these comments.
Quotes, Stories, Facts and Figures
The title of the keynote is Trust in the New Normal. What's Changed?
Here are some of the reasons I'm being asked to present this information:
Quotes:
In a panel on Lead development I said, "More is not better. Better is better and if Trust is part of that equation your return will multiply." That led to a 20-minute discussion and two direct requests to present.
During one of four TV program keynotes for a Canadian Organization while presenting the elements of Trust: "You have to tell the story the same way every time. Consistency is rewarded duplicity isn't."
Stories:
I've been opening each appearance with Michaels comment over a Fortune Cookie that ends: What you know matters. "Who you know can be important. BUT the single most important thing about building a business is who trusts you."
My closing story will probably continue to be Margie, the Galactic Commander. I've told it live on 3 continents and now virtually as well. Margie's Moxie makes all my observations about trust real with a chuckle thrown in.
Facts:
There is a brain chemical called Oxytocin

which under lies our propensity to trust. When we're stressed we have too little. When we have enough we have greater empathy.
Scientists have found 8 management behaviors that use Oxytocin balance to make people more productive.

None of them have direct costs associated.
Figures:
The Edelman Annual Trust Barometer research shows that "People like me" are still more trusted than governments, media, NGOs and business.
The same study indicates that businesses are considered the most ethical and the most efficient and expected to lead in the New Normal.
Dates on hold
The light at the end of the tunnel is getting brighter and it is not a locomotive coming at us. I now have live dates creeping into my calendar: Las Vegas in May, San Diego in June and Dubai in late June. That's Trust in the New Normal
And so it goes.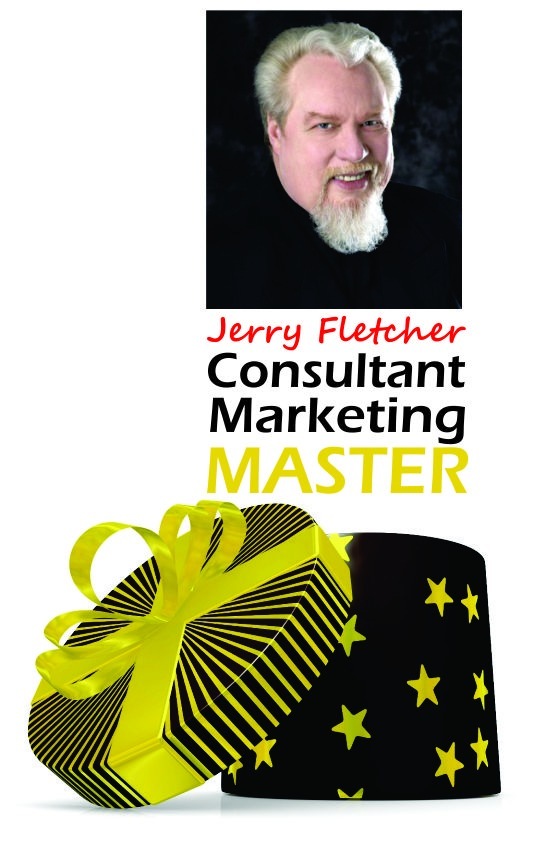 Jerry Fletcher is a sought-after International Speaker, a beBee ambassador, founder and CEO of Z-axis Marketing, Inc.
See Jerry's new speaker demo reel.
His consulting practice, founded in 1990, is known for on and off-line Trust-based Consultant Marketing advice that builds businesses, brands and lives of joy.
Consulting: https://www.JerryFletcher.com
Speaking: https://www.NetworkingNinja.com
You may be interested in these jobs
Found in: Jooble US - 4 days ago

---

Description Specialization: · Acute Care · Job Summary: · Rapides Regional Medical Center is seeking an acute care/trauma Advanced Practice Provider to join our rapidly growing ACSverified Level II trauma program in Central Louisiana. Qualified Candidates: Board certified ...

Found in: beBee S2 US - 6 days ago

---

Forrest Machining Inc.

Santa Clarita

OTHER

Job Description · Summary: Reporting directly to the Senior Human Resources Business Partner this position will provide consultation and guidance to management, offering a point of contact for HR matters and services. Assist in the execution of corporate and HR programs and proce ...

Found in: Jooble US - 6 days ago

---

Citis Chief Administrative Office (CAO) was established in 2020 to oversee the companys regulatory engagement, project management and to lead transformation efforts. Now, the CAO organization has grown to over 600 employees and is at the center of a multi-billion dollar transform ...