Consultant Marketing Credibility to Cash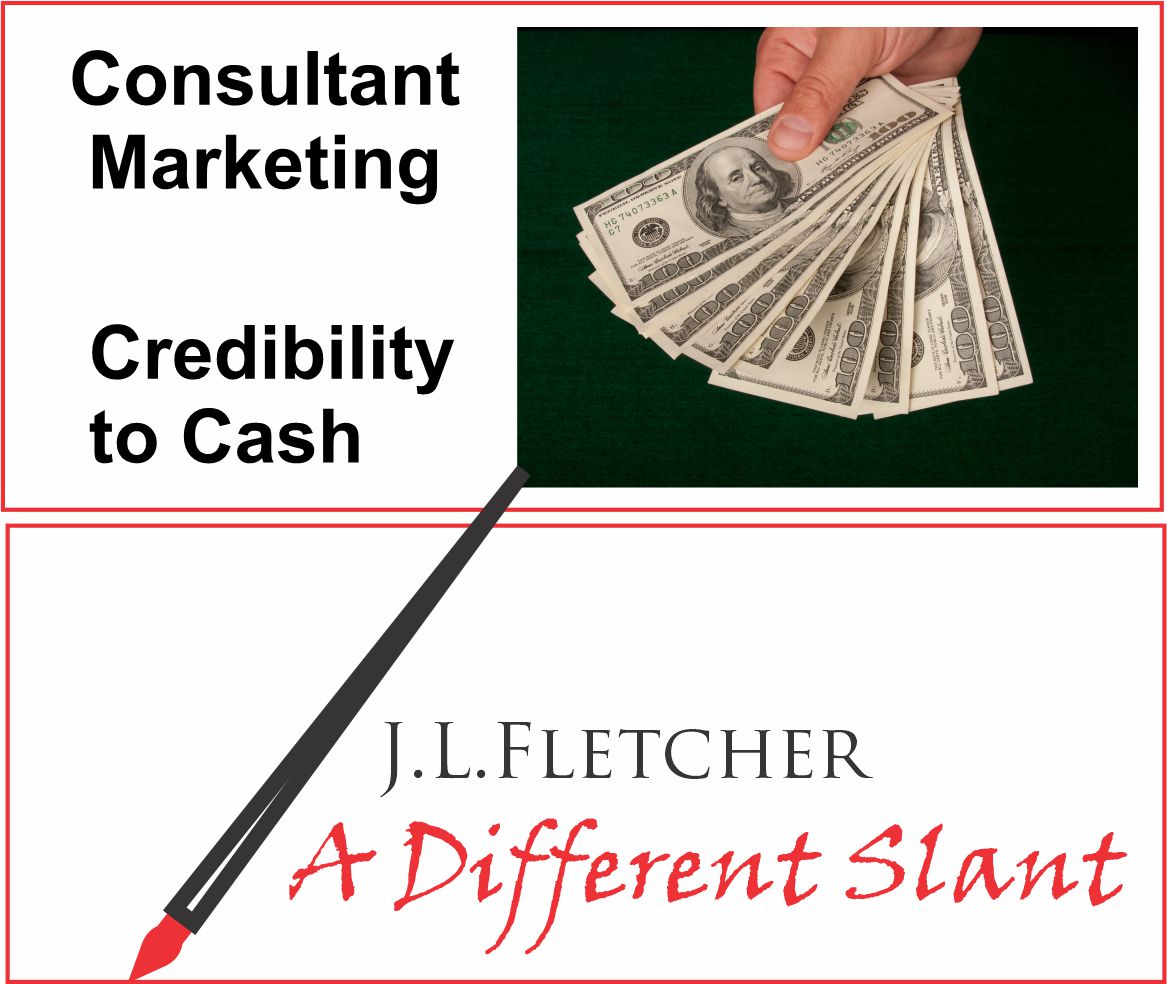 I came back from Miami with a 90 Day plan. 
I'm 10 days in and I've finally handled most of the consulting business actions that piled up while I spent 3 days in a retreat and two days on airplanes. You read that right. When you live in the upper left corner of the USA and you have to get to Miami it takes the better part of a day to get there and return.
I just asked Cristy, my VA to develop a logo for the new "product" One of her skills is in design. That name came about in a conversation at the retreat. Another participant and I were having one of those "Tell me what you have in mind" conversations. He was taking notes as I explained why I say: "Who you know matters, what you know can be important but to build a business the single most important thing is who trusts you."
He asked, "What does it take to build trust." Here's the diagram I sketched on a napkin as I explained that my studies on Trust had shown that it had four components Three of them add up to the fourth. The three are accountability, integrity and consistency. They  build credibility which is the essence of trust.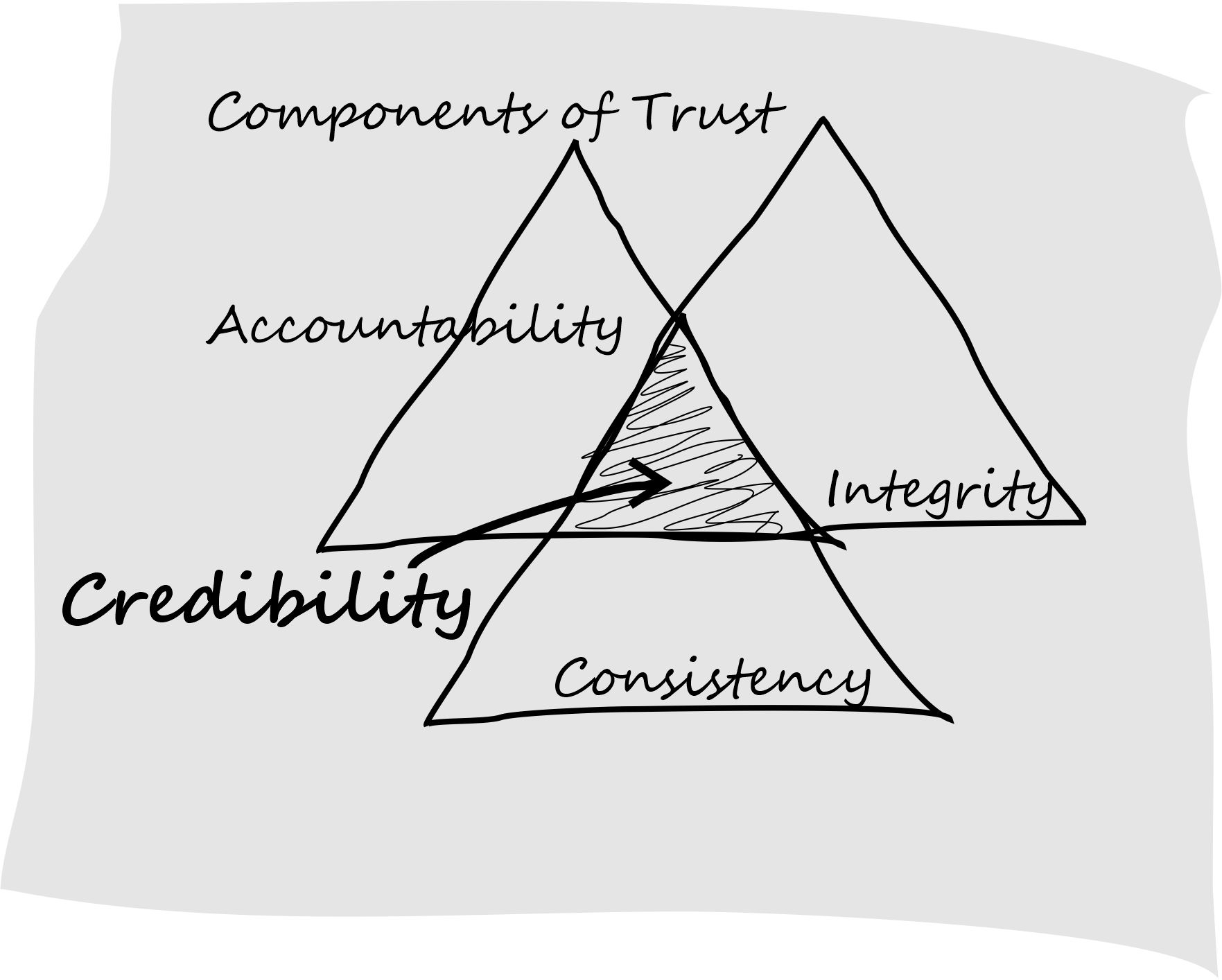 He stopped writing and tore a scrap of paper off his notepad. It said, Credibility to Cash. 
Suddenly I had a name for the 3-day intensive I was considering offering to Consultants, Coaches and Professionals looking for a way to build an ongoing revenue stream.
The plan includes a new approach for me. Over the years I've built my living on Speaking and One to One consulting. During the Pandemic I actually added clients in the consulting side of the business and though I lost revenues on the speaking side I became an expert at delivering Virtual presentations and actually wrote a booklet on Networking in the New Normal.
The demand for my presentation Trust in the New Normal was high this spring as I delivered it virtually 17 times from a London "appearance" as the closing keynote for a global audience to a US appearance for IMCnow, the Northwest/Oregon/Washington chapter of the Institute of Management Consultants, USA.
The unfortunate truth is that most Consultants, Coaches and Professionals may have expertise in a specific area but they may not have solid business training and few have any training or experience in marketing. They are continually plagued by having to generate new clients while providing the services their expertise has garnered them. Some say it is like being on a roller coaster. Market, market, market, Do the work, do the work, do the work. Over and over endlessly. 
I've been flattening that up and down carnival ride for individuals since 1990. I've tested all kinds of solutions in the last 30 plus years. But I can't take the time to teach one at a time all that need the training in how to build their business, their brand and a life of joy. 
One to many was an option I looked at but that means taking everyone that signs up. It means not a lot of quality control and too much just "getting it done." So I opted for a solution suggested during the retreat. 
"Only candidates I have personally spoken with and at ease with and confident of will be accepted for a three day intensive which will become a prerequisite for their acceptance into an ongoing mastermind group for those that want to become legendary."
One to a few is the new model I'll be pursuing. I will still continue my one to one work on special projects as needed and for longstanding clients. 
Speaking will continue to be a key component of my services as we come out of the long darkness of the Pandemic. 
That started this week. 
As you read this I'll be preparing to speak, LIVE in Las Vegas. 
And so it goes.
Jerry Fletcher is a sought-after International Speaker, a beBee ambassador, founder and CEO of Z-axis Marketing, Inc. See Jerry's new speaker demo reel.
His consulting practice, founded in 1990, is known for on and off-line Trust-based Consultant Marketing advice that builds businesses, brands and lives of joy. 
Consulting: https://www.JerryFletcher.com
Speaking: www.NetworkingNinja.com"> https://www.NetworkingNinja.com
You may be interested in these jobs
Found in: Jooble US - 1 day ago

---

Harper's

Dallas, TX

Full time, Part time

Everything about Harper's, from its vibrant ambiance to the elevated cocktails and cuisine, is designed to stand out. · Line Cooks are in charge of prepping food and plating dishes according to a restaurant's menu specifications. Line Cooks are assigned a specific place in the li ...

Found in: beBee S2 US - 3 days ago

---

Wood

Clarkdale, Arizona

Full time

Overview / Responsibilities · Wood is recruiting for an Electrician Apprentice and Helper with construction experience for a project in Clarkdale, AZ. · Authorization to work lawfully in the US without sponsorship from Wood is required. · You will plan, layout, install, and re ...

Found in: Jooble US - 4 days ago

---

RegalCare at Taunton

Taunton, MA

$4,000 SIGN ON BONUS FOR ELIGIBLE NEW HIRES*Formerly Longmeadow Health Care Center - Under New Management* · RegalCare at Taunton is a short and long term care facility located in Taunton, MA. We are currently seeking CNA's to join our team · Full-time part-time Per diem openings ...