1 year ago · 3 min. reading time · ~10 ·
The Cat in the Hat & The Bureaucrat Rats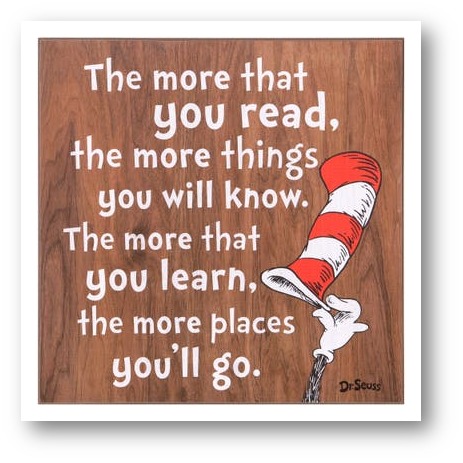 Oh dear .. the "cancel culture" gods are loose

And now they're coming for dear Dr. Seuss
Please tell me what's wrong with "The Cat in the Hat"
.. only ogres & rats could create problems like that ..

"Oh dear!" said the cat. "You do not like our game
.. Oh dear .. What a shame! .. What a shame!" (Dr. Seuss)
Oh dear "cancel culture" .. we do not like your GAME
You want to make everything and everyone the SAME
It's NEVER you .. for everyone else is always to BLAME
Now that dear ones .. that's a shame .. a dreadful SHAME !!
"Now! Now! Have no fear!" said the cat
"My tricks are not bad," said the Cat in the Hat. (Dr. Seuss)
Even a cat knows a TRICK when it's clear
We will stand up .. we will NOT have fear
But hear this .. "we are on to your tricks"
And you are NOT some cat in some hat
Rather dear bureaucrat .. a form of a rat
Your habitat is with the snakes in "The Swamp"
Who much love their "circumstance and pomp"
Furthermore ..
We shall not abide ..
All the LIES you have LIED
We will not climb aboard .. your RIDICULOUS ride
We will not DISAPPEAR or under some hat try to hide
We will NOT be swept along by your TRECHEROUS tide
No matter how many times you have treacherously tried
You are maleficently MISGUIDED and on the wrong side
Dear censor police .. we say "FORSOOTH"
Even creatures like cats can see your truth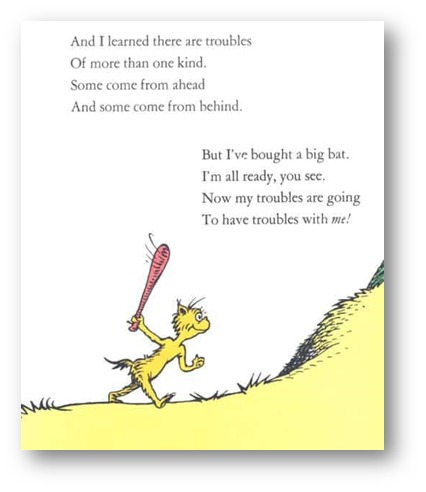 "You can find magic wherever you LOOK.
Sit back and RELAX, all you need is a BOOK." - Dr Seuss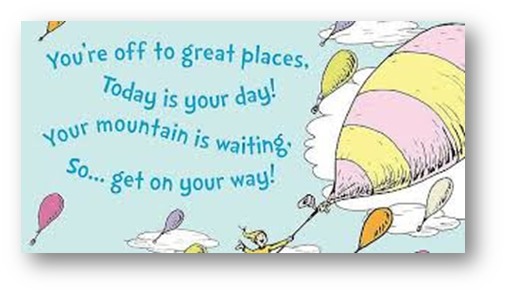 Books should be shared for ALL to READ & to see
Please hear our shout .. this is called "LIBERTY"
Furthermore ..
I may not like Green Eggs & Ham
But I dearly love .. sweet "Sam, I am"
Regarding .. Oh, The Places You'll Go
Dear cancel trolls .. you should knowingly .. know
A DULL mind will CANCEL your ability to GROW
Furthermore ..
How the Grinch Stole Christmas
All the WHO's down in Whoville
Already knew this to be TRUE
In the end, the Grinch's tiny heart grew
There are lessons for WHO's' .. whoever you are
FOOLISHNESS is a very .. very .. very LOW bar
And FOOLS never .. EVER .. get very far
When you head is too big & your heart is "two sizes too small"
Your path becomes crooked & you are in for a "free-for-all"
When WISDOM is lost .. WOE is sure to befall
Furthermore ..
Know this: when you reward bad behavior, it GROWS
THEN it DEMANDS .. exerting itself unrelentingly
BEWARE & be aware
The list of what is deemed unacceptable will grow
.. Tearing down statues
.. renaming (empty) schools
.. cancelling shows like "Cops" (30 years on the air)
.. telling you what books are not acceptable for your children
Paw Patrol .. is deemed "pro-cop propaganda"
.. even Kids cartoons
.. are not immune
People need to WAKE-UP .. resist .. fight back
For without question .. we are under attack
.. the spirit it carries .. will have its way
.. it seems to increase every day
The "gods that lay down rules"
.. they think that you are FOOLS
Will you appease these gods .. who dictate what you should do
.. if you do not comply .. oh, the PUNISHMENT you shall rue


The "cancel culture" sets themselves up like The Elders in The Giver (Lois Lowry)
A children's book about yet another man-made utopia. This one is prescient.
The children are schooled in "SAMENESS" .. sound familiar?
PLIED into political CORRECTNESS. 
These culture transforming "gods"
.. define words for you
.. explain to you what to understand .. how to understand
.. how to apply what they are persistently pouring over you
.. CONDITIONING YOU
.. CONFORMING you & your children to their pattern.
Their mission is unrelentingly ..
It is insidious .. treacherous .. and woefully WICKED
Their fountain of hate & race-baiting is an evil spigot
Their mission is your mindset 
BEWARE & be aware
The "cancel culture" gods will MISGUIDE you
BRAINWASH you until you see things as they do
They are BLIND-guides bent on conforming you to their thinking
With "closed-eyes & hard-hearts" they will woe-fully define:
.. Who & what is "racially insensitive"
.. What is morally right
.. What truth is
What happens when the moral compass is aimed so low that the target is cartoon characters?
The result is "Looney Tunes" .. cartoon politics & cartoon politicians
THOUGHTLESS
POINTLESS
LOONY
IMHO: Cartoon politicians make poor preachers
They do not hear the people's cries
They smile and cheat and wisdom dies
Stupid logic… stupid math
Stupid leader's …stupid path
Stupid people …eyes are closed
Spending, spending… spending grows
"Can't see the forest for the trees"
Thoughts corrupted .. hearts deceived
"Choice" and "change" and "forward" please
April 1st 2021 .. an ode to fools
Note: I am aware that the Dr. Seuss books noted in my post-poem are not included among those to be "retired" from book shelves because they are deemed "hurtful & wrong" by the cancel culture gods.
I just happen to LIKE the books I chose and Dr. Seuss
.. Dr. Seuss has got their goose ..
The backlash has been brewing since 2019, when researchers Katie Ishizuka and Ramón Stephens published a study in the journal "Research on Diversity in Youth Literature" entitled "The Cat Is Out of the Bag: Orientalism, Anti-Blackness, and White Supremacy in Dr. Seuss's Children's Books," deeming them vehicles of "white supremacy."
https://nypost.com/2021/03/04/woke-parents-agree-dr-seuss-books-are-canceled/
"I am the voice of Speedy Gonzales in the new Space Jam. Does this mean they are gonna try to cancel Fluffy too? U can't catch me cancel culture. I'm the fastest mouse in all of Mexico," the 44-year-old actor — and star of Netflix's "Mr. Gabriel Iglesias" 
https://nypost.com/2021/03/08/has-cancel-culture-doomed-the-space-jam-sequel/
https://www.foxnews.com/media/cancel-culture-goes-crazy-claiming-classics-cartoons-and-the-confederacy
"In His Light" .. I write
All rights reserved:  Fay Marmalich-Vietmeier 
If my words make you think … Great ;~)
As "iron-sharpens-iron" … I enjoy bantering with other BEES … please know, your feedback is as "honey"
A glimpse of the "Bee" called "me" ;~)
My caring nature makes me an advocate. My curious nature makes me a "queen of questions" … but gifted with the ability to listen ;~) I am a woman of deep faith, a blessed mother, a voracious reader, a blossoming writer, a grateful person, and a lover of beauty … I treasure family, true friendships and my loyal clients ... enjoy traveling, learning, good movies, good wine and golf. I'm a "heart-to-heart" communicator.
https://www.bebee.com/@fay-vietmeier-pennsylvania
https://www.linkedin.com/in/faymarmalichvietmeier/detail/recent-activity/
https://twitter.com/femvietmeier
https://www.facebook.com/fayemv
You may be interested in these jobs
Found in: Talent US± - 5 days ago

---

Premium Travel ER Assignments Pay Up To $4,475 Weekly · ***** Multiple Exclusive US Assignments · TotalMed is seeking experienced Registered Nurses (RN) specializing in Emergency Rooms (ER). These assignments are typically 13 week travel assignments with both day and night shifts ...

Found in: Jooble US - 3 days ago

---

Encompass Health

Pelham, AL

Job Description · A stronger bond with patients · A stronger impact on recovery · BE THE CONNECTION. · As a registered nurse (RN), you'll be the connection between compassionate care and the real, positive results your patients are striving to achieve. Use your skills within our ...

Found in: Jooble US - 3 days ago

---

Department of the Air Force

Randolph Air Force Base, TX

Full-time

Print · Share · Save Summary · Click on "Learn more about this agency" button below to view Eligibilities being considered and other IMPORTANT information. · The primary purpose of this position as a GS-07 is to: Serve as a Human Resources Specialist (Recruitment and Pl ...