5 years ago · 2 min. reading time · ~10 ·
Ten Golden Rules for Successful Yacht Build Projects - 2nd Edition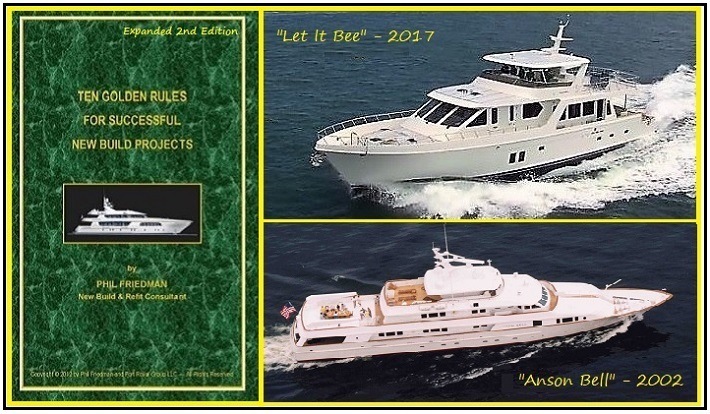 THIS 2ND EDITION ADDS SECTIONS ON BUILDING IN ASIA, ANTICIPATING POST-DELIVERY ISSUES, AND THE PROS AND CONS OF CONVERSIONS AND MAJOR REFITS...
Having a legally bullet-proof contract is not enough to ensure a successful conclusion to a major new build project...

Going strong with more than 5,000 copies distributed to date, Ten Golden Rules for Successful Yacht Build Projects is based on Phil Friedman's more than 30 years experience in yacht project development, management, and direct supervision.
Here are some of the reviews and comments concerning the first edition, from yachting journalists and yachting industry professionals:
From Douglas Sharp (Douglas Sharp Yacht Design, Inc., San Diego, CA, USA) — "I read your 'Ten Golden Rules...' with great interest, and appreciate you sending it to me. The school of hard knocks has certainly taught us many of the lessons alluded to in your book, and I heartily agree with your conclusions and advice… Our industry needs to pay attention to hard won accumulated experience."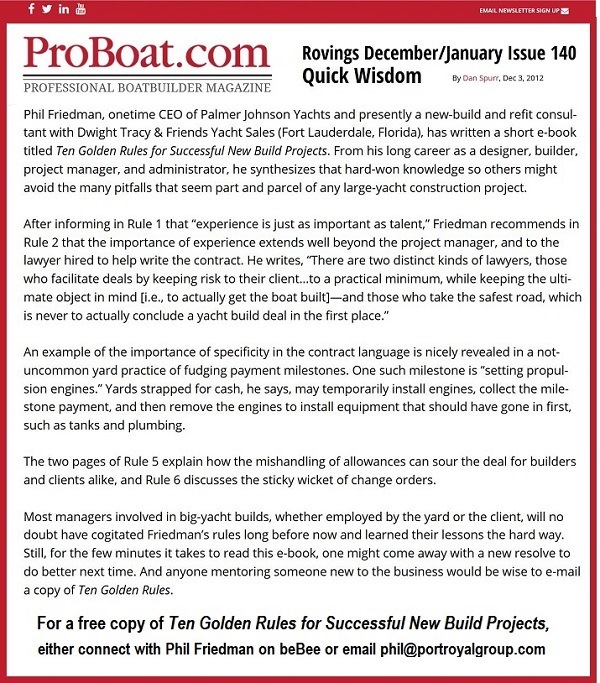 From Stephen Moon (Board Certified Admiralty and Maritime Law Specialist, Stephen M. Moon, P.A., Cocoa, FL, USA) — 
"Your
Ten Golden Rules...
is excellent. I should have been doing a lot of other things this morning but I could not resist reading the e-book as soon as I had a break… Your remarks are very insightful and will be appreciated by many. I have a much better understanding of the events leading up to the actual build process and the important issues to consider before construction now.
Ten Golden Rules...
is a quick, must read for anyone involved in a new build project or major refit."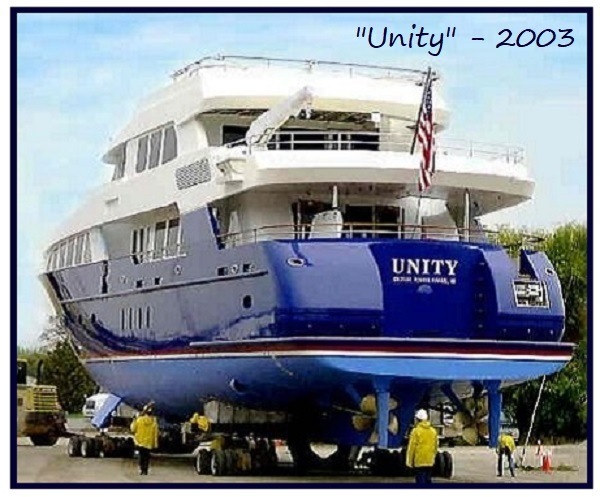 From Harry Jorgenson, (Jorgensen Marine Ltd, Atatu, Auckland, NZ)  —
"Having been involved with large yacht building since the late 70s in varying roles I understand your
Ten Golden Rules
better than most. It is the most sensible advice that I have read for some time and should be essential reading for all involved."
And from notable yachting journalists...

From Diane M. Byrne, Editor, Megayacht News.Com — "I've just finished reading "Ten Golden Rules...", and it contains sage advice for owners and their team of advisers."

From Kenny Wooton (for Yachts International magazine) — "Each "rule" is explored in clear, concise prose easily accessible to non-experts."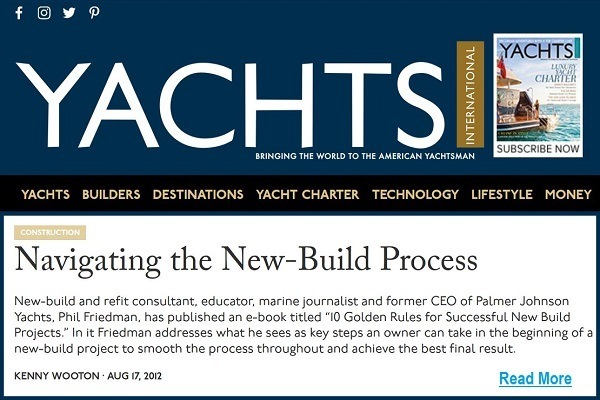 The new, expanded second edition of Ten Golden Rules for Successful Yacht Build Projects adds sections on building in Asia, anticipating and preparing to handle post-delivery issues, and the pros and cons of conversions and major refits.
This second edition of Ten Golden Rules... is scheduled to be released November 1, 2017. 

The author, Phil Friedman, will be available, by appointment, for discussion and consult at the Fort Lauderdale International Boat Show (Bahia Mar Marina, Nov 1-5, 2017).

For more information or to make an appointment, contact email phil@PortRoyalGroup.com or call 1.954..224.2145.
For more about the author and his decades of work in the yachting industry, see:
https://www.linkedin.com/in/friedmanphil/
Or see:

"Sizing Generators to Run Greener and Cleaner"
"Ten Insider Tips on Yacht Build Contracts"
About the author, Phil Friedman:  With 30 some years background in the marine industry, Phil has worn numerous hats — as a yacht designer, boat builder, marine operations and business manager, marine industry consultant, marine marketing and communications specialist, yachting magazine writer and editor, yacht surveyor, and marine industry educator. He is also trained and experienced in interest-based negotiation and mediation. In a previous life, Phil taught logic and philosophy at university.

#YACHTS  #MEGAYACHTS  #SUPERYACHT  #NEWYACHTCONSTRUCTION  #YACHTNEWBUILD  #YACHTING  #BOATBUILDING  #YACHTPROJECTMANAGEMENT
You may be interested in these jobs
Found in: Talent US Sponsored - 6 days ago

---

HealthCare Travelers (Nursing)

Harrisonburg

Travel Nurses Needed - RN Intensive Care Units · Oklahoma Travel Nursing AssignmentsNationwide Registered Nurse Travel Jobs · The Travel Nurse Season is here and it shows · Find great travel assignments with the best in compensation packages. · Where would you like to go?Spend th ...

Found in: Jooble US - 4 days ago

---

Transdev is actively seeking ASE certified technicians for their Paratransit Service in Concord, California. We are looking for qualified and experienced fleet technicians to diagnose and repair vehicles and equipment, with daily safety inspections, under general supervision. Wh ...

Found in: beBee S2 US - 2 days ago

---

Supply chain technology group seeks Python/Django Software Engineer · This Jobot Job is hosted by: · Tim Fallman · Are you a fit? Easy Apply now by clicking the Apply Now button and sending us your resume. · Salary: · $110,000 - $140,000 per year · A bit about us: · We are a rapi ...