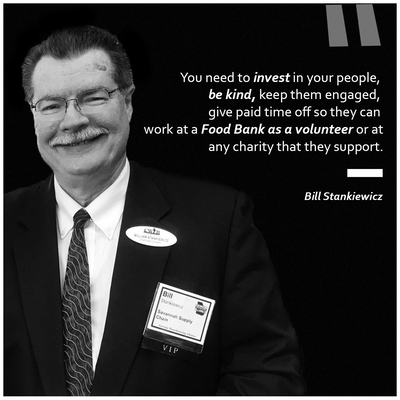 About Bill Stankiewicz:
Bill "Supply Chain Guy" Stankiewicz, one of the most helpful, optimistic and results-generating people you will ever meet. Read on as this logistics executive shares his secret for a happy life, a productive career, a successful business and instant karma.
Projects needing warehousing or transportation for USA.
Regards,
Bill Stankiewicz
President
Savannah Supply Chain
Office: 1.404.750.3200
Experience
Managing Director Savannah Supply Chain Principal / Owner
Savannah Supply Chain llc
Logistics and Supply Chain Industry

Responsible for selling supply chain strategy and Operations Improvement projects. I have worked with an international freight forwarder to improve domestic distribution operations, Stabilize their WMS/TMS systems, design distribution centers, and develop pricing and costing models.

* Negotiated TL, LTL and Parcel rates for several manufacturers.

* Implemented a WMS and improved operations/layouts at multiple facilities for a major Freight Forwarder

* Implemented transportation cost reduction programs at several mid market firms

* Specified WMS and TMS requirements at a major Industrial Building retailer, Identified $15MM in savings with freight rate negotiation's for Canadian & US operations.
Executive Vice President American Packing and Crating Business Development National Accounts for American Packing And Crating. Web site:


Responsibilities include:
•Develop and implement a planning process and strategic plan for APC
•Contribute to revenue, contribution, and volume goals for APC
•Utilize engineering and logistics skills and experience to design and implement key performance indicators
•Manage, indirectly, customer service levels and ensure customer satisfaction
•Maintain and grow existing relationships with current high profile Account Customers
•Develop and maintain a management and communication process to create standardization of business planning, strategy planning, and the performance for APC
•Ensure partnerships with Customer Service, IT, and Engineering units to assess, build, enhance, and implement technology solutions that add value for APC
•Manage distribution/logistics projects that include Americas/Asia/UK/UAE for import/export into the United States
Senior Vice President HWC LOGISTICS Senior Vice President

HWC Logistics

Hartsfield Warehouse provides integrated distribution and transportation solutions tailored to our customers' needs. Our wide array of services allows your company to implement a supply chain strategy that best fits with your overall distribution needs. Services include transportation, transload/cross-docking, customs bonded, warehousing, CES, CFS, & courier services.

We provide air import breakdown of both air pallets and loose cargo that we recover from the airlines. Shipper built air pallets can easily be transferred to our CFS in our company roller-bed trucks for fast and efficient breakdown. When you move your pallets to our CFS you are getting faster breakdown times, accurate information as to cargo condition and short reports, providing you with complete control of your consolidation.
Vice President Sales and Operations Coastal Logistics Group (CLG) Vice President Sales and Operations

Coastal Logistics Group (CLG)
50 Sonny Perdue Drive, PO Box 7707, Savannah, Georgia 31418

Coastal Logistics Group has multiple Distribution Operations in Savannah, Memphis,TN., and Norfolk, Virginia. We specialize in Manufacturing Support Services, Distribution Support Services, Specialized Port Services, and Packing & Crating Services. I can be reached at 1.404.750.32oo
Director of Operations Americas Barloworld Integrated Solutions It's no secret. Successful companies do what they do best and outsource the rest. For instance, 93% of the Fortune 100 outsource all or part of their material handling to Third Party Logistics firms (3PLs).


But what about small to mid-market manufacturers who have an On-Site material handling need? Perhaps in the areas of raw material receiving / putaway, production line replenishment / kanban, finished goods warehousing and truck loading?

That's where Barloworld, a $6 billion international expert in on-site material handling and logistics, fills this market void. I would love to have an opportunity to discuss your material handling objectives with you and how Barloworld's on-site material handling services may be of help.


Specialties:

My focus is on : Material Handling / Logistics, Supply Chain Management, Process Reengineering, Operations / Outsourcing,
JIT / Lean Manufacturing and WMS installations.

Education
DePaul University Chicago, Ill

Professionals in the same Transportation / Logistics sector as Bill Stankiewicz
Professionals from different sectors near Savannah - Georgia
Other users who are called Bill
Jobs near Savannah - Georgia
Found in: Jooble US - 2 days ago

---

Wal-Mart

Hilton Head Island, SC

Do you enjoy shopping? · Online orderfillers and delivery associates get to do just that every day. Online orderfillers have the opportunity to shop for our customers and choose just the right apple, or select their favorite cereal. This position is extremely fast paced and is on ...

Found in: Jooble US - 6 days ago

---

Abco Transportation, Inc

Savannah, GA

ABCO Transportation is currently offering SE Regional trucking jobs to experienced CDL-A drivers, who soon become experts behind the wheel. Our SE Regional team services Florida, Georgia, Alabama, Tennessee and the Carolinas.SE Regional trucking jobs, like others in the industry, ...

Found in: Jooble US - 4 days ago

---

Aya Healthcare

Hilton Head, SC

Aya Healthcare has an immediate opening for the following position: Certified OR Tech / Surgical Tech (CST) in Indianapolis, IN. · This is a 13-week contract position that requires at least one year of Certified OR Tech / Surgical Tech (CST) Surgical Services experience. · $3284/ ...