Relevant - relating to or bearing upon the matter in hand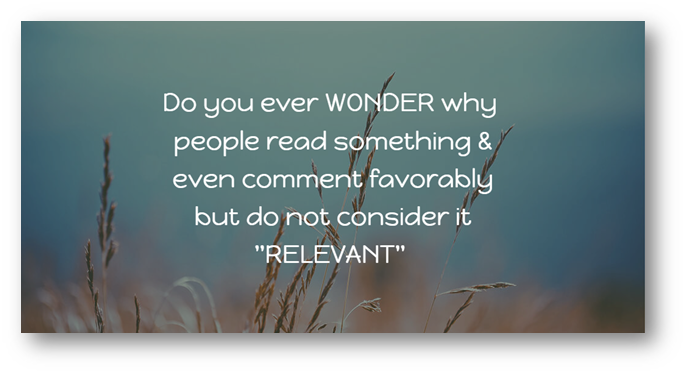 I know that people like
grand gestures as a sign
but to me, it's always been showy
Like flowers sent to the office
.. or a car with a bow ..
All of us know that the size
does not make up for the absence
I really like the small things
The things others don't notice
because they are only for you
.. or for me ..
Invisible, but meaningful
Something simple can be
..something larger ..
Like listening
Not hearing, but listening
to the soft-spoken secrets
that pour from me to you
so we can build this ship
together, so it will float ..
Like the feeling that I get
when you tell me that you like me,
that you really like me,
and I wonder to myself
how did I get so lucky
to have you really like me?
It's not the big things
that will change our lives
.. but the smallest of things
The tiny particles of hope
.. floating in the air and
encircling us in their aura
I appreciate the small things
because I know that those things
.. are just for me ..
and when you show me and tell me
.. I know that I matter ..
And I want you to know
.. that you matter ..
Take this note that I
folded in half
and then in half again
and then again & again
.. open it in one year ..
Then tell me what it says
It will be such a small thing
but it will mean everything
You may be interested in these jobs
Found in: Jooble US - 4 days ago

---

Summary Job Summary · Clears cleans and sets tables in a restaurant setting. · Responsibilities Qualifications · Typically requires a high school diploma and 0 to 2 years of experience. · Performs work under direct supervision. · Handles basic issues and problems and refers ...

Found in: Jooble US - 4 days ago

---

Job Description · Primary Duties and Responsibilities · Evaluates systems and products by designing and conducting research programs · Confirms system and product capabilities by designing feasibility and testing methods; testing properties. · Develops new products by studyin ...

Found in: Jooble US - 3 days ago

---

Trustaff is seeking a travel nurse RN Clinical for a travel nursing job in Sioux Falls, South Dakota. · Job Description & Requirements · Specialty: Clinical · Discipline: RN · Start Date: 02/06/2023 · Duration: 13 weeks · 36 hours per week · Shift: 12 hours, days · Emplo ...