1 year ago · 5 min. reading time · ~100 ·
Regrets and Unopened Doors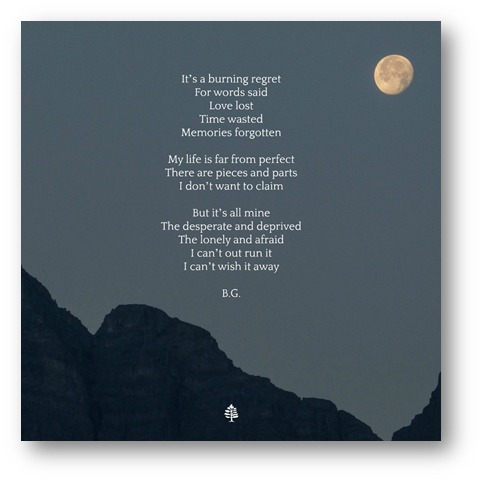 Some REGRETS are like grains of sand .. others upon a mountain stand
The moment to change your mind has long-slipped through your hands
Decisions made in haste are destined to produce waste.

 You believed the wrong things
Now your heart refuses to sing
 
Might your relationship have been saved?
If all the brokenness could had been unpaved
 
Did you .. the wrong message send?
When you might have helped a friend
 
Instead of work you chose play
Now your debts won't go away

 Did you choose .. the wrong spouse?
.. the wrong friends .. the wrong house
.. the wrong work .. the wrong blouse

You said the wrong things & much pain that did bring
You hurt someone's heart & it's tearing them apart
You yelled at a child when you could have smiled
You missed your plane & your children's games
Along the road of life .. you drove too fast
And therefore, into walls you crashed
 
When your DREAMS fade away
REGRETS will have their way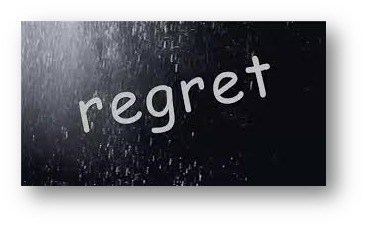 A story told by The Buddha 
"A young widower, who loved his five year old son very much, was away on business when bandits came and burned down the whole village and took his son away. When the man returned, he saw the ruins and panicked. He took the burnt corpse of an infant to be his son and cried uncontrollably. He organized a cremation ceremony, collected the ashes and put them in a beautiful little bag which he always kept with him.
Soon afterwards, his real son escaped from the bandits and found his way home. He arrived at his father's new cottage at midnight and knocked at the door. The father, still grieving, asked: "Who is it?" The child answered, "It is me, papa, open the door!" But in his agitated state of mind, convinced his son was dead, the father thought that some young boy was making fun of him. He shouted: "Go away" and continued to cry. After some time, the child left. The father and son never saw each other again."
After this story, the Buddha said: 
If you cling to an idea as the unalterable truth,
then when the truth does come in person
and knocks on your door, you will not be able
to open the door and accept it. - " The Buddha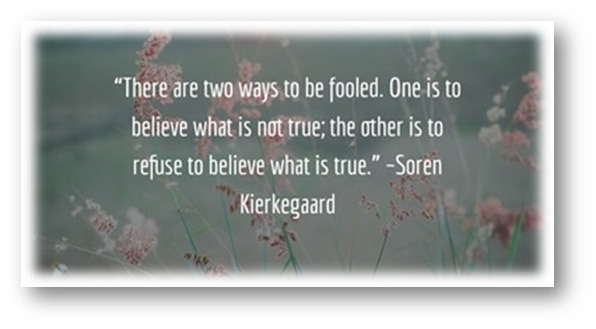 "There are two ways to be fooled. One is to believe what is not true.
The other is to refuse to believe what is true." Soren Kierkegaard
 
The Buddha took me to another door that involved Truth.
Many years ago, I bought in an antique shop a small painting by Holman Hunt. It is of Christ standing in front of a door.
"Behold, I stand at the door, and knock: if any man hear my voice, and open the door, I will come in to him" - Revelation 3
Picture in your mind ..
Jesus, the Light of the World, stands at a door, which is overgrown with ivy and weeds: this represents a life overwhelmed. Busy. Distracted. Stressed.
The door clearly represents the door of someone's life. Jesus is standing at the door and knocking. He is awaiting a response.
He wants to come in and be part of that person's life. Be part of your life.
What is noteworthy in this painting is that there is no handle on the door. The person inside must choose to open the door .. choose to invite Him in. Into their life .. into their heart.
What a painful regret to come to the realization that Truth came knocking but you did not answer the door. 
Christ is used to being rejected .. being ignored .. being denied. But still, He knocks.
 
Some "regrets" can be mended .. while others have eternal consequences.
 
"Has this world been so kind to you that you should leave with regret? There are better things ahead than any we leave behind." - C.S. Lewis 
"There is a vast difference between what you long for .. what you settle for .. and what you are meant for." - unknown
In the end, we only regret the chances we didn't take, the relationships we were afraid to have & the decisions we waited too long to make." - Lewis Carroll
"There's not a day  goes by I don't feel regret. Not because I'm in here, or because you think I should. I look back on the way I was then: a young, stupid kid who committed that terrible crime. I want to talk to him. I want to try and talk some sense to him, tell him the way things are. But I can't. That kid's long gone and this old man is all that's left. I got to live with that. Rehabilitated? It's just a bullshit word. So you can go and stamp your form, Sonny, and stop wasting my time. Because to tell you the truth, I don't give a shit." - Red in Shawshank Redemption 
 
What causes REGRET
.. Pride
.. Unbelief
.. A dull-spirit
.. A hard-heart
.. Closed-eyes
.. Willful ignorance
.. Spiritual blindness
.. A closed "obstinately shut mind"  

I keep fighting voices in my mind that say I'm not enough
Every single lie that tells me I will never measure up
Am I more than just the sum of every high and every low
Remind me once again just who I am because I need to know
 
You say I am loved when I can't feel a thing
You say I am strong when I think I am weak
And you say I am held when I am falling short
And when I don't belong, oh You say I am Yours
And I believe 
What You say of me 
I believe
The only thing that matters now is everything You think of me
In You I find my worth, in You I find my identity

Taking all I have, and now I'm laying it at Your feet
You have every failure, God, You have every victory
 
What You say of me .. I believe 

March 26th 2021 
 
This post is to the honor of Alan Geller - and his "Project X experiment" .. Subject: Regret 
This is my "in the Light" reflection to Alan's invitation to "share an interlude" .. offer a "different perspective."
Respond to the: "AFTER DARK is a state of mind; where we investigate and exhibit different perspectives"
"In the Light" is also a "state of mind"
 


References:
Lauren Daigle - album "Look up child"
 
"Closed-eyes & Hard-hearts"
 
https://www.bebee.com/producer/@fay-vietmeier-pennsylvania/closed-eyes-hard-hearts
https://drawingontheword.com/revelation-3v20-jesus-knocking-on-door/
According to Hunt:
"I painted the picture with what I thought, unworthy though I was, to be divine command, and not simply a good subject." The door in the painting has no handle, and can therefore be opened only from the inside, representing "the obstinately shut mind".
https://www.sermonillustrator.org/illustrator/sermon2a/handle">https://www.sermonillustrator.org/illustrator/sermon2a/handle">https://www.sermonillustrator.org/illustrator/sermon2a/handle's_on_the_other_side.htm">https://www.sermonillustrator.org/illustrator/sermon2a/handle's_on_the_other_side.htm
Regrets .. mistakes & missed opportunities 
https://medium.com/@fatima.kamyana/regrets-9347fd2ad478
 
"In His Light" .. I write
All rights reserved:  Fay Marmalich-Vietmeier 
If my words make you think … Great ;~)
As "iron-sharpens-iron" … I enjoy bantering with other BEES … please know, your feedback is as "honey"
A glimpse of the "Bee" called "me" ;~)
My caring nature makes me an advocate. My curious nature makes me a "queen of questions" … but gifted with the ability to listen ;~) I am a woman of deep faith, a blessed mother, a voracious reader, a blossoming writer, a grateful person, and a lover of beauty … I treasure family, true friendships and my loyal clients ... enjoy traveling, learning, good movies, good wine and golf. I'm a "heart-to-heart" communicator.
https://www.bebee.com/@fay-vietmeier-pennsylvania
https://www.linkedin.com/in/faymarmalichvietmeier/detail/recent-activity/
https://twitter.com/femvietmeier
https://www.facebook.com/fayemv
You may be interested in these jobs
Found in: beBee S2 US - 5 days ago

---

Fashion Institute of Technology

New York City

["FULL_TIME"]

The Fashion Institute of Technology (FIT), an internationally renowned college of art and design, business and technology, of the State University of New York, invites applications for a Secretary I in the Fashion Business Management department. · JOB DESCRIPTION: · Under the su ...

Found in: beBee S2 US - 6 days ago

---

Fidelity Investments

Hamilton

Full time

Please Note: We are currently interviewing for the 2/20/2023 class · Are you ready to Launch into a career at Fidelity? · If so, please consider joining our customer service team in Covington, KY. This role requires a consistent balance of remote and on-site participation in ou ...

Found in: Jooble US - 6 days ago

---

Interim Healthcare

Madison, WI

Full-time

We are looking for an Intake Coordinator who is a self starter, reliable, and great team player to come to help us grow and develop our team to best care for patients. If you are looking for a flexible schedule, work/life balance, and a great work environment with a close-knit te ...