GOP WANTS HARSH PUNISHMENT FOR PROTESTS NOT HELD ON JANUARY 6, 2021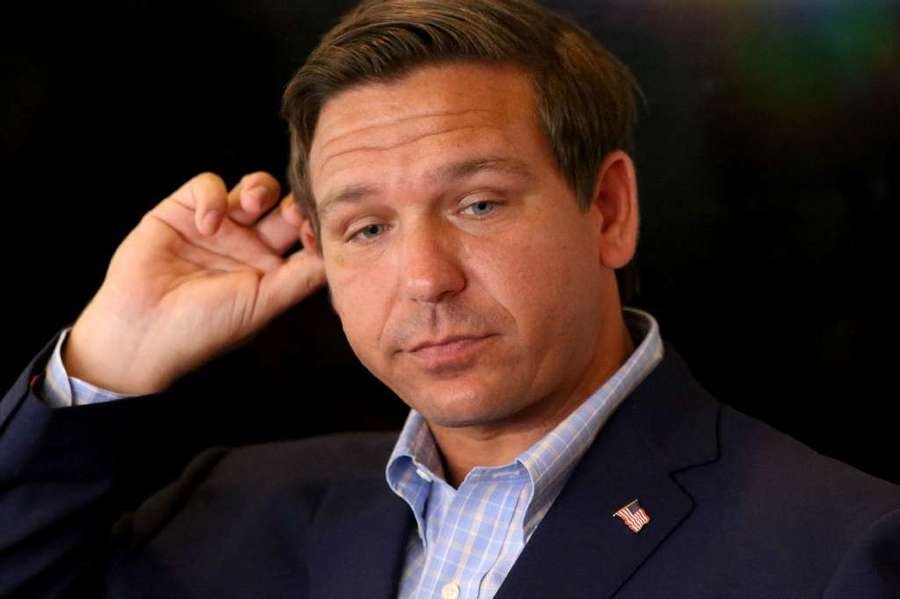 The Republican Party is hard at work suppressing voting rights and now also shutting down protesters.
Florida Governor Ron DeSantis tells The Lint Screen, "protests are un-American and against freedom of speech" and must stop.
"Liberal bellyachers are ruining everything," the guv says. "They bitch and moan and cause traffic jams by being out in the streets and causing a commotion. I say, let's just run over these protesters with cars and get on with our lives! Busy people pulling themselves up by their bootstraps have places to go."
GOP lawmakers in 34 states have introduced 81 anti-protest proposals during the 2021 legislation session.
"Look at how Black Lives Matter protesters have ruined life in America," DeSantis says as he shakes his head (96% of BLM protests were peaceful). "BLM anarchists tried to disrupt President Trump when he went to get his picture taken with the Bible in front of a church. That's not only un-American. It makes Jesus cry! President Trump is the man making America great again, for crying out loud, they should have been cheering him on."
But not all protesters are created equal, DeSantis says.
"The patriots who rallied on behalf of President Trump on January 6 at the U.S. Capitol shouldn't be arrested. They should be commended," DeSantis claims. "Yes, they were protesting, but they were protesting against an unfair election that was awful. Biden cheated President Trump out of his second term, and Trump's supporters were upset because they love their country so much they couldn't stand to see a crazy socialist take it over." DeSantis looks down, his eyes getting teary. He wipes his peepers and continues.
"The crowd was very peaceful on January sixth. The Trump people wanted to discuss the matter intelligentlywith their elected politicians, but the Capitol police escalated the whole situation, and the liberal media blew it out of proportion. The fake news tried to make these patriotic Trump protesters look like villains. Unbelievable. It's incredible how hypocritical some people can be."
Many speculate DeSantis may be posturing for his presidential run in 2024.
"That's outrageous," the governor says with a dismissive chuckle. "My man is, and always will be, Donald J. Trump. He is the chosen one. The greatest leader of all time." The Floridian drops to his knees and looks toward Mecca (Mar-A-Lago). Gov. DeSantis rises, dusts off his knees, and speaks in hushed tones.
"Of course, if the chosen one were to deem me a worthy disciple, I would do whatever he asks. The Republican Party has always been a group of independent thinkers who only want law, order, and justice for all."
——————————————————————–
Read PD Scullin's debut novel "SAWDUST: Love is wilder than a circus," a humorous ride across America with a circus in the early '80s. This book has earned 100% 5-Star reviews on Amazon. Act now and save during pandemic pricing. You're a click away from a fun, unforgettable ride. Buckle up and go.
You may be interested in these jobs
Found in: Jooble US - 5 days ago

---

Lakeside Dentistry

Rochester, MN

Full time

Lakeside Dentistry is a small, mature private practice, located in Rochester, MN. Our office has been treating the greater Rochester, MN area for over 30 years. Not only do we treat our patients like family, but we are a family ourselves. We work hard to provide our patients with ...

Found in: Jooble US - 1 day ago

---

Molded Devices Inc.

Jaffrey, NH

Do you want to work for a small company where you are not just a number? Where you are cared about and work in a family atmosphere with a set schedule? If so, then Molded Devices is the place for you Molded Devices, Inc. is an established OEM manufacturer of medical devices and c ...

Found in: Jooble US - 4 days ago

---

CSL Plasma

King of Prussia, PA

The Associate Director, R&D Resource Capacity Management Lead is a critical position that sits at the intersection of portfolio strategy and project delivery. This individual will be responsible for establishing and maturing global R&D resource and capacity management capabilitie ...