1 year ago · 4 min. reading time · visibility ~100 ·
Be aware of WONDER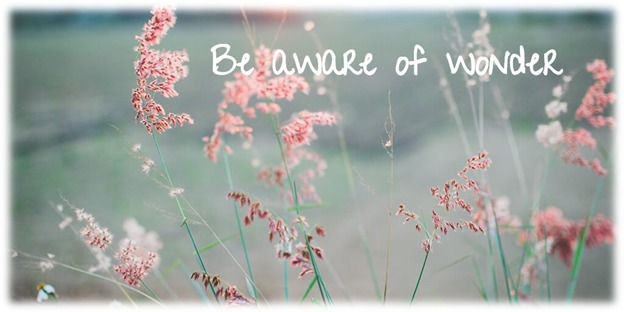 "The roots go down and the plant goes up and nobody 
really knows how or why, but we are all like that."

AWAKEN to the WONDER around you. 
Wonder awakens your SPIRIT
Wonder awakens your HEART
Wonder awakens THINKING
Wonder awakens Creativity
Wonder awakens IDEAS
 
"Intentional attention" is an "awareness tip" pointed out by Laila Al-Alwan PhD 
The practice of "intentional attention" can be a growth catalyst and raise your level of consciousness and the state of your being. ~ fem-v
Sharing a pearl of insight by Laila: "extrapolating Intentional Awareness to DEEPER Seeing" .. that is the highest and most noble form of "Intentional Awareness" 🙏
 
"Everything has beauty, but not everyone can see." – Confucius
"Wonder is the beginning of wisdom" - Socrates
All "wonders" .. are from God. - fem-v
 
"WONDER" can be found in the simplest of things
300 violins symphony will cause the heart to sing
In LIFE .. the birth of a child. Who can forget?
The breath-taking crimson of a sunrise & sunset
Brilliant flashes of lighting and rumbles of thunder
LOOK & SEE .. everywhere there is glory & WONDER
The majesty of mountains .. crowned in glistening snow
The unfolding of flowers in a garden .. one beautiful rose
BILLIONS of sparkling stars who, each by name, God knows
The green of the grass .. the blue of sky
The GLORY of colors .. that delight our eye
The WONDERS of GOD .. who can know why?
From "WONDER"  by Fay Vietmeier
 
"Simplicity is like brevity. We are forced to reduce to INCREASE insight & find value." fem-v
Think of yourself as a seed. A good seed. 
"The roots go down and the plant goes up and nobody 
really knows how or why, but we are all like that." Robert Fulghum
"In every seed lie the components of all life the world has known from all time to now." ~ Sister Joan Chittister ~ from: "Seeds of a New Humanity"
Seeds of greatness lie within but they require awakening, awareness, refining and nurture.
This holds true in the physical & the spiritual realm ... in personal & spiritual development.
This post is a great example of awakening ideas:
"Awakening dormant IDEAS" (co-authored with @Ali Anani)
https://www.bebee.com/producer/@fay-vietmeier-pennsylvania/awakening-dormant-ideas
The the quality of seeds ... matters.
"The fact that we have to fight for something so essential to life as the integrity of seeds, speaks to the real drama of this present time: that we have to fight to preserve what is most fundamental and sacred to life." ~ Llewellyn Vaughan-Lee ~ from: "Seeds and the Story of the Soul"
All I Really Need to Know I Learned in Kindergarten
~by Robert Fulghum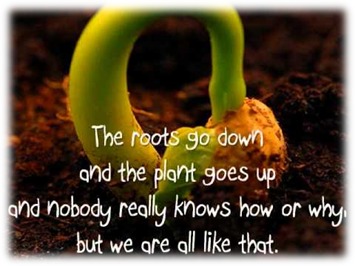 ALL I REALLY NEED TO KNOW about how to live and what to do 
and how to be … I learned in kindergarten. Wisdom was not 
at the top of the graduate-school mountain, but there in the 
sand pile at Sunday school. These are the things I learned:
Share everything. 

Play fair. 

Don't hit people. 

Put things back where you found them. 

Clean up your own mess. 

Don't take things that aren't yours. 

Say you're sorry when you hurt somebody. 

Wash your hands before you eat. 

Flush. 

Warm cookies and cold milk are good for you. 
Live a balanced life:
Learn some and THINK some
and draw and paint and sing
…dance and play…
and work every day some. 

Every now & then take an afternoon nap. 

When you go out into the world, watch out for traffic, 
hold hands, and stick together. 
Be grateful
*"Gratitude is not only the greatest virtue it is the parent of all other virtues."* ~ Cicero
*"A thank-full heart helps you live deeper ... think deeper"* ~ fem-v

Be aware of wonder
Remember the little seed in the Styrofoam cup: 
The roots go down and the plant goes up and nobody 
really knows how or why, but we are all like that. 
*"Heart-to-heart" is the richest soil for seeds of JOY to germinate."* ~fem-v
*"Grow with your heart toward God"* ~ fem-v 

Goldfish and hamsters and white mice and even 
the little seed in the Styrofoam cup … they all die
One day, so will we.

And then remember the Dick-and-Jane books 
and the first word you learned …the biggest
word of all … LOOK
*"But ALSO try to PERCEIVE for this is deeper seeing."* ~fem-v

Everything you need to know is in there somewhere. 
The "Golden Rule" and love and basic sanitation
Ecology and politics and equality and sane living

Take any of those items and extrapolate it into 
sophisticated adult terms and apply it to your 
family life or your work or your government or
your world and it still holds true and clear and firm. 

Think what a better world it would be if 
everyone in the whole world had cookies and milk about 
three o'clock every afternoon and then lay down for a nap.
If all governments 
had a basic policy to always put thing back where 
they found them and to clean up their messes
And it is still true, no matter how old you are
… when you go out into the world, it is BEST 
to hold hands and stick TOGETHER.
This post is dedicated to GOD. The Source of WONDER.
Multiplied thanks to Robert Fulghum ~ All I Really Need to Know I Learned in Kindergarten
*"my added quotes"* to Fulgham's poem
Giving honor to Laila AL-Alwan for her inspiration here:
"𝐀𝐰𝐚𝐫𝐞𝐧𝐞𝐬𝐬 𝐓𝐢𝐩 ... 𝐃𝐞𝐯𝐞𝐥𝐨𝐩𝐢𝐧𝐠 𝐲𝐨𝐮𝐫 𝐈𝐍𝐓𝐄𝐍𝐓𝐈𝐎𝐍𝐀𝐋 𝐀𝐭𝐭𝐞𝐧𝐭𝐢𝐨𝐧"
https://www.linkedin.com/feed/update/urn:li:activity:6700466257772244992/?commentUrn=urn%3Ali%3Acomment%3A(activity%3A6700466257772244992%2C6700467154984202240)
August 23rd 2020
"In His Light" … I write ;~)
All rights reserved:  Fay Marmalich-Vietmeier 
If my words make you think … Great ;~)
As "iron-sharpens-iron" … I enjoy bantering with other BEES … please know, your feedback is as "honey"
A glimpse of the "Bee" called "me" ;~)
My caring nature makes me an advocate. My curious nature makes me a "queen of questions" … but gifted with the ability to listen ;~) I am a woman of deep faith, a blessed mother, a voracious reader, a blossoming writer, a grateful person, and a lover of beauty … I treasure family, true friendships and my loyal clients ... enjoy traveling, learning, good movies, good wine and golf. I'm a "heart-to-heart" communicator.
https://www.bebee.com/@fay-vietmeier-pennsylvania
https://www.linkedin.com/in/faymarmalichvietmeier/detail/recent-activity/
https://twitter.com/femvietmeier
https://www.facebook.com/fayemv
You have no groups that fit your search