1 year ago · 1 min. reading time · ~10 ·
What Does Escrow Mean? | Peter Palivos, Attorney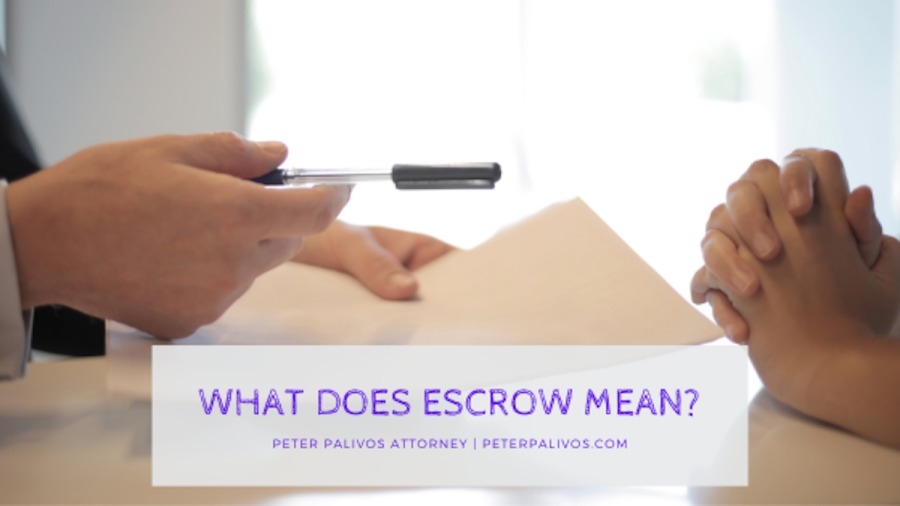 The term escrow is defined as a legal arrangement in which one party temporarily takes custody of a sum of money or a piece of property until certain financial obligations are met. In real estate, this typically comes in the form of cash for one of two reasons. The first of these is to protect the buyer's good faith deposit, to ensure that the money goes to the correct party at the time of the sale. The second is designed to hold the homeowner's money to pay taxes and insurance when due. The first option is used during the home buying process, while the second of these two is used throughout the life of a loan.
To create an escrow agreement to protect the buyer's money when a deposit is made, the money is put into the first type of escrow account. In this case, the money is deposited into an escrow account that holds the money until the purchase is made. If the purchase is not made due to a buyer's default, the seller gets to keep the money. He will then try to sell his house again.
The other type of escrow agreement involves holding the buyer's money to pay taxes and insurance. In this type of account, the money is stored until it is due at the time of payment. This type of escrow account involves collecting the money each month until the payment is due, then paying the money to cover things such as taxes and insurance. These payments are typically only collected to cover things such as taxes and insurance. Other items, including a one-time tax payment, utility bills, and HOA fees, are paid for separately from additional funds and are not covered by the escrow account.
The title company typically manages the escrow account, but it may also be run by an escrow agent or a mortgage lender. Any of these people may be responsible for paying the bills from your escrow account. The benefit to you is that you don't have to keep track of when your payment is due nor even how much is expected. You only need to keep track of making the monthly payment. It's a perfect arrangement for anyone who doesn't want to keep track of expenses on their own, and in many cases, it's a requirement.
This article was originally published at 
https://peterpalivos.com/
You may be interested in these jobs
Found in: Talent US± - 4 days ago

---

Trusted is seeking an experienced nurse for this exciting travel nursing assignment. Trusted has streamlined the travel nursing experience by enabling nurses to apply directly to jobs without the need for recruiters. · This unique approach provides more transparency, eliminates p ...

Found in: Jooble US - 1 week ago

---

**Job Description** · Entry-level project management position that coordinates implementation projects by managing project timelines, communicating to stakeholders, and ensuring the project remains in scope and on schedule. · Manage deliverables throughout the implementation proj ...

Found in: Jooble US - 1 week ago

---

IDR Healthcare

Billings, MT

IDR Healthcare is seeking a travel nurse RN NICU - Neonatal Intensive Care for a travel nursing job in Billings, Montana. · Job Description & Requirements · Specialty: NICU - Neonatal Intensive Care · Discipline: RN · Start Date: ASAP · Duration: 13 weeks · 36 hours per ...