Tips For Making Your Home More Energy Efficient | Peter Palivos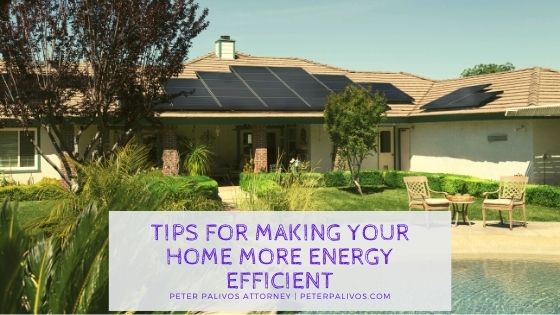 Are you interested in making some big changes to your home? One of the best do-it-yourself projects you can take on is making your home more energy-efficient. It will reduce your monthly electric bills significantly, and you'll be helping the environment.
If you don't know where to start, read these simple tips below. They're easy to use and budget-friendly.
Adjust Your Thermostat
It's vital for you to lower your thermostat before leaving home. You can lower the temperature by 3 to 5 degrees. Your system will consume less energy, and you can look forward to getting a lower electric bill in the mail.
Seal Your Windows
Have you checked the windows lately? There's a possibility that your windows may have air leaks. You can stop this by adding quality weather stripping around the frames.
As your home ages, cracks will appear in your drywall. You can combat this by carefully adding a bead of silicone over them.
Sealing cracks and air leaks in your windows is a simple way of making your home more energy-efficient without pushing you past your financial budget.
Wash with Cold Water
You should consider washing your clothes with cold water. According to many home energy efficiency experts, 90% of the energy consumed by your washer is used to heat the water. The remaining 10% is used to operate the machine.
What's the moral of the story? Doing your laundry with cold water can help you save lots of money.
Be Leery of Space Heaters
Gas and electric space heaters will keep you comfortable during the winter months, but they aren't the most efficient way to keep your home warm. Many space heaters on the market need 1,500 watts of energy to perform well. This can increase your monthly electric bill. Make sure your space heaters are energy-efficient.
Install Insulation in Your Attic
Why should you install insulation in your attic? The insulation will seal air leaks and lower your utility costs. Getting quotes from several contractors will help you get the best deal for this project.
Install a Storm Door
Adding a storm door will pay huge dividends to your home. It will serve as an extra barrier during bad weather. It will also lower energy loss.
Contrary to popular belief, it's not difficult for homeowners to make their homes more energy-efficient. Following the six tips listed above can help you save energy and money.
Article originally published on PeterPalivos.com
Articles from Peter Palivos Attorney
View blog
You may be interested in these jobs
Found in: Jooble US - 6 days ago

---

ZOLL Medical Corporation

Broomfield, CO

Data, · Software Engineers/Programmers matching to this specialization work in a software R&D environment developing software source code or new software that will be released commercially. · ZOLL Data Systems, a division of ZOLL Medical Corporation, is a healthcare software sol ...

Found in: beBee S2 US - 6 days ago

---

Job Description · At Boeing, we innovate and collaborate to make the world a better place. From the seabed to outer space, you can contribute to work that matters with a company where diversity, equity and inclusion are shared values. · Were committed to fostering an environment ...

Found in: Jooble US - 3 days ago

---

Thank you for clicking on one of our quick response codes (ADV). Below is the Job Description for the role you are interested in. For more opportunities, please see Part Time: Paid hours depend on your availability and business need; the more you are available, the more you ca ...