"What a Crock of Sh**" Updated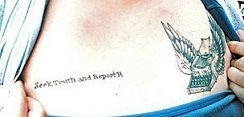 There are platforms on which I neglected to post this article. I am correcting that deficit now. I had everything planned as to what I would say before I became distracted by
Randall Burns
remarkable article here: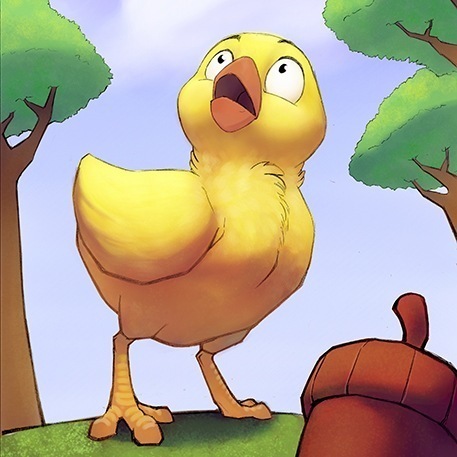 My mind went blank after reading this. I was overjoyed.
My article:
"What a Crock of Sh**"
was part of the evolution of my understanding of terrible things. I had been dying very slowly but felt it was more from ignorance than necessity. I was born with an extraordinary intellect that does not seem so extraordinary to me. All I see is the reflection in a mirror with the way I've always been. I've viewed my intellect as more of a curse than a boon. It sets me apart in ways I do not appreciate.
I slowly began to understand my impending death was being inflicted on me. That realization came as I withdrew from pharmaceutical products so evidently toxic to my system.
No, no, you say. That cannot be. I went through those thoughts, too.
But the coup d'état in my thinking came when I asked a neurologist what I could do about my inability to maintain my core body temperature [yours is probably 98.6]. Mine was dropping under 95. That is organ failure territory.
.
"Turn the heat up," he said—sneeringly.
.
I was flabbergasted. I knew, at that moment, I was completely on my own. 
I eventually did seek help elsewhere, and an MIT scientist eventually helped me figure out what was wrong—Reactive Hypoglycemia.  I probably owe her my life as there were those trying to convince me to go KETO and carbs were my treatment. I have completely recovered.
.
I had told him I had found out stunning things about our food, medicine, and vaccinations. After that interchange, I knew I had struck more than a nerve—I continued to dig.

Conspiracy? That word has been given a bad rap by the CIA no less. As I attempted to alert system after system I found nowhere to turn. Nixon here in The USA had passed an Act in 1973 allowing medicine to become profitable. Remember:
There is no Profit in Healthy People.
As my health improved, I buried myself in study. A friend would visit me twice a week: I would hand him articles and we would watch videos. Twice he asked me if this material was so disturbing, why study it?
"I'm looking for good news," I said—twice no less. "There isn't any."
This article describes the evolution of my understanding of how Mainstream Media has failed us. Industry has purchased all of our media outlets and turned them into propaganda machines. Even hometown newspapers have been bought up by a conglomerate by the name of CNHI. These media outlets have been brainwashing populations for over half a century. Edward Bernays reigns supreme.
The Bane of Humanity: Edward Bernays, and the End of the World We Know
Propaganda: Mind Manipulation and Manufacturing Consent—By Joe Dubs
Now on to: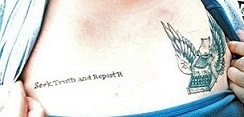 [and no-this is not my chest]  I've had contact with some media.  I speak directly to reporters; I email some; I sometimes work with new's outlets for months to correct our stories.
.
One reporter with a microphone was nearby doing a local story.  I heard about an event that had occurred, hopped in my car, and drove there.  I was banking on media presence and I was right.
I walked up to the man with the microphone and started talking.  My legs were trembling and I made mention that I was afraid.  I asked that they not record and looked in fear at the camera.  The reporter assured me it was off.
"There's danger in speaking out," I said.

"Why?" the reporter replied.  "It's a free country."
Incredulity engulfed my face.  People don't know the price that could be paid for speaking out.
I've paid dearly for what this country offers.  I've paid with my children, my body, and, soon enough, my life.  I have a disease that will most likely kill me—a gift from those shots.  My boys and I have created a great source of profit—in terms of our bodies and our health.
I had a very bright future a long time ago.  I should be rolling in the green, living high off the hog, and romping with grandchildren.  I have none of those.  What could have been was horribly stripped from me.  My family has suffered dearly.  There should be laws—what?—you say there are?  No-the legal system in this country is little more than an illusion.  It's costly and help is unattainable.
I have a medical condition that can't be acknowledged in this country—If not the world.  It's from those damned shots and those things called medications to boot.  No person working in those fields will risk losing all from which they benefit in order to correct my suffering—to whatever extent it can be corrected.
My emails have elicited interesting responses, but most times—not  all—the silence is deafening.  The most frightening is the title of this piece. [in words that were not blocked out]   It was in response to my plea below:
On Wed, Feb 20, 2019 at 6:08 PM <*********@*******.***> wrote: [from me to a journalist]
I can't remember when I've been so terrified.  Vaccines took out my whole family.  What are you people doing?  I mean, seriously.  I have two fingers left with which to type.  It probably cost the school system $1,000,000 to educate my damaged children.  That's property tax money where I come from—the taxpayers paid.
Some of us cannot be vaccinated—not all.  There is a gene variant on the MTHFR gene that subjects us to too much damage with these shots.  It is relative to mitochondrial DNA.  It's estimated that 20% or more have this gene variant.
There is plenty of research out there to show how these shots damage people.  The CDC's own data proved the autism link—read "Vaccine Whistleblower" with the forward written by RFK Jr.  There's much more out there.
Mainstream media is not covering these stories.  I know begging doesn't help, but I'll beg you anyway.  Someone out there in mainstream media please do the research!
A shock-wave hit me as I read this reporter's response–the title of this article.  I found myself wondering why my murder was unimportant—why my sons were unimportant.  Then I remembered how the holocaust went.  This is not much different.
I thought to myself Maybe we aren't people after all. Then I looked at this:
He certainly looks like a people to me–albeit a little one.
I worked with a managing editor for months—arriving at the physical location to speak with her a few times—sending the science via email at other times.  I felt some hope well up in my throat—until the paper wrote a fluff-piece on proposed strippings of exemptions from the shots that are so deadly to many of us—telling parents not to worry.
I became angry and wrote this:
I've written stories of our lives–my sons and mine:
A Response to Why Younger Folk are not giving Their Babies Those Shots
And finally this:
I have little hope these stories will make an impact. There seems to be a strategy that has been nurtured and guided for years. It's an amazing strategy. There is a process within corporate-strategy by the name of externalization. Corporations deflect responsibility by placing blame on an unsuspecting third party–and we fall for it–I know I did.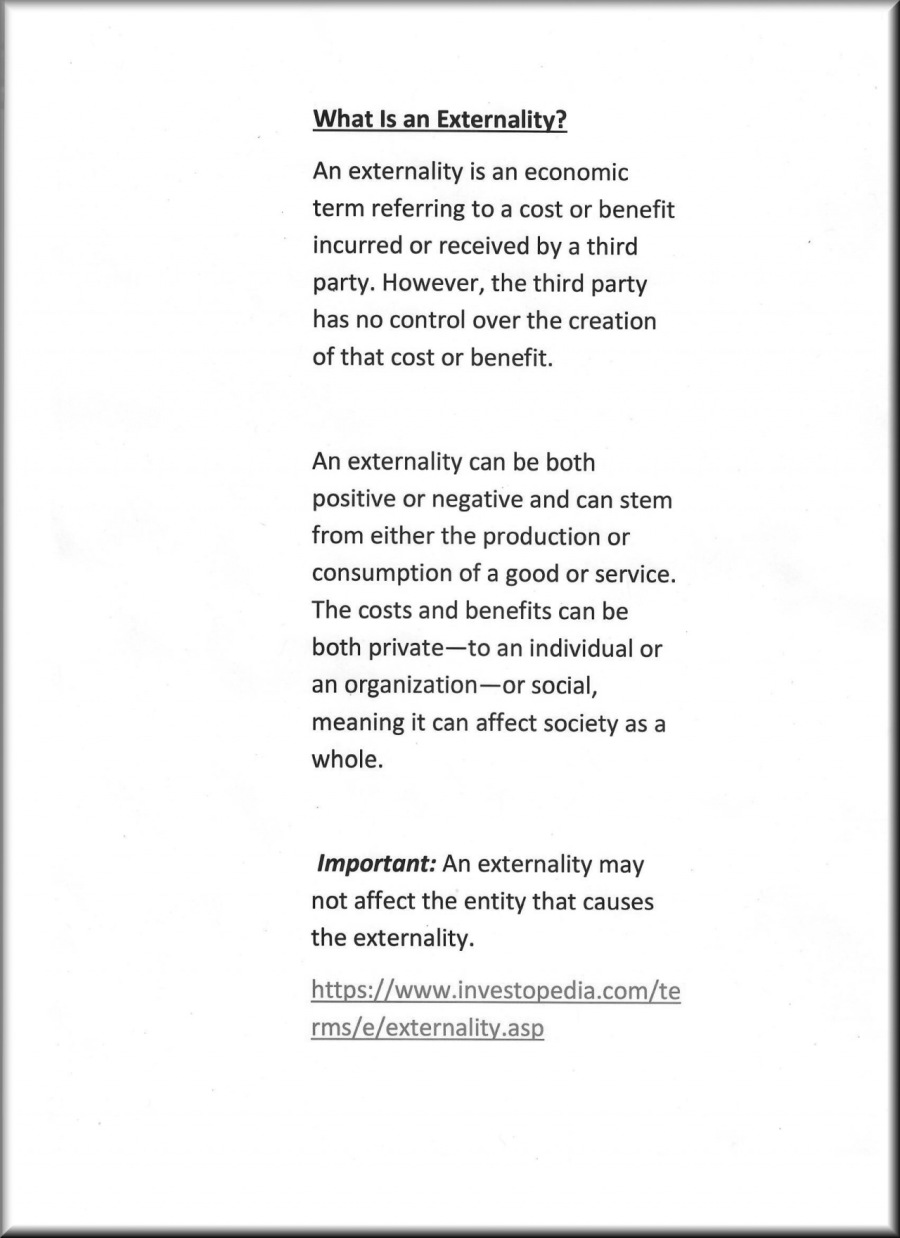 Here–watch this to get a better understanding of some corporate strategies:
Based on Joel Bakan's bestseller The Corporation: The Pathological Pursuit of Profit and Power
I've taken to avoiding television–at least the corporate kind.
Copyright January 2020 Joyce Bowen
Articles from Joyce 🐝 Bowen Brand Ambassador @ beBee
View blog
You may be interested in these jobs
Found in: beBee S2 US - 3 days ago

---

Dollar General Fleet - Zanesville, OH

Glenmont

Full time

Dollar General Fleet is Hiring Company Drivers · Home Weekly - Drivers Earn Up to $100,000/Year* + $5,000 Sign-On Bonus · Zero Cost Rider Policy - Recent Grads Welcome · Dollar General is currently hiring Class A CDL Truck Drivers for touch-freight regional routes. We are excite ...

Found in: Jooble US - 1 day ago

---

Smithfield Foods, Inc

Omaha, NE

Job Locations US-NE-Omaha · Your Opportunity · As part of our Engineering team, you would analyze data, draft implementation plans for production process optimization. Seeking out ways to maximize efficiencies by eliminating the waste of valuable resources that directly impact o ...

Found in: Jooble US - 2 hours ago

---

UST Logistics

Syracuse, NY

Hourly Pay · $17-19/hour · Warehouse Associate · UST is growing quickly, and we are looking for Warehouse Associates to join our team Our ideal candidate is a reliable and dependable team-player. · When you join UST as full time employee, you will become eligible for full benefit ...