"TRUMPERS SHOULD HAVE HUNG ME JANUARY 6," PENCE SAYS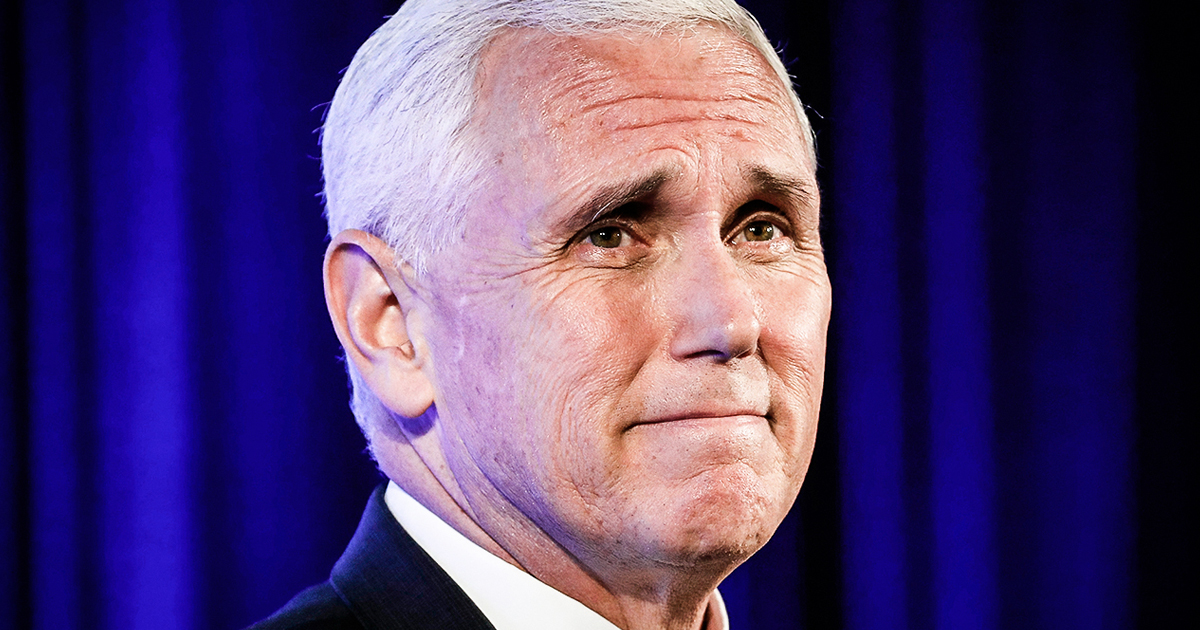 Toilet paper doesn't know Donald J. Trump's ass as well as Mike Pence does.
The former V.P. still worships his ex-boss, disgraced, twice-impeached ex-President Donald Trump. Even after Trump's looney tunes, maniac supporters wanted to kill Pence for certifying the election on January 6.
"I honestly can't blame people for wanting to see me strung up," Pence tells The Lint Screen, shaking his head. "I was a coward. I should have never certified the presidential election. President Trump told me that he had won in a landslide, but I foolishly believed the actual election results. I was wrong."
Pence is outraged the media "has made a big deal" out of the events on January 6.
"It was one day, one day," Pence says. "Let it go, people. Cops got beaten, American flags were used as weapons, patriots smeared crap on the walls of The Capital, and angry folks were looking for politicians to kill––so what? These Trump supporters were simply expressing their freedom, their God-given liberty. I think the media needs to shut up and let bygones be bygones. There's nothing to see here. Move on!"
The Trump sycophant believes he made a mistake by allowing the count of the Congressional vote.
"We all knew the election results," he says. "President Trump had told us. And he's the leader of the free world, so why on earth would he lie? Biden cheated and he's ruining America. Everyone says so."
Pence is thankful the coup mob didn't hang him on insurrection day.
"That angry crowd wanted to kill me, and probably my wife and kids, too. And who could blame them? The media provoked the insurrection by spreading the false story that Joe Biden had won the election. I'm glad I was protected and my life was saved, but now I'm finally speaking out. Donald J. Trump is our savior and redeemer, he's the chosen one. And I bow to his glory."
The bootlicking ass-kisser bows his head. "I am pathetic," he says quietly to himself. "Absolutely pathetic."
———————————————————————————————-
Enjoy PD Scullin's debut novel "SAWDUST: Love is wilder than a circus," a humorous romp across America with a circus in the early '80s. You're a click away from a helluva fun ride. Buckle up and go.
You may be interested in these jobs
Found in: Jooble US - 15 hours ago

---

University of Pittsburgh Medical Center

Butler, PA

UPMC Tri Rivers Musculoskeletal Centers are hiring a full-time Patient Services Representative to join their team In this position, you will work Monday-Friday during daylight hours asssisting with patient check-in and check-out as well as chart pre Patient Services, Representati ...

Found in: Jooble US - 3 days ago

---

​Salary: Crothall Healthcare is a Compass One Company that provides specialized, high-quality, innovative, and responsive support services exclusively to the healthcare industry. Crothall serves many of the Top 100 Hospitals throughout its over 1300 healthcare service teams in ...

Found in: beBee S2 US - 5 days ago

---

CSL Behring

Hobart

TEMPORARY

Job Description · Responsibilities: · Responsible for greeting donors at the plasma collection center and conducting a series of registration procedures to verify donor suitability for the plasma pheresis process. · In compliance with Standard Operating Procedures (SOPs), assists ...