TRUMP BLASTS LASSO: "HE'S VERY WEAK, A DISGRACEFUL GUY"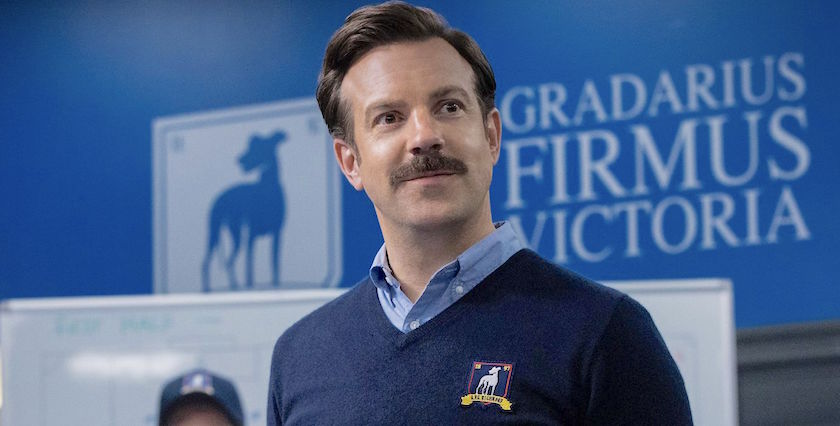 Apple TV may have a hit with its show Ted Lasso, but there's one person who is not a fan: disgraced twice-impeached ex-president Donald J. Trump.
"Ted Lasso's a total disaster," Trump tells The Lint Screen. "He's very weak. His wife is divorcing him, so that tells you he's a loser. Only losers get divorced. Then Ted Lasso gets a job in England as a soccer coach, and he tries to save face by calling it 'football.' Everyone knows it's really soccer. America is the only place where we play real football, a macho sport where big tough guys pat each other on their butts after good plays."
The MAGA man doesn't understand how anyone likes Ted Lasso.
"He's one of those goody-two-shoes guys," Trump says. "He's all sunshine and rainbows. He looks on the bright side of things. But that's not the real world. In the real world, everyone is out to get you, and they're conspiring to make you fail. Like Joe Biden stealing the election from me. Everyone knows Biden cheated and isn't the real president. Mr. Pillow Guy says I won, and he is very smart. Rudy Giuliani says I won the election too. Also, honest men with great integrity like Jim Jordan and Ron Johnson. I even have Ted Cruz on my side. These men wouldn't lie. All the best people support me."
The ex-prez thinks Ted Lasso is a poor excuse for a man.
"Lasso is the kind of guy who would probably vote for Biden," Trump says. "Because weak people like weak people. My MAGA people are tough. Tough like me. They have guns and use American flags as weapons, and beat the living hell out of cops who try and stand in their way. My people are tough patriots. Weaklings like Ted Lasso and Joe Biden watch them on TV and boo-hoo because they know they're not tough."
The blowhard doesn't understand the popularity of Ted Lasso.
"It's dangerous that people like a disgraceful guy like Lasso," Ivanka's daddy says. "When I get reinstated, I'm going to make sure that show won't be broadcast again. Ted Lasso is making America weak. I'll make it strong again."
A servant entered and informed Mr. Trump it's time for his manicure/pedicure. The orange blob grinned and wobbled out the door.
———————————————————————————————-
Enjoy PD Scullin's debut novel "SAWDUST: Love is wilder than a circus," a humorous romp across America with a circus in the early '80s. You're a click away from a helluva fun ride. Buckle up and go.
You may be interested in these jobs
Found in: Jooble US - 5 days ago

---

Roehl Transport

China, ME

## **Time for a Job Change?** · Make more of yourself and for yourself\. · **Roehl Transport will pay you to get your CDL \( & earn a great a living** **as a professional truck driver\.** · If you are considering a job change and want a professional career, choose the transportat ...

Found in: Jooble US - 11 hours ago

---

Amazon Warehouse

Prescott, AZ

Pay Rate: Up to $0 Amazon Fulfillment Center Warehouse AssociateJob OverviewYou'll be part of the Amazon warehouse team that gets orders ready for

Found in: Jooble US - 11 hours ago

---

Kaiser Permanente

Kula, HI

Full time

Job Summary: Under indirect supervision, performs variety of non-professional patient care duties for Health Plan members in inpatient skilled nursing facility (SNF); is responsible and accountable for assigned tasks. · Essential Responsibilities: · Gives input to RN for devel ...