1 year ago · 2 min. reading time · visibility ~100 ·
"Reflected Memories" and "A Mother's Love"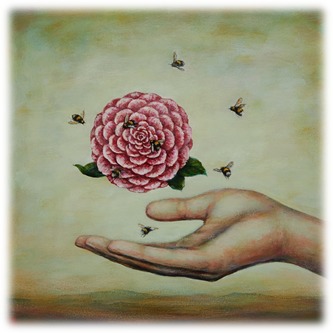 A Mother's Love
A Mother's love is something
that no one can explain,
It is made of deep devotion
and of sacrifice and pain,
It is endless and unselfish
and enduring come what may
For nothing can destroy it
or take that love away . . .
It is patient and forgiving
when others are forsaking,
And it never fails or falters
even though the heart is breaking . . .
It believes beyond believing
when the world around condemns,
And it glows with all the beauty
of the rarest, brightest gems . . .
It is far beyond defining,
it defies all explanation,
And it still remains a secret
like the mysteries of creation . . .
A many splendored miracle
humankind may not fully understand
And another wondrous evidence
of God's tender ... guiding hand.
~ Helen Steiner Rice ~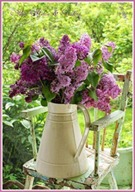 On this Mother's Day: I am remembering my "Mom" who walked her path of Motherhood with little training or preparation … like most Mothers do ;~)
In looking back, I know that day by day, she did the best she could ... with what she had.
As a child, I somehow felt the weight of her struggles. She was quite vocal at times ;~)
I would like to remember laughter… believe she experienced joy in her journey: carrying 7 children & raising 6.
I know she found beauty & sweetness in her children & her flowers … she loved birds & animals.
My Mother grew up in the "great depression" ... under harsh conditions ... and harsh words. Somehow, she found a voice in writing poetry. She enjoyed visiting her friends ... perhaps she found a listening ear there … a brief escape from the responsibility & work that was always waiting for her at home.
It is her tears that I remember more. Challenges & frustrations often faced alone: like just feeding & clothing 6 children. She often lacked support & resources (there were no "programs" to turn to/resources that many today may take for granted)
As a child I remember wanting simple things that most people today may take for granted (like sharing valentines with friends at school)
In her memory, I'm sharing one of her poems "Reflected Memories" which captures that memory.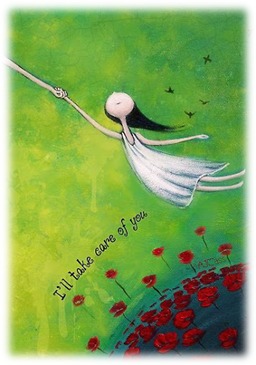 "Reflected Memories"
~ Laura Mountain ~
I close my eyes and see pink-faced cherubs,
I used to diaper upon my knees.
Too soon ... we'd race down country roads ...
Pigtails flying in the shadows you leave …
Scraped elbows, brush-burned knees ...
Tears from blue eyes wiped gently.
My kisses planted firmly on pink cheeks.
Moments never to depart
from the memories in my heart.
Sparse years when gifts were few ...
second-hand dollies were dressed anew.
A cradle carved from something old ...
was slowly painted dusty gold.
Summertime when it was hot ...
the hose came out to cool you off.
School days came and whisked you away,
I'd wait your return the end of each day.
Remember the days we cut and glued
... so, Valentines you could give too?
All things are stored within my heart.
"Precious ones" you are pieces of art.
I open my eyes, how fast you grew
... it seems as though I never knew...
All your growing days and years ...
Prayers answered ... prayers appear
Now go and find your own frontiers.
"all my love, Mom"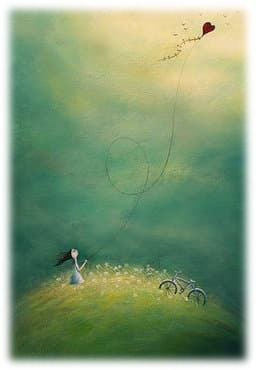 " i carry your heart …i carry it in my heart" ~ ee cummings
here is the deepest secret nobody knows
here is the root of the root and the bud of the bud
and the sky of the sky of a tree called life;
which grows higher than soul can hope or mind can hide
and this is the wonder that's keeping the stars apart
" i carry your heart …i carry it in my heart"
Image for post title: Artist 
https://www.duyhuynh.com/
May 2020
"In His Light" … I write ;~)
All rights reserved:  Fay Marmalich-Vietmeier 
If my words make you think … Great ;~)
As "iron-sharpens-iron" … I enjoy bantering with other BEES … your feedback is as "honey"
A glimpse of the "Bee" called "me" ;~)
My caring nature makes me an advocate. My curious nature makes me a "queen of questions" … but gifted with the ability to listen ;~) I am a woman of deep faith, a blessed mother, a voracious reader, a blossoming writer, a grateful person, and a lover of beauty … I treasure family, true friendships and my loyal clients ... enjoy traveling, learning, good movies, good wine and golf. I'm a "heart-to-heart" communicator.
https://www.bebee.com/@fay-vietmeier-pennsylvania
https://www.linkedin.com/in/faymarmalichvietmeier/detail/recent-activity/
https://twitter.com/femvietmeier
https://www.facebook.com/fayemv
You have no groups that fit your search