9 months ago · 1 min. reading time · visibility 0 ·
JOSH HAWLEY HOPES TO BE ADOPTED BY DONALD TRUMP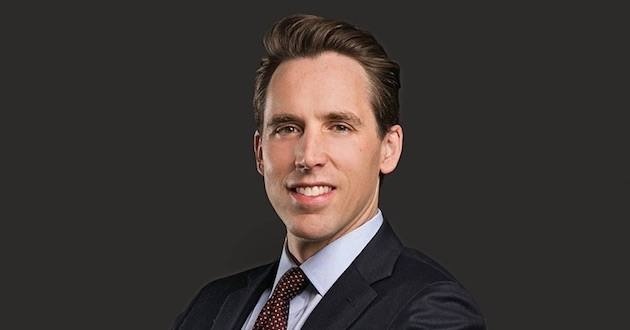 It's no secret obsequious GOP politicians clamor for the attention of President Donald J. Trump, and Missouri Senator Josh Hawley may have jumped to the head of the line.
Hawley announced today he would object when Congress counts the Electoral College votes next week, forcing lawmakers in the House and Senate to vote on whether they accept the results of president-elect Joe Biden's crushing victory.
"I think the election was rigged," Hawley told The Lint Screen. "It had to be rigged. That's the only way President Trump could possible lose. Case closed."
Hawley gives a proud smile and continues.
"By taking this brave stand, I am showing President Trump my blind loyalty, total obedience, and willingness to kiss his ass like Dracula on a plump neck. I hope this patriotic act will curry favor with him and he'll adopt me. I would make an excellent Trump child, certainly a lot better than Eric."
Sen. Ted Cruz is upset at Hawley.
"No one kisses President Trump's ass better than this cowboy," the douchebag Cruz crowed. "I let Trump accuse my daddy of being involved with JFK's death, and call my wife ugly, then, guess what? I still puckered up for smooching his sitting pillows. And brother, did I kiss 'em good! I am a spineless nothing of a man, and Trump likes that."
Sen. Lindsey Graham dismisses both his fellow senators as braggarts.
"Those boys are johnny come latelies," Graham says, applying a coat of Charlotte Tilbury Matte Revolution Liberty Love lipstick. "If you examine the big man's behind, you'll see ol' Lindsey has laid claim to that turf. And Trump has the lip prints to prove it. Hell, I disavowed my long friendship with John McCain in a nanosecond so that I could kiss Trump's fat ass. I'm as soulless and craven as they come."
Jim Jordan, Matt Gaetz, Mike Pence, and Mark Meadows march down the hall, wanting to dispute their GOP compatriots' claims. Each cowardly stooge is anxious to be named Trump's #1 Ass Kisser and confess they say The Pledge Allegiance to Trump hourly.
They will engage in an epic kiss-a-palooza to prove their mettle and worthiness.
Gentlemen, start your lips, America wants to see how low you can go!
———————————————————————————————-
Enjoy PD Scullin's debut novel "SAWDUST: Love is wilder than a circus," a humorous romp across America with a circus in the early '80s. You're a click away from a helluva fun ride. Buckle up and go.
You have no groups that fit your search