A Tale of 2 Kidneys and Mitochondrial DNA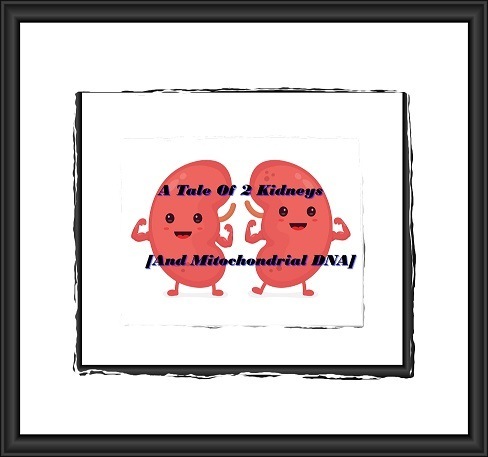 Okay—so this is about kidneys and mtDNA, but kidneys got me to this point—mine, that is.  Bear with me through my Tale which finally brought me to a discussion of mtDNA.  I'm in good company because the WHO's Colin Mathers knows a lot about it.
22.2. The Kidneys and Osmoregulatory Organs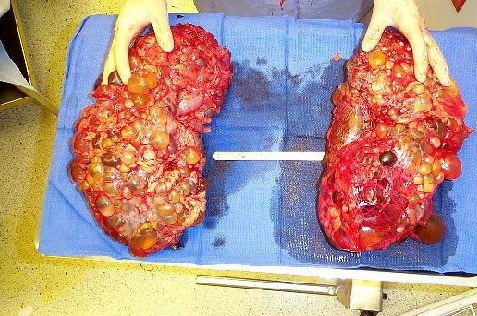 .
.
.
I don't think they looked this bad yet—at least I certainly hope not, but they were on the trend.
.
.
.
.
I asked a PCP to refer me to a Nephrologist because my GFR number was in the 50s and my creatinine [and other test numbers] were trending in the wrong direction.  I knew this was indicative of Stage 3 kidney disease and I wanted to try and find a way to turn my numbers around.
.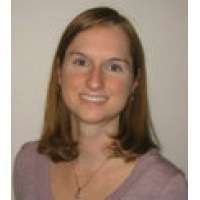 "SSSSSSSSSSSUUUUUUUUUUURRRRRRRREEEEEEEEEEEE," she said.
[My Harvard-affiliated-institution PCP did not sound so SUUUURRRRRREEEEEEEE but I gave her the benefit of the doubt.]
Six months later, I asked her again.  She said,
"SSUUUUUUUUUURRRRRRRRREEEEEEEEE," again. 
.
Something was rotten in Denmark, and I did not want it to be me.  By now my kidneys were down to 50% and my Creatinine was out of whack.  I had been going to a Urologist who had expressed real concern and I knew I needed help.
I took the initiative and called a Harvard-affiliated-institution Nephrologist on my own.  I told them my numbers and was shocked at the response I heard from the receptionist who guarded the nephrologist's office schedule,
"You aren't bad enough yet," she said.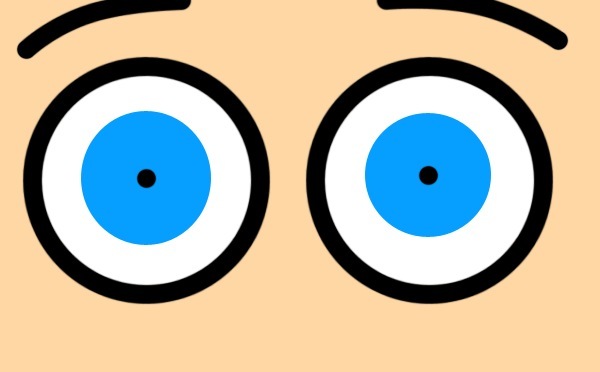 I hung up the phone, my eyes blinking wildly, and tried to understand what had happened to medical care.  I had declined a free-pass to medical school decades earlier and my illusions [or delusions] as to how I would have treated people were quite different.
I had always thought Medicine was a profession that helped people until I learned that in 1973 in the USA, Nixon had passed an Act allowing Medicine to become profitable.  The minute I read about that Act the words
.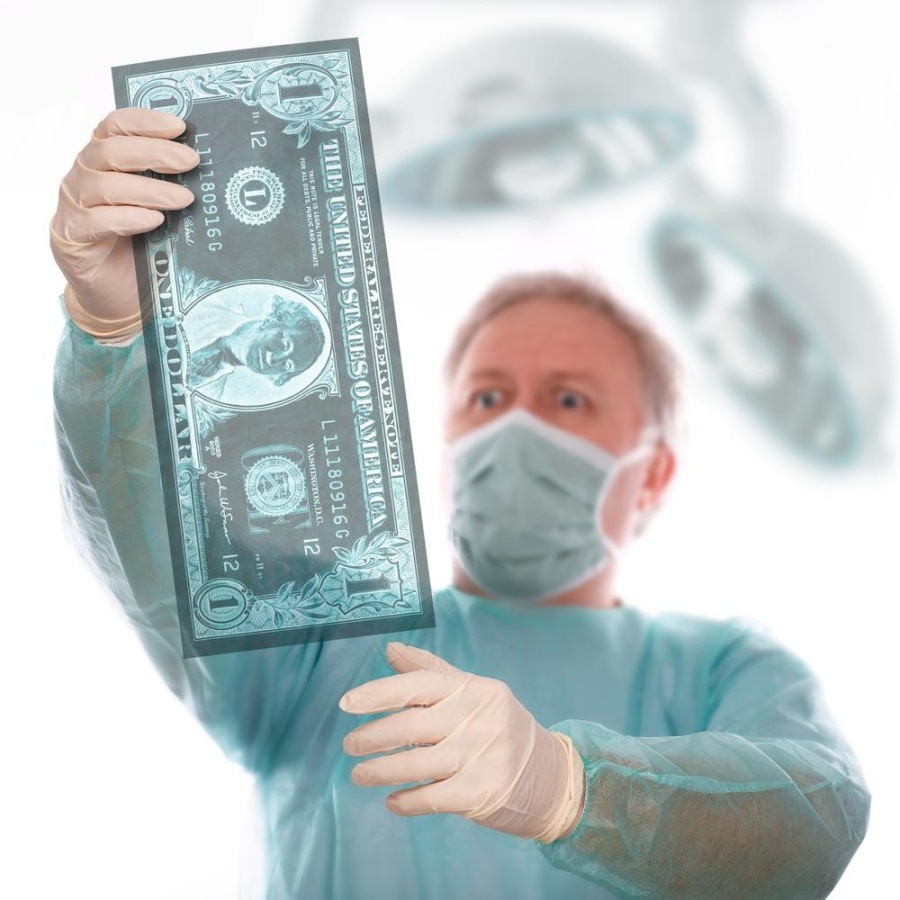 .
.
.
.
.
.
There's No Profit in Healthy People,
Author in Source Title Joyce Bowen
.
.
.
.
.
.
.
.
sprung to mind.
.
.
Truer words were never spoken by this candidate for office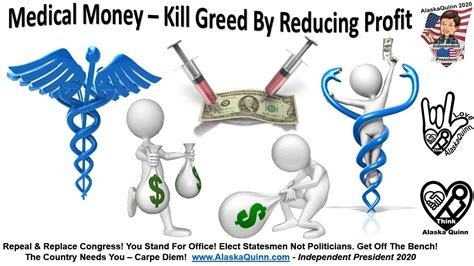 .
And here are a few people I never agree with—except on this show. [Johns Hopkins and ZDogg are Vaccine-Injury Deniers]
Cutting Through The Medical Money Games | Dr. Marty Makary (Author of The Price We Pay)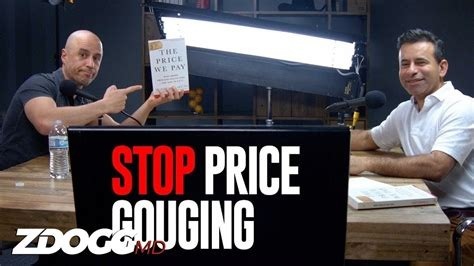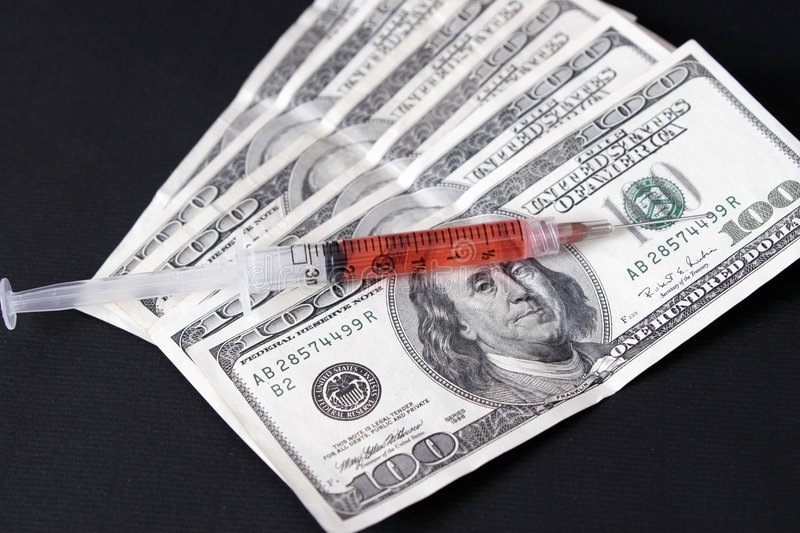 .
.
.
I studied and studied and studied and researched and researched and researched until I learned pharmaceutical products were my nemesis and by association allopathic medicine. 
.
.
.
.
[Mind you everything in a syringe is not dubbed vaccination. Many heparin shots contain aluminum, and I can't have those either.]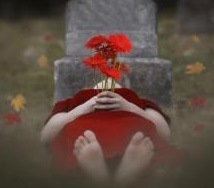 .
.
I sleuthed my way into why I was dying.  I had little time to spare.  Every time people held my gaze, I saw my grave reflected in people's eyes.
.
.
Toxic ingredients in pharmaceutical products often change and my body could no longer take them.  But MDs make money from those companies and insurances do not cover homeopathic medicine.  It's apparent the pharmaceutical industry owns our health—what's left of it.
[Yes, yes I know—you want to get to the Mitochondrial part.]
Many of you know vaccine products took out my family—that's Mitochondrial DNA.  Because I passed my mtDNA down to my babies, they were just as susceptible as me.
There are tests. 
There are tests. 
There are tests.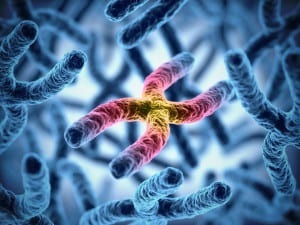 .
.
GENETIC VARIANTS THAT MAY CAUSE VACCINE INJURY
.
.
Genetic Variants That May Cause Vaccine Injury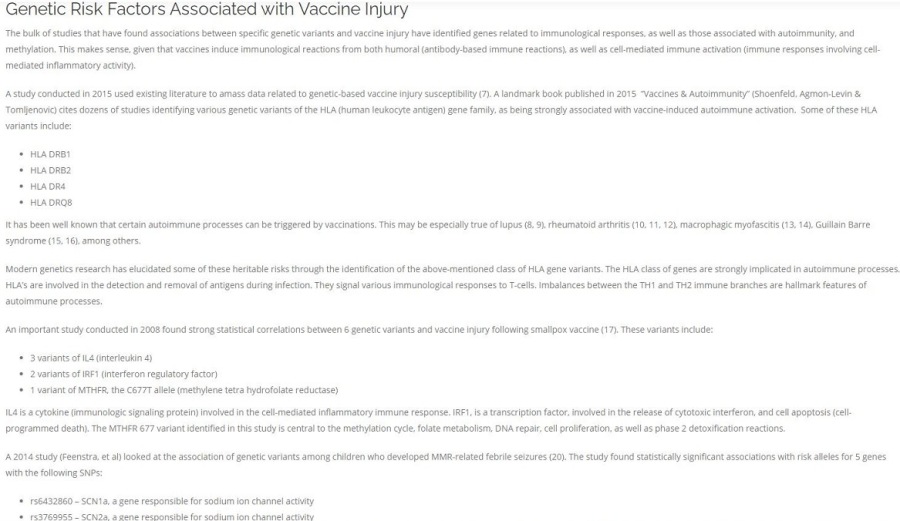 But today's MDs won't do them.  If we could have the tests many of us need, we could prove these toxins hurt us.  And these toxins are not just in the shots—they are laced throughout pharmaceutical product lines—with emulsifiers and things to even make sure they get into your brain.
********************************************************************************************
There's lots of information people do not know in the document below. My brainwashing as to how necessary these things were to keep me healthy made it very hard for me to read at first.  It's about 1,600 pages long.  I haven't finished it yet; although, I've scanned most of it.
[Click Vaccine Guide above if you can't see it.]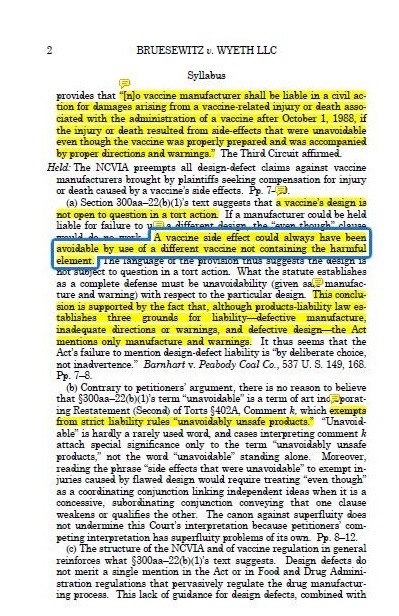 These shots are nothing more than toxic shots laced with viral particles to legitimize them as vaccines—and I firmly believe that's true. I further assert that these shots have always been experimental, and I do think they are being used to target Mitochondrial DNA clusters.
[An easy way to understand mtDNA is it's DNA that comes down all the way from your cavewoman grandmother. So whole lines and millions [perhaps even billions] can be wiped out if this is done.]
Nobody should be screwing with DNA, RNA, or any chromosomal material. It's the field I studied diligently for from my preteens on through young adulthood until I had to give it up to take care of my vaccine-induced brain-damaged toddler. I still know a whole hell of a lot more than most about genetics. I almost wish I didn't.
The greatest danger from these genetic modifications will probably be autoimmune disease—ALS [think ice-bucket challenge] ASIA [which I have and is completely unacknowledged in the USA] and more…
The numbers could be huge—and the very people who diagnose it won't because they caused it and are part of the problem. It took almost 3 decades before they finally diagnosed me with autoimmune disease and they never diagnosed the problems I had with the toxins in pharmaceutical products. They just tried to prescribe more toxic products and there were those who became angry when I refused to take them.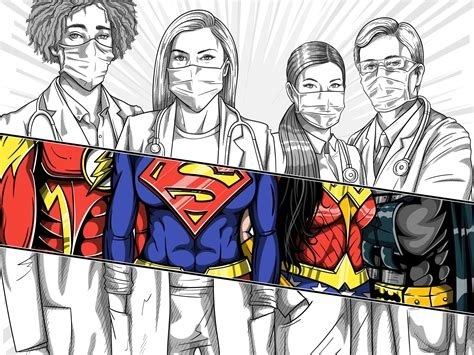 .
.
.
.
And all the while those people kept giving me the very shots that exacerbated my condition.  Go Figure…  They certainly aren't my heroes.
.
.
.
.
The shots you've been told again and again are SafeAndEffective are not.  Since tests are available to show who cannot have any pharmaceutical products with these toxic items[including the shots], I can only conclude there is intentional targeting of Mitochondrial DNA clusters.  And since Mitochondrial DNA is required for life, many of us will die.
I have to admit when the thought struck me that any such shot could be used to "cull" the herd, I was horrified. Of all the things I could have done with what I have learned it was never constructing this scenario.
I had a childhood dream of curing cancer by tagging an across-the-board cancer-specific genetic anomaly with a cancer-specific antigen of some kind. I just had no idea some cancers walk on two legs and speak.
The Nuremberg Code therefore applies: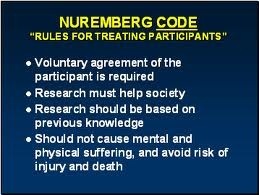 https://www.bitchute.com/video/Q5c7G6nfI8nZ/

.
Copyright January 2021 by Joyce Bowen
Mitochrondral Eve: the deep maternal ancestor of us all
Deep maternal ancestry and mtDNA
Deep maternal ancestors: out of Africa into ice age Europe
Explorations by Colin Mathers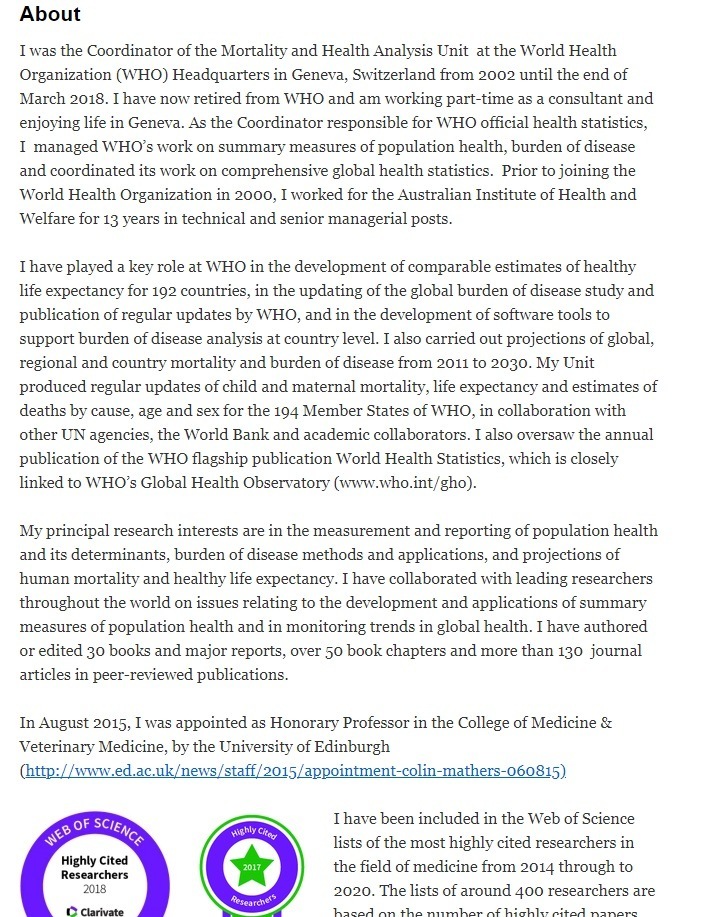 .
CELLULAR AND MOLECULAR SCIENCE, DISEASE, HEALTH AND MEDICINE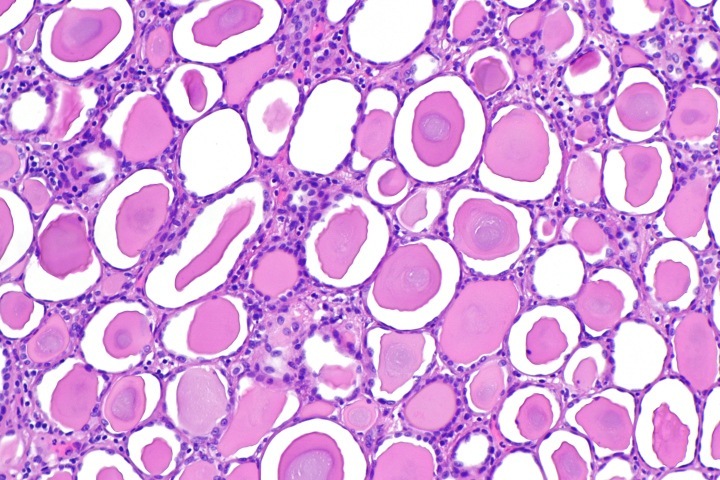 .
.
.
.
Role of Mitochondrial Gene TFAM in The Progression of Renal Disease


Articles from Joyce 🐝 Bowen Brand Ambassador @ beBee
View blog
You may be interested in these jobs
Found in: Jooble US - 3 days ago

---

American Express

Phoenix, AZ

You Lead the Way. We've Got Your Back. · With the right backing, people and businesses have the power to progress in incredible ways. When you join Team Amex, you become part of a global and diverse community of colleagues with an unwavering commitment to back our customers, comm ...

Found in: Jooble US - 3 hours ago

---

RISE INC FAMILY

Draper, UT

RISE provides services for people with disabilities including residential settings, day programs, employment assistance, managed care, and hourly supports. Our mission is to create opportunities for and with people. This encompasses not only individuals and families for whom we p ...

Found in: Jooble US - 1 day ago

---

Sheraton Valley Forge

King of Prussia, PA

Full time

Banquet Cook · Position Summary · The Company operates 24 hours a day and 7 days a week, so operational demands require variations in shift days, starting and ending times, and hours worked in a week. · The Cook is responsible for cost effective preparation of quality food in saf ...