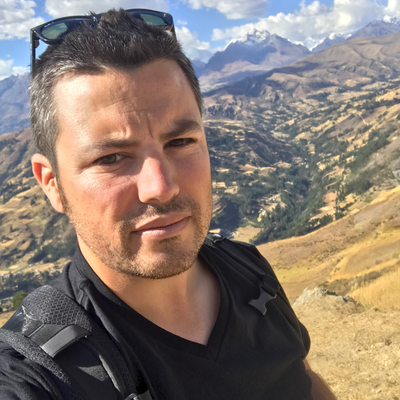 Services provided $80

/ hour
Tourism / Travel / Hospitality (6)
Event Production
Marketing Video Production Services
Director
Music And Video Production - Events
Editing
Film Production Companies

Arts / Entertainment / Publishing (8)
Audio & Music Production
Creative Writers
Creative Writing Services
Website Content Services
eLearning Video Production
Content Marketing
Content Writers
Content Writing & Editing

Upper Management / Consulting (1)
Leadership Development

About Patrick Caligiuri:
• Dynamic and innovative professional with a proven track record in producing a wide range of television series and news programs for broadcast, streaming, and online platforms. 
• Integral member of executive management teams, bringing a unique blend of creative energy and strategic oversight to high-profile productions across multiple content platforms. 
• Extensive experience in cutting-edge streaming operations, including Roku, YouTube and Disney+, as well as Virtual Reality, Live Broadcast (MCR Producing & Directing), Online Journalism, and New Media Brand Integration. 
• Skilled in developing original creative concepts, spearheading digital campaigns from inception to implementation, collaborating with demanding clients, and consistently achieving goals. 
• Recognized as a frontrunner for international and domestic productions that adhere to the highest standards of excellence. 
• Proficient in overseeing logistical operations encompassing creative, production, and quality, overcoming complex challenges, and making informed decisions backed by experience, innovation, strong work ethic, humor, and unwavering integrity. 
• Well-versed in all aspects of post-production, including budgeting, scheduling, and ensuring timely delivery of final products.
 
Experience
Executive Producer (Unscripted/Alternative/Documentary Programming) (2015 – 2022)
Demonstrated exceptional leadership as an Executive Producer for esteemed platforms, including Roku "Fight to Survive", Disney+ Scripted Series "The Quest," and Discovery Channel's "Small Town Throwdown." Additionally, held the role of Co-Executive Producer for a range of captivating documentary and adventure shows, such as "Called to the Wild" (NatGeo), "The Explosion Show" (Discovery), "Ultimate Expedition" (YouTube Originals), "Sheryl Crow Documentary" (CNN), "Celebrity Adventure Club" (Travel), and "Arctic Recovery" (Discovery).
Exhibited expert management skills by overseeing all aspects of production, including concept development, logistical operations, and the establishment of compelling story arcs to create engaging episodic content with a strong seasonal arc. Maintained a hands-on approach to ensure the seamless execution of projects while actively managing budgets, production timelines, and maintaining the highest standards of quality.
Took charge of post-production activities, skillfully handling budgeting, scheduling, and delivering completed projects on time. Notably, collaborated with prominent brands such as NASA, General Motors, Ford Motor Company, FBI, Norwegian Cruise Lines, Travelocity, Jackson Family Wines, Kohl's, Library of Congress, National Park Service, Keurig Dr. Pepper, and the US Navy, successfully integrating their brands into the programming for enhanced audience engagement.
By leveraging my extensive experience and expertise in the industry, I consistently delivered exceptional results, establishing a strong reputation as a visionary executive producer and a trusted partner for high-profile collaborations.
Project Director -GPJ (Marketing) (2021)
As the Project Director for the Salesforce Dreamforce 2021 conference, I served as the driving force behind the success of the live broadcast. With a sharp focus on excellence, I expertly oversaw all aspects of primetime channel operations, ensuring seamless execution and delivering an exceptional viewer experience.
By leveraging my strategic vision and meticulous attention to detail, I orchestrated the project from start to finish, collaborating closely with cross-functional teams to align marketing objectives with the overall conference goals. Through effective project management, I ensured that key milestones were met and that the live broadcast captured the essence of the event, captivating audiences worldwide. Through my role as Project Director (Marketing), I demonstrated my ability to thrive in high-pressure environments, deliver exceptional results, and exceed expectations.
Supervising Producer (Unscripted/Alternative/Documentary Programming) (2012 – 2015)
As a key Supervising Producer, I made significant contributions to acclaimed shows, including "Bering Sea Gold" (Discovery), "Naked & Afraid" (Discovery), "Ice Cold Gold" (Animal Planet), "Ultimate Survivor Alaska" (NatGeo), and "Swamp People" (History). Taking charge of the production process, I played a pivotal role in developing comprehensive plans for concept development, logistics, and captivating story arcs, resulting in compelling episodic content with a strong seasonal arc.
Exercising strong financial acumen, I skillfully administered budgets and expertly managed production functions to ensure the successful execution of each project. Collaborating closely with the executive team, I fostered effective communication channels to bridge the gap between the Network, Production, and Post-Production departments, fostering a cohesive and streamlined workflow. By combining creativity, strong leadership, and a deep understanding of the industry, I consistently delivered exceptional results and contributed to the overall success of each project.
Senior Producer (Unscripted/Alternative/Documentary Programming) (2010-2012)
Served as a Senior Producer at Simon Fuller's Production Company XIX, delivering outstanding productions, including "American Idol," "Q'Viva: The Chosen" (starring Jennifer Lopez and Marc Anthony), and the ESPN and NBC Sports documentary "Dream On: The Story of Wembley Football Club." Managed production-related functions for Vh1's "Tough Love" (seasons 2 and 3) while overseeing international production movement, travel coordination, and logistical operations. Developed effective concepts for challenge events, captivating storylines, and engaging seasonal show arcs.
Producer (Competition/Game Show Programming) (2007 – 2010)
Recognized with an Emmy Award for producing CBS hit "The Amazing Race" seasons 13 through 18. Acted as Producer for NBC series "Great American Road Trip" and "American Ninja Warrior." Developed challenge events, storylines, and seasonal show arcs. Worked as Story Segment Producer and Story Editor on seasons 10 and 12 of CBS hit "Big Brother," formulating and developing broadcast-quality segments.
Associate Producer (News/Journalism/Documentary) (2005 – 2007)
Contributed to the success of notable productions, including "Closing Arguments with Nancy Grace" at Court TV, the CBS unscripted show "Kid Nation," and "True Hollywood Story" at E! Entertainment. Tracked unfolding stories in the field, outlined episodes for post-production, and conducted on-site interviews for various E! Entertainment productions.
Production Assistant (News/Journalism) (2003-2005)
Provided support as a Production Assistant, contributing to top-of-the-hour news updates with Savannah Guthrie at Court TV, MCR production for nightly broadcasts at WJXT in Jacksonville, FL, and "The Early Show" at CBS News in New York. 
Education
EDUCATION
SYRACUSE UNIVERISTY         S.I. Newhouse School of Public Communication             
BS Television, Radio, & Film :: Marketing Minor
Cum Laude (3.5 GPA)