1 year ago · 2 min. reading time · ~10 ·
Blogging
>
Patrick blog
>
THE PROUD BOYS, TILT-A-WHIRL, MARCHING ORCHESTRA PLANNED FOR TRUMP'S SEND OFF
THE PROUD BOYS, TILT-A-WHIRL, MARCHING ORCHESTRA PLANNED FOR TRUMP'S SEND OFF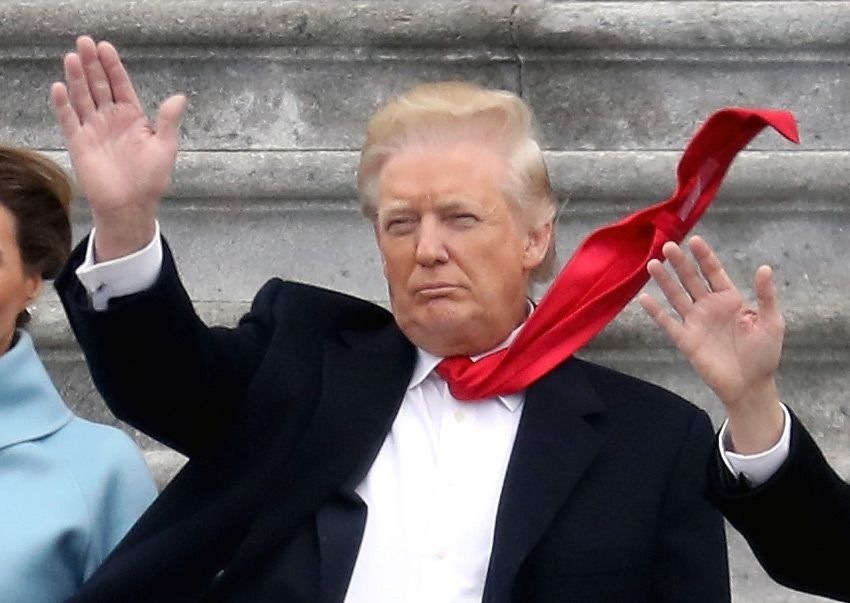 Lame duck Donald Trump is planning the final day of his presidency which he will begrudgingly relinquish to Joe Biden on Wednesday, January 20th at 12:01 p.m.
The twice impeached president has been working closely with his vivacious daughter Ivanka Trump and her weenie of a hubby Jared Kushner in making plans for a grand send off from Washington before he infects Florida.
The ceremony will feature a military color guard, a military 21-gun salute, and a parade of Proud Boys featuring a rousing AR-15 2100-gun salute.
"Since we didn't capture the Capitol on January sixth," Trump told The Lint Screen. "The Proud Boys have lots of leftover ammo. They'll use some of it to celebrate my four years of making America great."
A red cashmere carpet will be laid down and Sean Hannity, Rush Limbaugh, and Tucker Carlson will frolic down the plush path tossing rose petals into the air before Trump marches to his throne and observes the festivities in his honor.
There will be a military marching band, jugglers, acrobats, stilt walkers, a marching 90-piece symphony orchestra, contortionists, caged mimes for torturing, Macy's Thanksgiving Day Parade cartoon character balloons, face painters, tattoo artists, clowns making cute animal balloons, trained dogs, chimpanzees, and horses performing amazing feats, ferris wheels, a Tilt-A-Whirl, cotton candy machines, Belgian waffles, funnel cakes, candy apples, salt water taffy, bacon-wrapped filets on a stick, butter-fried lobster tails, deep fried caviar, Big Macs, buckets of KFC, Dom Perignon snow cones, and deep friend Perrier Water.
"I want this to be better than any party Washington has ever seen," Ivanka said. "Daddy deserves it since that mean Joe Biden stole the election from him. Daddy won in a landslide, he told me he won bigly time when I sat on his lap for six hours on election night."
Sen. Josh Hawley and Sen. Ted Cruz will fight in a cage match to determine who is the biggest and best Trump sycophant. The winner will face Sen. Lindsey Graham, then Rep. Jim Jordan, and Rep. Devin Nunes.
"It's going to be a real dogfight," the prez's sidekick Kevin McCarthy said. "This is like the ultimate smackdown of ultimate ass kissers."
When the festivities end, Trump and his family will load into Air Force One for one last ride heading south to his fab-o estate Mar-A-Lago where the monied class will want nothing to do with the shamed ex-president.
"I've been a great president," Trump said. "Everyone says I'm the best ever. And who am I to argue?"
The president gives his signature two thumbs up as a large white "L" appears on his orange forehead.
Bye Don!
———————————————————————————————-
Enjoy PD Scullin's debut novel "SAWDUST: Love is wilder than a circus," a humorous romp across America with a circus in the early '80s. You're a click away from a helluva fun ride. Buckle up and go.
You may be interested in these jobs
Found in: Jooble US - 3 days ago

---

Wingers

Brigham City, UT

Full-time, Part-time

Wingers Server Job Description · Come work at the best place in town Wingers is Freakin' Amazing. Have fun, work hard and be part of a great team. We care about you and your goals. Become part of Wingers Nation and watch yourself set goals and grow. · The purpose of this positi ...

Found in: beBee S2 US - 2 days ago

---

West Coast University

Anaheim

Full time

SUMMARY: Reporting directly to the Manager of Clinical Faculty, the Clinical Educator, Nursing (Undergraduate) s u p p orts t he U n i v er s i ty i n f u l f i l l m e NT o f i ts m i ss i o n, p u r p ose a nd g o al s . F ocuses exte n s i v e l y on f a c i l i ta t i ng stu ...

Found in: Talent US± - 1 week ago

---

Job Description: Description:*Minimum $20K Sign-On Bonus*Sign-On Bonus (Hiring Bonus) incentives are available to candidates in the form of a lump sum payment and only applicable to new, experienced professional external hires (non -Lockheed Martin employees). · Lump sum amount r ...