The COVID-19 Pandemic's Impact on Medical Billing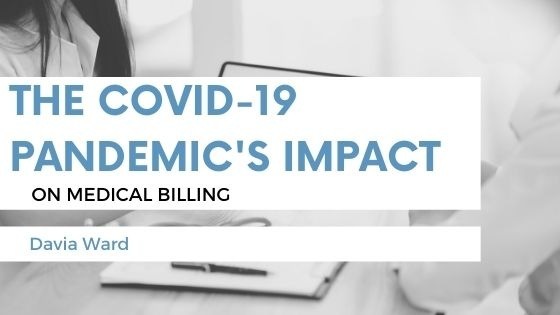 The existence of the COVID-19 pandemic has resulted in additional stress for families and individuals trying to figure out how to pay their medical bills. If a family is struggling with job loss or experiencing the virus first hand, medical billing may be at the top of their worries. The pandemic has added brand new concerns for Americans struggling with healthcare costs, but there may be some solutions for those concerns, even if they are also currently facing unemployment.
COVID-19 and the CARES Act
The CARES Act is most well-known for providing the temporary extra $600 a week in unemployment benefits for those who lost their jobs as part of the COVID-19 pandemic. However, the CARES Act provided a number of other economic provisions that may help with COVID-19 medical bills. These additional measures included housing assistance and the ability to make withdrawals from retirement accounts.
Although these benefits are not directly related to medical bills, they do reduce the overall financial strain upon a family. This in turn can make it easier for families to pay their medical bills if they are experiencing a financial burden due to the COVID-19 pandemic.
The CARES Act also made it possible for individuals to include over-the-counter medications as qualified medications for their Health Savings Accounts, or other type of medical spending account. Menstrual products may also be paid for through a medical spending account.
Families First Coronavirus Response Act (FFCRA)
Since the COVID-19 pandemic was such a new medical emergency, many families worried about how they were going to have to pay for potentially devastating diagnostic bills. However, the FFCRA provided free testing for anyone with insurance. The FFCRA prevented insurance companies from charging copayments, deductibles, telehealth fees or coinsurance if you are getting tested for the Coronavirus. Future vaccines should also be covered by insurance, according to the FFCRA.
Telehealth Costs Related to COVID-19
Although telehealth visits have been available for a while, the emergence of COVID-19 has made them a necessity for many patients. That change in the way that providers offer care has actually benefitted patients. Healthcare providers, including mental health practitioners, responded to the pandemic by providing lower cost or free services to anyone using telehealth methods of care.
Originally published to
daviaward.com
You may be interested in these jobs
Found in: Jooble US - 2 hours ago

---

Join an elite group of sellers bringing customized, white glove experiences directly to the customers door. Field Sales Representatives at AT&T are driven to connect every interaction is an opportunity to introduce the latest technology and services, thriving on the challenge to ...

Found in: Jooble US - 5 days ago

---

AreaTemps

Solon, OH

Full time

07 - 167825 nw If you like driving and dealing with the public, we have an immediate position that you may find interesting. We need Delivery Drivers to deliver products to restaurants, beverage stores, grocery stores, and other businesses. You will go to Solon, Columbus, and Wes ...

Found in: beBee S2 US - 1 week ago

---

Kiewit Corporation

Honolulu

Full time

American privately held construction company Kiewit Corporation hiring a Northwest – Field Engineer – Hawaii in Honolulu, HI, US, interested candidates can submit job application at Kiewit Corporation Careers Honolulu · Post Title: Northwest – Field Engineer – Hawaii · Work Locat ...