2 years ago · 1 min. reading time · visibility ~10 ·
Tang in Space: Unlock Response with A Simple Marketing Rule
Which is more powerful in your sales copy – emotion or logic?
Keep reading for the answer – the first part of a simple marketing rule I learned from Chris Marlow, a coach and mentor whose kindness, encouragement, and wisdom was deeply appreciated by her "crew"…
Tang in Space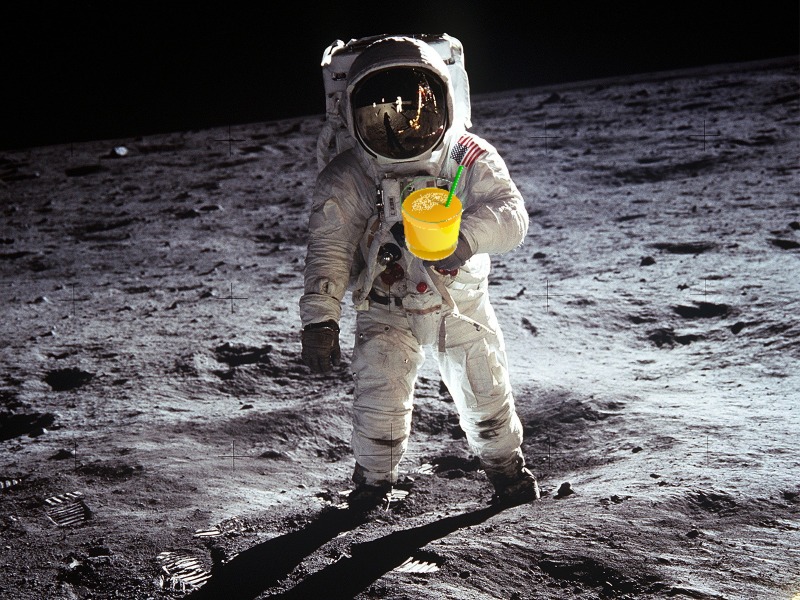 If you like to camp or grew up with bell-bottoms and macrame, you may have tried Tang – the sugary bright-orange drink powder in a jar.
Although the mix was invented in 1957 by the inventor of Pop Rocks and Cool Whip, the brand didn't fully take off until it was promoted in connection to the U. S. Space Program.
In Marketing the Moon, David Scott and Richard Jurek tell how NASA raised public awareness and support for its Apollo programs with limited PR and Marketing resources by partnering with independent companies.
For the first time, the agency began to release information and government photos for use in advertising.
Tang was launched into space as an official NASA menu choice for the astronauts. Full-page ads featured space gear alongside product pics.
Thousands of households across America would forever associate the drink with The Romance and Adventure of Space Exploration.
Kids drank Tang in the morning. At night, they dreamed of becoming astronauts. And families only had to travel as far as the grocery store to join the excitement.
By the 1970's, Tang was a household staple. Middle class Americans drank it for breakfast instead of juice. They took it on camping trips. They kept it on hand as a source of extra vitamin C.
This brings us to Marlow's rule:
If you want more Business to Customer (B2C) sales, begin with EMOTION and follow with LOGIC.
First, identify the emotion that will best motivate your prospects. Can you find it in this list?
Fear
Security
Love
Envy
Greed
Vanity
Altruism
Boredom/Excitement
Or is there a combination of emotional drivers at work?
Once you've identified a primary and secondary emotion, look for ways to use those in your headline and lead.
Update: TMZ later reported that Buzz Aldrin was not a fan. "Tang Sucks!" he announced at the recording of Spike TV's Guys Choice Awards. This author recommends reading the list of ingredients before purchasing or imbibing.
If you're selling to Businesses (B2B), you'll want to hear the rest of Marlow's marketing rule. Stay tuned for Part 2.
First published on
https://www.judyolbrych.com
You have no groups that fit your search