MOB PLANS REUNION, INVITES PENCE "TO HANG" WITH THEM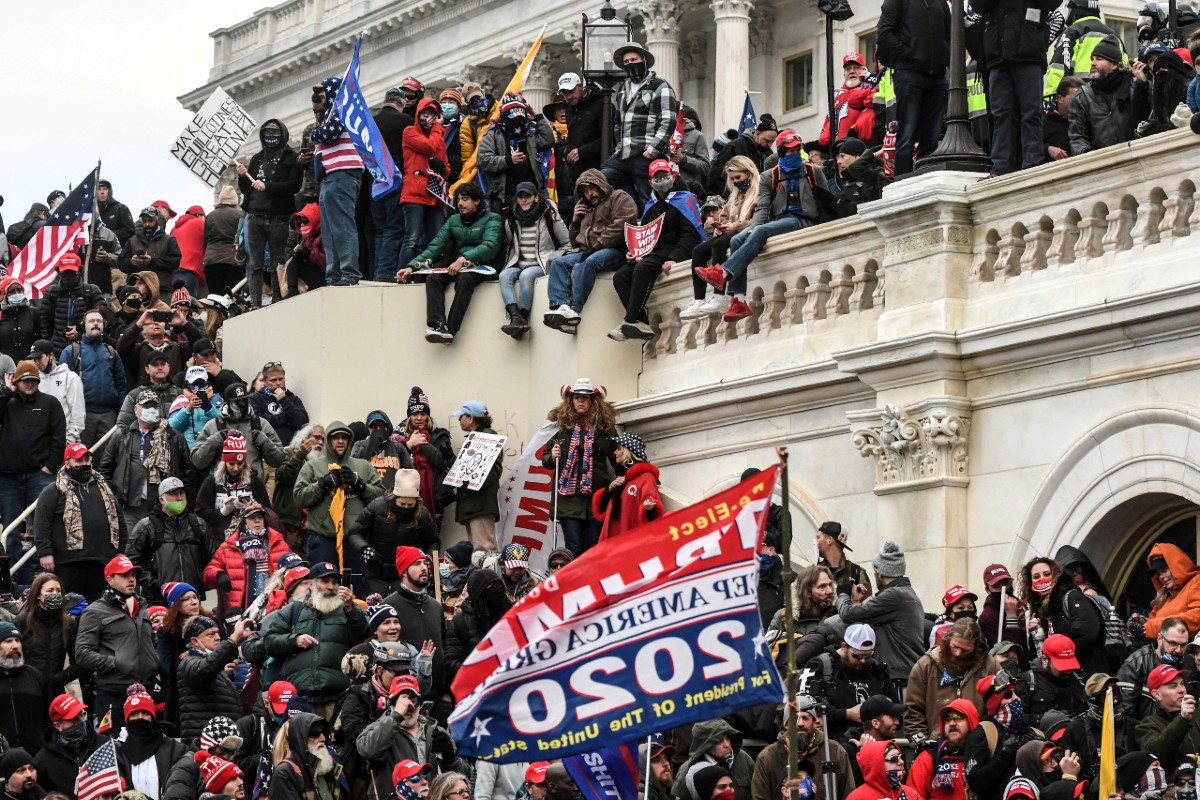 As the country braces for the first anniversary of the January 6th attempted coup to overturn a free and fair election, the pack of riled-up fools who participated are making plans to reunite and celebrate.
"We weren't successful last time," Dirk Pretmoore of Lubbock, Texas tells The Lint Screen. "But this time, we're going to do more than just beat the hell out of cops, use American flags as weapons, and shit all over The People's House."
Pretmoore sent invitations to all the people involved in last year's insurrection. "President Trump promises he's going to be walking with us to the Capitol this time. And everyone knows he's a man of his word. The president said he would march with us to the Capitol last time, but the Secret Service wouldn't let him. I'm telling you, the goddamn deep state is everywhere!"
There will also be a special guest of honor this year: former Vice President and weasel Mike Pence.
"We really wanted Mike to join us at our last get together," Pretmoore says. "This time, we're going to welcome him with open arms because we'd love to have him hang with us. We've heard he's a good hang, and we aim to find out. We'll also see if he's a swinger. I'll bet his wife Karen knows. We'll see for ourselves."
There are also going to be many notable guest attendees.
"We're going to have Joltin' Josh Hawley and Creepy Ted Cruz," says a smiling Pretmoore. "But that's just the start. We'll also have Kooky Kevin McCarthy and Racist Ronnie Johnson. We've even got Jimbo Jordan with molester Matt Gaetz. Along with Devin the Devil Nunes and Markie Mark Meadows."
The Texan catches his breath and tries not to hyperventilate with excitement. He continues.
"We'll also have Little Stevie Scalise, playing with Louie Louie Gosar and featuring Lindsay The Bootlick Graham. And because we're not sexist, we'll have both Republican sex kittens, Marjorie Taylor Greene and Lauren Boebert. I'm telling you what, the party of Lincoln will rise again like Phoenix, Arizona. It's going to be something!"
This first anniversary of insurrectionists will be a celebration for disgraced twice-impeached ex-President Donald J. Trump that will be one for the ages. And maybe this time, Trump will win!
———————————————————————————————-
Enjoy PD Scullin's debut novel "SAWDUST: Love is wilder than a circus," a humorous ride across America with a circus in the early '80s. You're a click away from a helluva fun ride. Buckle up and go.
You may be interested in these jobs
Found in: Jooble US - 3 days ago

---

Intrepid USA

Somerset, KY

Full time

Intrepid USA - Our vision makes a difference :We are a top 10 national home healthcare company with an overall 50 year history of excellence driving our future vision forward. · We are putting a dent in the homecare universe through our commitment to providing affordable, persona ...

Found in: Jooble US - 1 week ago

---

Praxis Engineering

Annapolis Junction, MD

GREAT LOCATION & PARKING WITH AMENITIES * · What you will be doingThe DevOps Engineer shall be responsible for the Operational and Maintenance (O&M) efforts including installation, configuration, integration, monitoring, and sustainment of a large multi-tenant containerized Kuber ...

Found in: beBee S2 US - 10 hours ago

---

11Alive is looking for a creative and experienced Senior Producer to lead our Morning Show in Atlanta. · This person will work collaboratively with show's Executive Producer to help guide teams in creating unique, shareable content that evokes emotion across all platforms (broadc ...