MILLER: "DRUIDS OF DEMOCRACY" WILL SECURE TRUMP'S VICTORY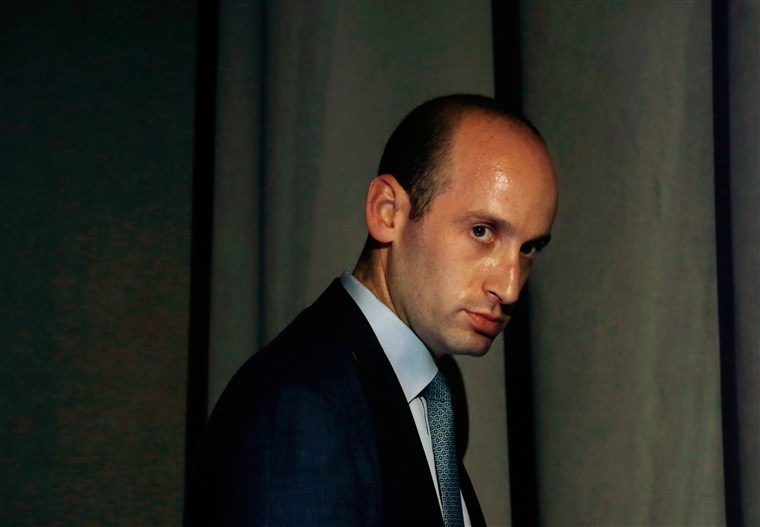 Stephen Miller slithers into The Lint Screen offices. As his forked tongue pokes the air exploring its environment, the nervous little man springs to his feet and begins a diatribe.
"We face a constitutional crisis," he blurts. "This farcical election must be overturned. We cannot allow a dangerous wild-eyed socialist like Joe Biden and his army of angry Antifa radicals to ruin America."
Miller's beady eyes dart about the room. He gulps air and continues his rapid patter with manic hand gestures.
"The alleged electoral college met and allegedly gave Joe Biden the presidency, but that's not going to happen. As we speak, a secret alternate electoral college is meeting in dark caves across our nation. These druids of democracy are representing the true will of the people in granting President Donald J. Trump his election victory, thus ensuring he can continue a second term and his holy mission of making America great again. It is God's will for The Chosen One!"
A mouse scampers across our newsroom floor (we really should get pest control in here someday). Miller springs into action. His tongue darts out wraps itself around the frightened mouse, and snaps it back into his expectant mouth. His jaws mash down as a lump transverses his taut-skinned throat.
"Delicious," he says. "I love rodents." He burps and blathers on.
"Biden claims to have received over 81 million votes. They are all fake votes! We know it's a lie. Hugo Chavez designed Dominion voting machines designed to cheat the will of free people and usher in a socialistic hellhole. Our alternate electors are fighting this travesty of justice. They will deliver our glorious leader back into the White House, where he can continue his excellent job with the pandemic and have true GOP patriots standing by his side. We must prevail over evil RINOs like Brian Kemp trying to destroy our greatest American leader."
Miller is asked if he considers 300,000 Americans dying from COVID-19 a success.
"There is absolutely no pandemic," he retorts. "It's like the president said at the beginning of this charade–– it's a hoax. The lamestream media made it up in a failed effort to make Trump look bad. They want Americans to wear masks as a sign of solidarity to being sheep. And even if there was a pandemic, the president's decisive leadership saved tens of millions of lives. Of course, the liberal press won't report those alternative facts."
Miller's tongue snaps out and grabs a spider crawling up the wall. He chews it, savoring the rich spidery flavor.
"Bill Barr is a very bad man," he says. "Barr should have seen to it the election was overturned. He should have put Biden and Hunter in jail. Trump won, fair and square!"
The little man slumps to the floor and slithers his way to the exit.
———————————————————————————————-
Enjoy PD Scullin's debut novel "SAWDUST: Love is wilder than a circus," a humorous romp across America with a circus in the early '80s. You're a click away from a helluva fun ride. Buckle up and go.
You may be interested in these jobs
Found in: Jooble US - 4 days ago

---

HR Support Associate · Amazing Company & Benefits Package · 6 Month Contract to Hire · $26/Hour · Skokie, IL - Fully Onsite · Job Description:Posting Job Boards · Answering benefit questions · Scheduling interviews · Coordinate office visits · Running Plant Tours · Communication ...

Found in: Jooble US - 1 day ago

---

Department Of The Treasury

Lanham, MD

Duties · WHAT IS THE INFORMATION TECHNOLOGYDIVISION? · A description of the business units can be found at: · Vacancies will be filled in the following specialty areas: · INFORMATION TECHNOLOGY · The following are the duties of this position at the full working level.Using broad ...

Found in: Jooble US - 1 week ago

---

Cardinal Health

Indiana

Full time

What Financial Planning & Analysis contributes to Cardinal Health · Finance oversees the accounting, tax, financial plans and policies of the organization, establishes and maintains fiscal controls, prepares and interprets financial reports, oversees financial systems and safegu ...