3 years ago · 3 min. reading time · visibility ~10 ·
EXCLUSIVE: TRUMP-PUTIN SECRET HELSINKI MEETING TRANSCRIPT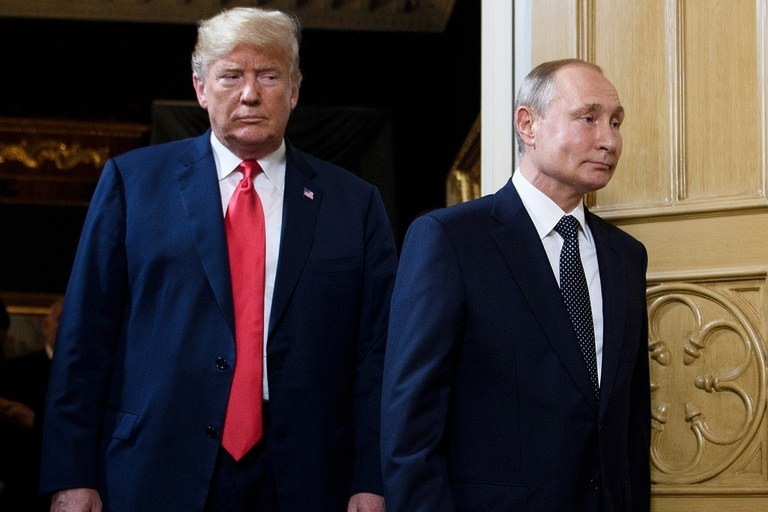 The Lint Screen has secured a top secret transcript of a private meeting President Donald J. Trump held with Russian President Vladimir Putin in Helsinki in July.
The document is the only known transcript of this meeting. Immediately following the world leader pow wow, the translators suffered fatal bone saw accidents. Somehow a transcript was made and marked "HUSH HUSH, SUPER SECRET — DON'T READ, THIS MEANS YOU!!!!" The papers were wrapped around a baby sturgeon and left outside The Lint Screen offices where they stunk to high heaven.
Here is the transcript in its entirety.
DT: I'm doing pretty great, right, boss?
VP: Pretty good, Donald. Not bad.
DT: I think I'm doing a tremendous job, everyone says so.
VP: Did you bring me the nuclear codes?
DT: Oh, I forgot. I left them at the hotel.
VP: I need the codes, Donald.
DT: I'll get them to you, no worries. What's your email again?
VP: No emails. No digital trails, Donald. We've talked about this.
DT: Right. What's a digital trail again?
VP: Emails. Texts.
DT: What about Tweets? Everyone loves my Tweets.
VP: No Tweets. Absolutely not!
DT: I write excellent Tweets. I get a ton of news coverage with my Tweets. They're very presidential. Everyone reads my Tweets.
VP: That's why we don't want Tweets, Donald. Remember– secrecy! We need secrecy.
DT: Right. Secrecy. Super secret! My lips are sealed, boss.
VP: Good.
DT: I could give you the codes in a Hannity interview. He really, really likes me.
VP: No! Not on television.
DT: But Hannity's not digital. And he gets great ratings. I can also talk to Fox and Friends, they're very well respected! They like me, too.
VP: No. The codes are strictly between you and me.
DT: You and me. Right!
VP: No one else needs to know. No one.
DT: Right. A president's club secret. Just us.
VP: Good. Have you killed Mueller yet?
DT: Mueller's running the world's biggest witch hunt!
VP: Yes, yes, I know, Donald. Did you kill him?
DT: No collusion!
VP: Right, no collusion. Have you killed him yet?
DT: I can kill him?
VP: Not you, have someone else do it.
DT: Jared? Ivanka? Have you seen Ivanka lately? She's so hot! Incredible body.
VP: It shouldn't be a family member, Donald.
DT: Right. Jared has a full plate anyway — Middle East peace, opioid epidemic, infrastructure, cure poverty, more tax cuts for rich, world hunger, more revenue for the Trump organization, and some other stuff. And Ivanka — man, she looks so fine.
VP: Focus, Donald! Who will take care of your Muller problem?
DT: Focus. Right. Let me think.
(AN AWKWARD TWELVE MINUTES OF SILENCE)
VP: Pence. Yes, Pence is good — no one would suspect him.
DT: He's a goody two shoes. I'll order him to do it. He has to do whatever I say.
VP: Just get it done before Mueller releases something.
DT: It's a total witch hunt. No collusion. None.
VP: Right. Did you get my orders about shutting down the government?
DT: Yes. I'll do it. A government shutdown, check!
VP: How? What's your plan?
DT: The wall. My big, beautiful wall. Build my wall or I'll shut down the government!
VP: Good. Blame it on the Democrats.
DT: It's the Democrat's fault! Very weak on border security. They want to let rapists and murderers in.
VP: Get it done.
DT: The wall shutdown. Right! No worries, boss! I'm your man.
VP: That's what I like to hear. To be sure you stay on task, I will have Sergei Lavrov and Sergey Kislyak checking up on you. Get them an office next to yours.
DT: I can get them desks in my Oval Office. I have that power. Love those guys.
VP: No, that might be too much. Too close. We don't want to arouse any suspicion.
DT: Right. Secrecy. Keep it secret. I'll find them some office space in The White House. Maybe the Lincoln bedroom — Lincoln never sleeps in there.
VP: Lincoln is dead, Donald.
DT: That explains it. Lincoln was an awful president. Very bad.
VP: Just get your tasks done and keep Sergei Lavrov and Sergey Kislyak informed.
DT: Will do, skipper!
VP: Don't call me that.
DT: Sorry, boss.
VP: Let's break this up. Not a word to anyone about what we discussed.
DT: Mum's the word. Check!
VP: Keep up the good work, Donald. We will talk later about the Trump Kremlin Tower.
DT: It will be a great addition to the Moscow skyline.
VP: Yes, yes. Do your job, Donald.
DT: I will. I'll make you proud.
VP: You had better do that, or else — 
DT: No collusion!
VP: No collusion. Now get me those codes, Donald!
DT: Will do, skip!
VP: Quit calling me that!
DT: Sure thing, boss.
THE MEN STAND, SHAKE HANDS AND EXIT.
______________________________________________________________
Patrick Scullin (aka PD Scullin) was a founder of ASO Advertising and recently left the ad game to write what he wants, wrangling parts of speech to entertain and amuse.
He has an upcoming novel, SAWDUST, and writes two blogs: The Lint Screen (satire, smartassery humor, pop culture ramblings, and advice for people getting hip replacements) and Empathetic Adman (marketing pontification).