Creating Charitable Habits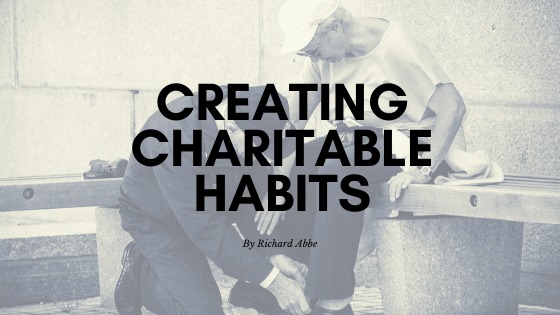 As the holiday season kicks off many people feel an increased desire to give back and become involved in the community. However with the stress of cooking, shopping, and juggling daily tasks many aren't sure how to manage their time and energy in an effective manner. Fortunately, there are small ways to break down the act of charity and create everyday habits that allow you to expand your philanthropic efforts.
Here are a few ways to create charitable habits.
Everyone shops online, however, many don't consider the online retailers that they are using. For instance, Amazon has a program called Amazon Smile, which allows for any purchase a consumer makes to go towards a 0.5% donation to charitable organizations. It's at no extra cost to the consumer, just a simple way to put a little bit of money towards something that helps others. Aside from Amazon, there are a plethora of companies and businesses that have built-in donations during purchasing. By being more mindful of where we shop we can help others without altering our routine in any major way.
Another wonderful way to give back while simultaneously becoming more active in one's community is to cook. We all have to eat and instead of making too much and throwing away leftovers, consider purposely cooking larger portions to give to those in need. There are tons of places such as shelters, fire stations, and nonprofits that welcome food donations. This is a particularly difficult time of year for vulnerable populations and every little bit makes a difference. Before delivering any food make sure to call ahead as there may be restrictions on what organizations can accept. We all make dinner and this is a great way to tweak your routine and feel that you're having a positive impact on the lives of others.
Lastly, instead of throwing things away when you no longer need them, donate! Clothes, books, shoes, even electronics can go to someone else who may desperately need it. Everyone goes through their closet once or twice a year to revamp their wardrobe or make space in a storage area, so why not donate as you minimize?
These small changes in one's routine are simple and effective at helping those that wish to give back an easy way to make participating in charity incredibly easy.
Originally published on Richard Abbe's website.
You may be interested in these jobs
Found in: Talent US± - 3 hours ago

---

Staffmark

San Antonio, United States

Job Functions And Key Responsibilities Drawing up and preparing HR documents such as employment contracts, references, works agreements etc. in coordination with the HR Manager Assisting with the time management processes at the production plant (e.g. recording working time and a ...

Found in: beBee S2 US - 1 week ago

---

Leidos Inc

Fort Worth, United States

Regular, Full time

Description · Job Description: · The Leidos Civil group is seeking Electrical Engineer to join the National Airspace System Integration Support Contract (NISC IV) program, providing support to the Federal Aviation Administration's (FAA) Unstaffed Infrastructure Sustainment (UIS) ...

Found in: Jooble US - 3 days ago

---

OCE Mechanical

Broken Arrow, OK, United States

OCE Mechanical is growing, and we are currently seeking an experienced Pipefitter Apprentice to join our team in Tulsa. We offer competitive pay, a comprehensive benefits package and consistent, long-term work. Experienced and qualified individuals are encouraged to apply. · BENE ...