5 years ago · 2 min. reading time · visibility 0 ·
A Simple Star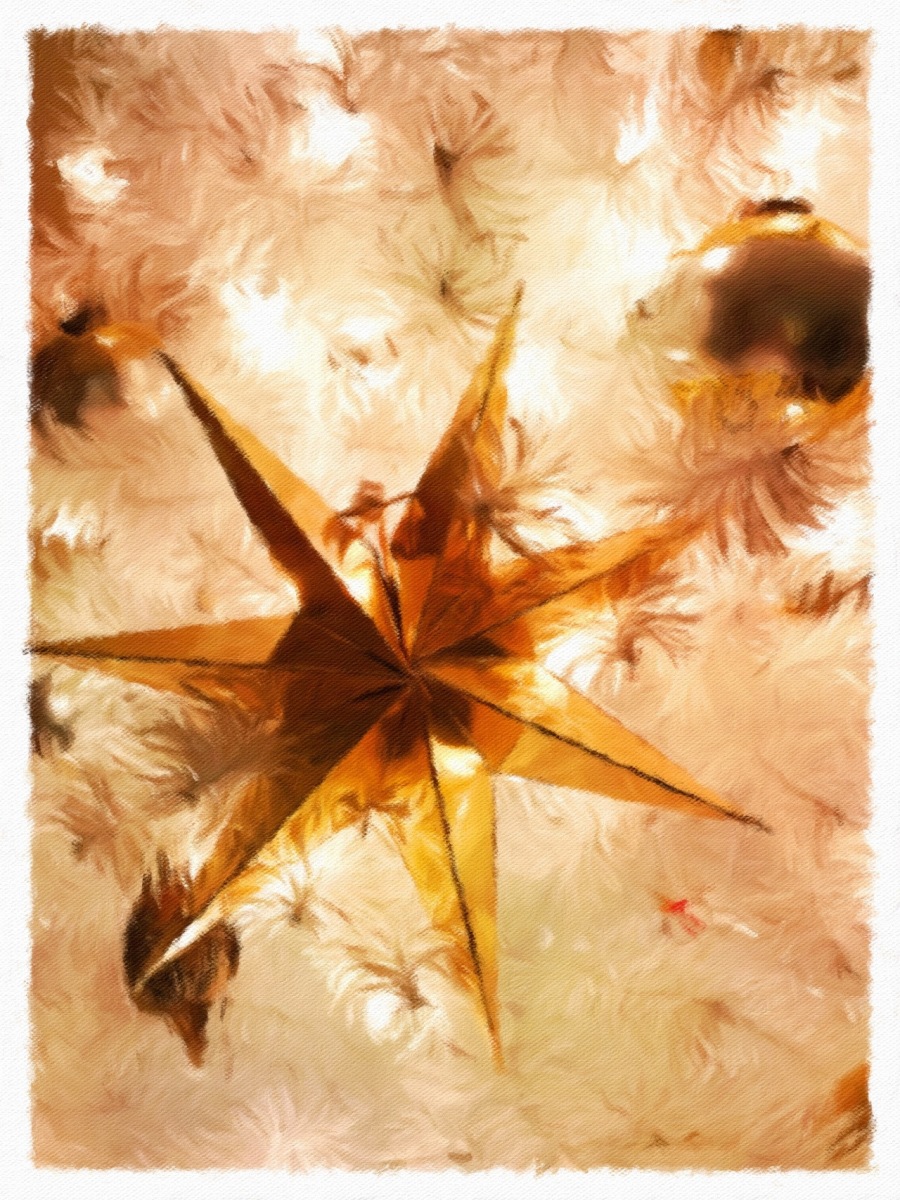 A Simple Star
I am but a simple star, made of paper and foil, tattered, tapped, creased, glued, bent and torn. Years of use and abuse at the hands of young and old alike, leave me bearing the scars of the memories of generations and nations far and near.
Old and worn
Tattered and torn
Mostly forgotten and forlorn
I am nothing compared to the brightness of all I represent, physically, emotionally and spiritually to those who pull me from the quiet darkness where I lay hidden on all but this one night.
I am but mere symbol
of a guiding light
Showing the Way
through darkness of night.
With all my flaws and scars I am honored with the highest place, among the bows of an evergreen, on the darkest and coldest night as a symbol of hope, peace and joy. I must shine, no matter what the station, or location or situation, and I do. Oh how I do.
A symbol of hope and remembrance
In adoring reflection of a
miracle of life, faith, comfort and protection.
People are counting on me and the millions of my brethren for a wondrous miracle this night. It's the miracle of that spark of delight in a baby's face, a fire burning in a young person's heart, the twinkle in an old man's eye and a candle burning in the soul of a tired, fearful, overworked mother, whose faith is all she has left to keep her family warm. I am the miracle of happiness, joy and comfort when and where it is needed most.
I stand not alone in the night.
For across this land and the earth
my brethren and I remind all
of a simple birth in a simple place
and how a baby boy became
living peace and joy to the human race.
Many of those who will gaze upon me tonight will look beyond the mere physical to contemplate the meaning of the very first sign to appear in a dark night lighting a path to peace on earth and good will to all mankind. They will be reminded that the journey is not easy nor for the faint of heart and spirit.
Each day I rest heavy on the shoulder of a leader, soldier and patriot and fly fifty strong in a dark blue sky of changing winds that blow ill or in glory across a great land. I stand still, proud and silent in the window of a home now quiet with the memory of a soul brought low through the ultimate sacrifice to a country and a nation.
Here I hang for all to see
this most silent night.
Lit by a candle burning bright
in remembrance of life
given to keep you free.
I am but a simple star made of paper and foil, tattered, tapped, creased, glued, bent and torn, but I am as well the memories of those many hands that have placed me in this lofty place for all to see on this one night of the year. I may not shine as brightly or as new as I used to, but what matters most to those who've given me this place of honor, is that I reflect the thoughts and prayers for hope and peace that are in the hearts of each person who gives pause to remember how I got here.
For some I am just purpose for fun and cheer
a reason for the season,
a party for all far and near.

But for others I speak loud and clear
That peace, love and joy shall live on
in the heart, mind and soul for another year.
Soon enough this night shall end and I will once again be put away, even shut away in darkness, to be forgotten until another year of memories have passed. But there are those for whom the memories for which I stand and the principles I represent will eternally live on in heart and mind. Peace on Earth my friend and good will to all mankind.
 #michaelddavis
© 2016 Michael D. Davis - All Rights Reserved
"