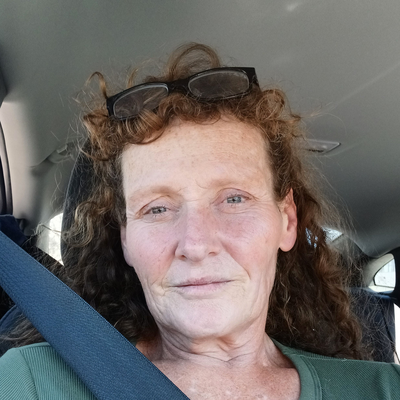 Patience Van Zandt
Writer | Editor | Speaker | Reader | Consultant
Redding, Shasta
Services provided $32

/ hour
Education / Training (1)
Public Speaking Training

Tourism / Travel / Hospitality (1)
Public Speakers

About Patience Van Zandt:
Hello!  To tell you about myself, is to try to squish an awful lot of history, into a pretty small space! Here is my effort to be brief, lol!
I am astonished at the places life has taken me!  I received a Juris Doctorate degree, from UOP, McGeorge School of Law, in 1995.  I was admitted to practice law that fall, and enjoyed a very exciting thirteen years, as a criminal defense trial attorney.  Then, life dealt me a few wild cards, that sent me on a new adventure.  
I have spent the last decade, as assistant to the manager of a cattle ranch, in Northern California.  There is no way to convey the incredible learning experience this has been.  I have discovered things about animals, plants, people, the planet, and myself, that I never knew enough to wonder about, before.  The drought has put an end to that journey, which is painful. I loved that work!  It is very difficult to see this chapter of my life come to a close.
I have, for thirty-six years, since my eldest son was born, always had most of my attention fixed upon my children.  Though their father and I parted ways, I have tried to lessen that blow, to us all, over the years.  I worry, constantly, about my success in that endeavor.  But, they are all grown now.  My youngest will be graduating college this spring.  All of them are planning amazing futures, and thinking of families of their own. I could not be more proud of them!
Now, with my best friend, and future spouse, I am reaching for a path toward a dream of my own.  I have so many to choose from!  With the support of my family, I am learning to try things that frighten me, a bit.  This effort consists primarily of learning to trust that, so long as I keep doing right by the people who enter my life, working hard, and keeping faith, nearly anything I set my heart and mind upon us attainable.  I have to resist the idea that the possibility of failure, or rejection, should keep me from trying new things. To my delight, I am discovering that I am well able to take on, and excel at, all of the challenges that have, so far, come my way.  What a blast it has been to realize this!
I learn quickly, and enjoy learning for its own sake.   I like being around people.  I know that I inspire trust and confidence in those with whom I interact; and I see this as a blessing, as well as a responsibility.  Whatever I do in my life, I want those who have known me, to be better off for having done so.  I believe that I am a good, honest, hard-working person.  I hope that others will always see me this way, as well.  
Asked to list my strengths, I would reply: I understand people, and can help others to do the same.  I write things, often humorous things, that people enjoy.  I have a good grasp of grammar and punctuation (which even those paid, exclusively, to communicate often lack) and can provide editorial assistance.  I am adept at heading off conflict, and also at defusing crises already underway.  Public speaking is something I enjoy. My most mysterious ability, in my opinion, is a knack for knowing when creatures are unwell.  I cannot explain it; I just know.
If you are reading this, it is likeky because, either you are seeking someone for a particular assignment, or you have a vacancy in your company to fill, and are wondering whether I might be a good fit for that position. In either instance, and whether that proves to be the case, or not, I am grateful to you, for taking the time to review my credentials, and read what I have to say of myself.  If I am so fortunate as to be given the opportunity to work with you and your folks, be assured that I will do my best to make you glad that you offered me the chance.  I am truly looking forward to the feeling that comes from being a part of an organization, and being of genuine value to that team, even if only for a particular project.  I'll be standing by, hoping to hear from you!
Thank you again for your time!
Cheers!
Patience Van Zandt 
Experience
I have had the pleasure to work in Agriculture, Law, Customer Service, and Retail Sales.  
Education
I hold Associates, Bachelor, and Juris Doctorate degrees.  The number of years of formal education normally required to obtain this level of education is nineteen.  However, I did not attend high school, so I truly can claim only fifteen years of schooling.  The fact that I obtained my A.S. degree with Highest Honors, my B.S. degree Magna Cum Laude, and graduated in the top third of my class, from an A.B.A. accredited law school, causes me to wonder whether the best measure of my, or anyone else's, education, is their level of achievement, in the formal educational system.  I have learned so much more, speaking to, and more importantly, listening to, people who have experience in the relevant subject.  I believe, for myself at least, that true learning comes through the instruction and guidance of a person who has personal knowledge of their chosen topic.  Mastery of any topic, I believe, can only be achieved through personal experience.  I have met, and learned from, some amazing, brilliant, and unlikely people.  My own experience is extremely varied.  It is something in which I take far more pride than any of my graduation certificates has ever inspired in me.
Having said this, my education includes all of the normal stuff taught in school, with the exception of whatever it was that I missed by eschewing attendance at high school.  In addition, my practical education has been largely centered upon effective communication skills, with an emphasis on listening to what a person intends to communicate.  I have experience, and an increasing level of education, in speaking to be understood, in intimate as well as public, settings.  
This basic knowledge, of speaking and listening, has formed the foundation upon which I have built a large body of knowledge about people, their motives, needs, and fears.  I believe that I am very good at listening to what a person says, particularly in times of crisis or stress, and discerning what that person means by what they express.  This is the result of the most valuable portion of my education.  Certainly, of all that I have learned in half of a lifetime, this has given me the most service.
(Don't you wish that people could bring themselves to just answer the question? My goodness, how they do go on!) 
Professionals offering similar services to those of Patience Van Zandt
Professionals in the same Upper Management / Consulting sector as Patience Van Zandt
Professionales offering Public Speaking Training services
Professionales offering Public Speakers services
Professionales offering Public Speaking Training services
Professionales offering Public Speakers services
Professionals from different sectors near Redding, Shasta
Jobs near Redding, Shasta
---

Knauf Insulation

Shasta Lake, CA, United States

Knauf Insulation North America is the world's fastest-growing insulation manufacturer. We are wholly committed to the conservation of the environment while also sustainably developing and manufacturin ...

---

Hopscotch Health

Weaverville, United States

*About Hopscotch Health*At Hopscotch Health, we believe great healthcare should be accessible to all people across all communities. Today, almost 20% of Americans live in a rural community, yet only 1 ...

---

Ardor Health Solutions

Redding, CA, United States

Estimated payment breakdown $2,160 per week in taxable pay and non-taxable stipends Specialty: OT · Start Date: 10/2/2023 Duration: 26 40 hours per week Shift: · Days Employment Type: Traveler Ardor ...