What is beBee?
beBee is an open platform where you can find jobs, freelancers, groups, bloggers and ideas.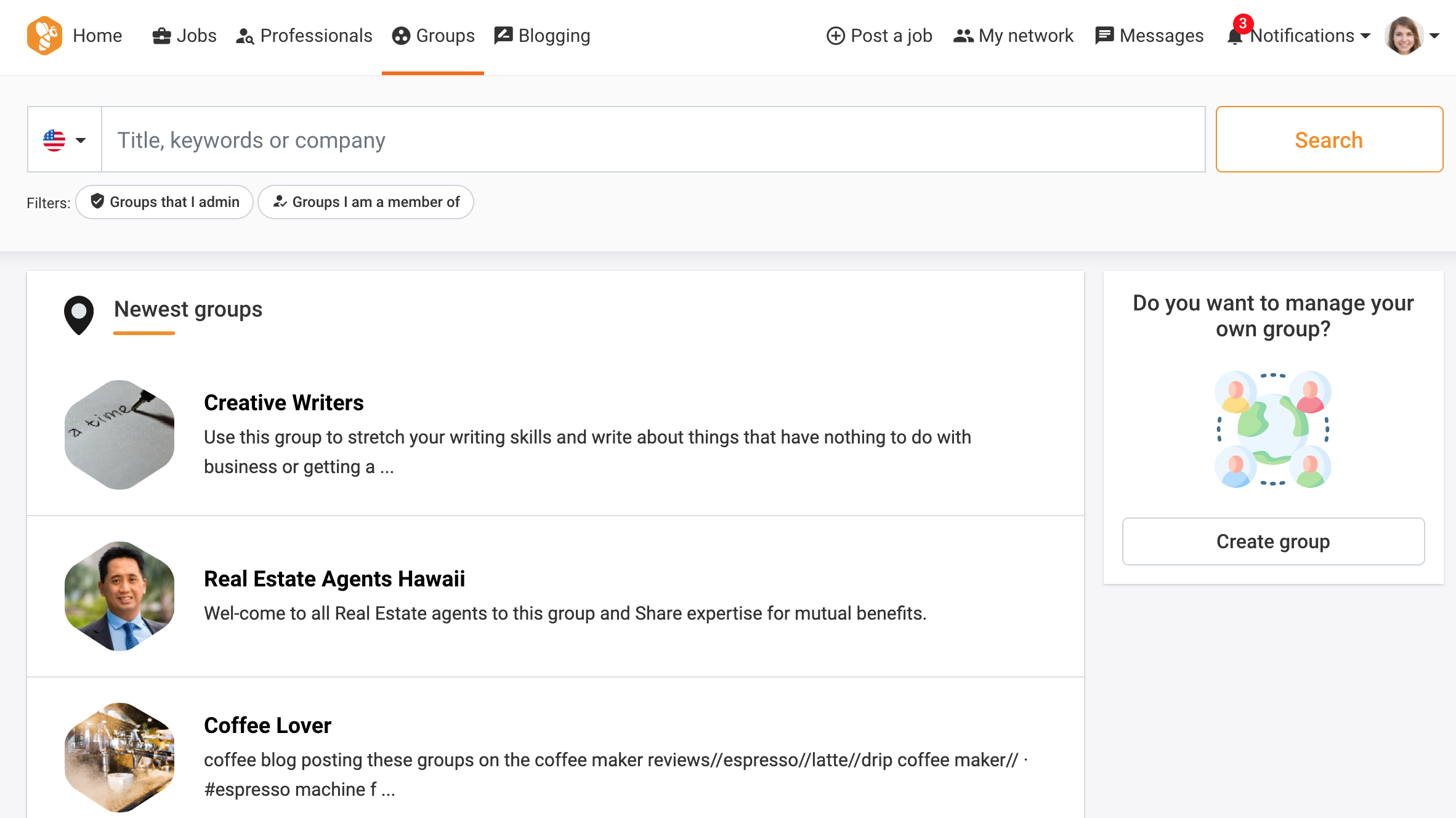 The use of social networks for networking and the search for new job opportunities is becoming increasingly popular. beBee is a social network that has the tools to meet this objective, and to give you visibility on Google.
There are some steps we can take on this platform to avoid making these mistakes of being irrelevant and to perfect our profiles:
Stand out from the crowd: do not include generic terms, give examples of personal experiences and focus on concrete examples.
 
A picture is worth a thousand words: take advantage of the image rather than just the written word to make an impression. It is essential to include a personal photograph, and write an article about what you can contribute to potential companies that are looking to hire you or those companies that are looking to hire your services as a freelancer.
Share opinions and news: being active on the network rather than passive allows you to position yourself as an opinion leader (through your own posts) and be recognised for your knowledge. This does not guarantee that you will be hired but it can leave you at a disadvantage because there will always be competitors who can have more visibility on Google thanks to the sharing of their own posts/articles.
Meet professionals like you: join groups related to your sector, your professional and personal interests, participate and, again, be active in them. You can also create a group on beBee and write about the subject you master.
Recommend a friend: take the time to write meaningful recommendations using specific examples. A couple of exceptional recommendations are worth more than a hundred words on most profiles. Once you have your beBee profile done, ask other people for recommendations so that they can add a recommendation to your professional profile.
In your beBee profile, indicate whether you are actively looking for a job, or if you are willing to work as a freelancer. If the latter is the case, it opens doors for you. beBee is a platform also designed for freelancers and for companies looking for freelancers to implement their ideas.
 
Search for job advertisements on beBee

You can invest your time in beBee for multiple functions, for example, to search for jobs on beBee, as it is very efficient thanks to the comprehensive job search engine that exists within the platform. It is a kind of "Google of employment", where they search for the job advertisements they see and make them available in their search engine, so that when you search for something, it searches the Internet and takes you to the website of the original advertisement where the company has placed the job advertisement.
This search engine allows you to apply a number of filters based on location and keywords depending on what job you are looking for.
Post job ads to find workers or search for freelancers
Another function that beBee also incorporates is the opposite, that is, it allows you to publish job offers on beBee completely free of charge. These job offers can be published both by companies and individuals, and you can indicate when you publish them under which name you are publishing them. It also allows you to publish a job advert for freelance services.
Write on beBee
In beBee you can also have a blog where you can write your articles and improve your personal visibility, work on your personal brand, as they can have a wide diffusion in beBee, and above all, you will appear in Google. This tool is easy to use and allows you to have your own blog.
What makes beBee different from the rest?
In beBee, professional, work and personal interests come together, this is one of the main characteristics that differentiates it from the rest of professional and/or social networks. Hobbies always help to find a job, who doesn't want to work in what they like? I like marketing for example, if I had to hire a graphic designer I would prefer someone who is as passionate about marketing as I am.
The structure of the website is another of the main differences; it is original, youthful and casual. Professionalism is not incompatible with feeling more comfortable on a personal level and less forced.
You are the one who chooses, you can belong to groups only linked to work or to fashion, beauty, literature, sport, etc. hives.
beBee offers you a comprehensive networking experience.
In beBee you can participate in many ways. You can participate by sharing content or by generating your own content. The more content you produce, the more relevant your blog will be and the more visible you will be on Google.

Using beBee to promote your writer's blog

If you have a writer's blog, you know perfectly well that creating posts that appeal to your target readers is only the first step, so using beBee to promote your writer's blog is not a crazy idea.
If you really want your blog to do its job, i.e. attract qualified traffic into your conversion funnel so you can generate sales, you know that you have to go where your readers hang out to show them your material, which in the online world is sharing your posts on social media. The more places your content is on, the more likely you are to increase your visibility as a writer, which is one of the things you are looking for to strengthen your personal brand and to attract readers.
In the most popular social networks, if you don't have many followers, you will have little visibility. beBee, however, groups users by affinities (which you will have to define by creating your profile, and adding yourself to groups, or creating specific groups of your interest), so the contents you publish on this platform will be visible within the affinity groups, and will reach all registered users within those groups, regardless of whether or not they are followers of your profile.
And yes, there are categories such as "Literature", "Reading", "Writers" or "Books", so your content will be shown to your target audience within this social network.
Moreover, you can improve beBee yourself, to make it more useful for you.

If you scroll down to the end of this article you can add comments, opinions, ideas for improvement and recommendations that I am responsible for passing on to the beBee team so that they can improve the service. Who hasn't ever felt the need or the desire to communicate an idea to a platform so that it doesn't remain in oblivion?  
You can also write your wish list for beBee ! 
You may be interested in these jobs
Found in: Jooble US - 6 days ago

---

myGwork

Idaho Falls, ID

Full time

Basic Qualifications One year of prior leadership, supervisory, or retail key holder work experience. · Must be fluent in reading, writing, and speaking English. (Except in Puerto Rico) · Preferred Qualifications Prefer the knowledge of store inventory control. · The followin ...

Found in: Jooble US - 3 days ago

---

NonStop Consulting

Norwood, MA

Full time

.. Read more Let's start 2023 with great news and great roles... Read more We are looking for an amazing Scientific Director... Read more Senior Medical Writer - High Profile - 100%% Remote · A global Medical Communications agency has multiple positions open.... Read more Join a ...

Found in: Jooble US - 1 hour ago

---

Responsibilities · Peraton is seeking a Video Communications Operator to join our team on-site in Washington, DC. · What you'll do: · Provide subject matter expert support in classified studio VTC operations, coordination, scheduling, tier 1 troubleshooting, and management. · Thi ...