Blogging
>
Alex blog
>
Understanding the Difference Between 1-Step and 2-Step Paint Correction in Salt Lake City, Utah
Understanding the Difference Between 1-Step and 2-Step Paint Correction in Salt Lake City, Utah
Salt Lake City, Utah, with its varying weather and environmental conditions, can be quite challenging for car owners aiming to maintain their vehicle's glossy sheen. In such situations, paint correction can be an ideal solution to keep your vehicle's exterior looking its best. But what is paint correction, and more importantly, what is the difference between a 1-step and 2-step paint correction process? Let's explore.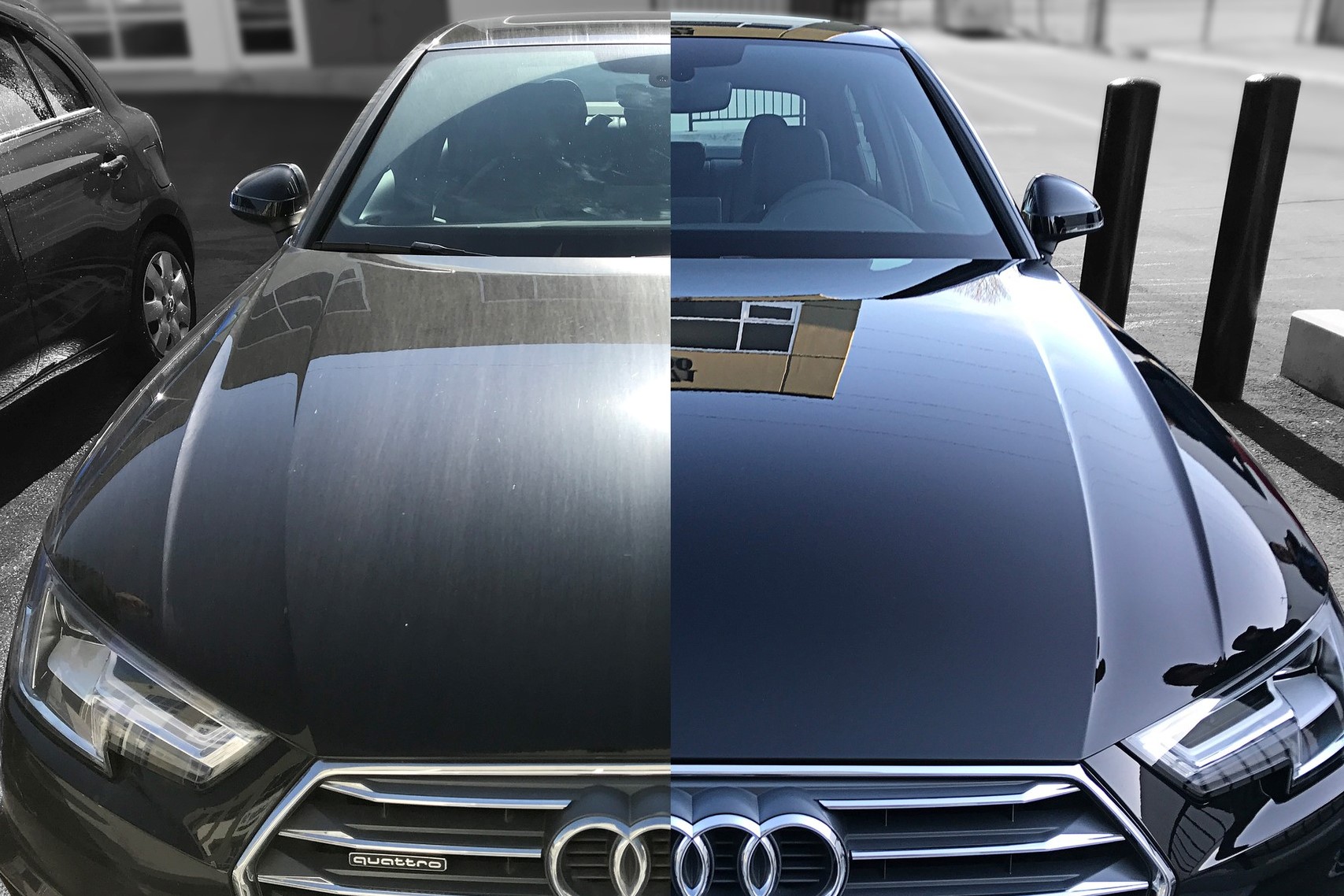 Understanding Paint Correction
Paint correction is a process of removing surface imperfections on a vehicle's exterior, including swirl marks, scratches, etchings, and oxidation. This is achieved by using specialized machines and compounds to remove a thin layer of clear coat, thus smoothing out the imperfections. But when it comes to paint correction, not all jobs are created equal. Depending on the condition of your vehicle's paint, you may need a 1-step or 2-step paint correction.
1-Step Paint Correction
A 1-step paint correction, also known as a single-stage correction, is a less aggressive process and is typically used when the paint is in relatively good condition with minimal surface imperfections. This process uses a medium-grade compound or polish to remove light swirl marks and scratches, restoring the car's shine.
One of the advantages of a 1-step paint correction is its efficiency. It's quicker than a 2-step correction due to the use of one compound or polish. However, while this process can effectively restore your car's shine, it may not remove all defects, especially if they are deeper or more severe.
2-Step Paint Correction
A 2-step paint correction, on the other hand, is a more thorough and in-depth process. It's typically used when a vehicle's exterior has more severe or deeper defects that a 1-step correction can't fix.
In the first step, a more aggressive compound is used to remove deeper imperfections, such as severe swirl marks, scratches, or oxidation. The second step involves using a finer polish to refine the paint surface, eliminate any minor defects left by the first step, and restore the paint's shine. This process can give the vehicle a near-flawless finish.
The primary advantage of a 2-step paint correction is its ability to eliminate more severe defects, providing a better overall finish. However, this process is more time-consuming and typically costs more than a 1-step correction.
Choosing the Right Process
The choice between a 1-step and 2-step paint correction largely depends on your vehicle's condition and your desired results. If your car's paint is in fairly good shape with minimal defects, a 1-step correction may suffice. However, if your car's paint has severe defects or you want a near-perfect finish, a 2-step correction may be the best route.
Regardless of the process you choose, it's important to understand that paint correction isn't a one-time solution. Regular maintenance, including washing and waxing, is necessary to keep your vehicle's paint in top shape, especially in a city like Salt Lake City with its varied weather conditions.
It's also crucial to choose a reputable service provider for paint correction. Look for professionals who have a thorough understanding of different paint types, use high-quality products, and have the skills and experience necessary to achieve the best results. Online reviews and recommendations can be valuable resources in finding the right provider. For more information on paint correction, you can visit Refine Detail Co.
In conclusion, paint correction is an effective way to maintain your car's exterior, enhancing its aesthetic appeal and potentially increasing its resale value. Whether you choose a 1-step or 2-step correction
Business
You may be interested in these jobs
---

NAVY

Auburn, NY, United States

ABOUTEffective, secure communication in the cyber domain is essential to the everyday operations of military intelligence in America's Navy. Information Professionals who oversee the seamless operatio ...

---

Advantage Sales and Marketing, LLC

Prospect, United States

Part time

If you enjoy talking and engaging with people, our Part Time Product Demonstrator job is exactly what you are looking for In this role, you will create a fun, engaging experience for Kroger shoppers b ...

---

Uline

Lake Forest, IL, United States

Corporate Headquarters · 12575 Uline Drive, Pleasant Prairie, WI 53158 · Are you an expert at interpreting data to solve strategic business problems? Then you belong at Uline Join us as Analytics Mana ...