1 year ago · 2 min. reading time · ~10 ·
TRUMP CONSULTS WITH RICHARD NIXON'S GHOST, IT DOES NOT GO WELL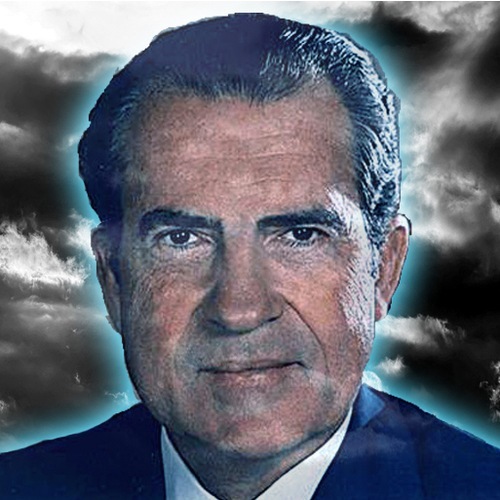 The White House is a sad place these days. Following Joe Biden's decisive defeat of President Donald J. Trump in the presidential election, the mood in the Oval Office has been forlorn and embittered.
The Lint Screen relays the following transcript of a recent encounter between President Trump and the ghost of ex-president Richard Nixon.
THE SCENE OPENS AT MIDNIGHT WITH PRESIDENT TRUMP OVERTURNING FURNITURE AND SLASHING THE DRAPES OF THE OVAL OFFICE.
DT: I won! Everyone knows I won! Biden's trying to cheat me!
THE GHOST OF RICHARD M. NIXON APPEARS.
RN: What the hell are you doing, Donald?
DT: What?! Is that really you–– Tricky Dick?
RN: Don't call me that. I never liked that name.
DT: Hey, I've got your boy, Roger Stone, helping me out. He loves you. Has a tattoo of you on his back.
RN: Roger's a good man. No morals. Evil as hell. Scum. My kind of guy.
DT: I got him out of some trouble. Busted him out of jail. Maybe he'll get a tattoo of me.
RN: Maybe he will. Tell me why you're making a mess of the Oval Office? Is something wrong?
DT: Didn't you hear? Joe Biden's trying to steal the election.
RN: Biden? Is that guy still around?
DT: Yeah. And he's being mean to me. Very mean.
RN: Mean to you? Hells bells, man, everyone was mean to me. They tried to impeach me for Chrissake.
DT: They did impeach me! Very unfair. Shifty Schiff and Nancy had a huge witch hunt and––
RN: Don't talk to me about witch hunts. They all came after me for Watergate and––
DT: Watergate was nothing, Nixon. I had Bob Mueller's witch hunt on my ass for almost two years and––
RN: Everyone was after my scalp, Trump. They wanted all my records, my tapes. That weasel John Dean even ratted me out. And the whole damn thing was on national TV and––
DT: That's nothing. I have all these late-night shows making fun of me. Colbert, Kimmel, Fallon, Meyers––
RN: Who the hell are they? Christ, I had Johnny Carson making fun of me. Johnny!
DT: Johnny was big…
RN: The biggest. None bigger. Sounds to me like you've got it good, Trump, compared to what they did to me.
DT: No, you're wrong. Everyone has been very unfair, very mean to me. No one has been more abused than Donald J. Trump. No one in history.
RN: Hell, man, get a grip on yourself. Quit your bellyaching and self-pity. Draw on the courage you mustered when you served in the armed forces.
DT: I, uh… didn't serve. I wanted to. But couldn't.
RN: Why not?
DT: Bone spurs.
RN: Bone spurs?! You're serious? Bone spurs!
DT: Very painful. Doctors said it was the worst case they'd ever––
RN: Trump, you sound like a big crybaby. A bellyacher. How in holy hell did you possibly get elected president in the first place?
DT: It was simple. I promised to make America great again.
RN: Wasn't America already great?
DT: No. The country was awful back then. Obama was in office. He's from Kenya. Black. A socialist. There was carnage. He crashed the economy. There were rats and poisonous snake everywhere––
RN: And you made it better?
DT: I built the greatest economy in history. Tremendous economy. Fantastic economy. I was the greatest president ever, even better than Lincoln, everyone says so.
RN: If you were so goddamn great, Trump, why didn't you get re-elected?
RN: Uh, huh. How many votes did you lose by?
DT: About five million. So far.
RN: Five million!
DT: They were all illegal. They're even counting mail-in ballots.
RN: I see. You know what I think, Trump?
DT: What, Nixon?
RN: I think you're a big fat loser making a shambles of the Oval Office. You're not up for the job. Unfit for office. I suggest you grow a pair and start packing.
DT: That's not nice, Nixon.
TRUMP PICKS UP A CHAIR AND HURLS IT AT THE GHOST OF NIXON. THE CHAIR PASSES THROUGH HIS FORM AND CRASHES INTO THE WALL.
RN: (NIXON LAUGHS) I'll leave you to your temper tantrum, Trump.
DT: That's not fair. I couldn't hurt you. I want to hurt you, Nixon. Get back here…
THE GHOST OF NIXON LAUGHS AND VANISHES AS TRUMP SOBS, STOMPING HIS FEET.
———————————————————————————————-
Enjoy PD Scullin's debut novel "SAWDUST: Love is wilder than a circus," a dark humor romp across America in the early '80s. You're a click away from a helluva fun ride. Buckle up and go.
You may be interested in these jobs
Found in: beBee S2 US - 6 days ago

---

Job DescriptionJob DescriptionGenerous PTO, vacation, sick, and holidays · This Jobot Job is hosted by: Nick Strebig · Are you a fit? Easy Apply now by clicking the "Apply Now" button and sending us your resume. · Salary: $130,000 - $190,000 per year · A bit about us: · We provid ...

Found in: Monster US - 1 week ago

---

SIDES & Associates

LAFAYETTE

This position is for a full-time accounting professional with a Lafayette, Louisiana-based firm that has been a leader in its field for over 45 years. · The accounts payable and receivable specialist works in the financial department in close contact with the company's controller ...

Found in: beBee S2 US - 6 days ago

---

HealthONE Healthcare at Home

Greenwood Village

Full time

Salary Estimate: $62795.20 - $97198.40/year · Learn more about the benefits offered for this job.The estimate displayed represents the typical salary range of candidates hired. Factors that may be used to determine your actual salary may include your specific skills, how many yea ...