6 years ago · 4 min. reading time · ~10 ·
TMI (Too Much Information)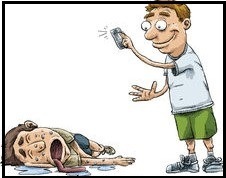 We've seen what overexposure to graphic violence in movies and TV has done to desensitize us. And we've seen what unceasing and explicit exposure to the horrors of terrorism and war in news coverage has done to us. Are we going to allow the increasing preoccupation with emotional and emotive expression on social media to add to the problem? I for one sincerely hope not.
Which is not to say that anyone's postings on social media should be censored or restricted. But we can reasonably take into our own hands the determination of how much
emotional voyeurism
and
emotive exhibitionism
we are exposed to on a daily basis. And we can choose not to foment and reinforce it with our own postings and comments and compliments.
We can also choose to steer clear of those who speak of virtually nothing else. Who use every post to draw us into a fixation with emotions and emotive content. Who use every comment to refocus attention upon themselves and their personal demons and travails.
Again, this is not to say that one should never be emotional or emotive or sympathetic or empathetic on social media. There is no doubt in my mind that some online relationships are very real, and that some people find personal connections online that they lack or fail to find elsewhere in their lives. And I see nothing wrong with joining hands across digital hyperspace in mutual support, as and when needed.
"... the more I love mankind as a whole, the less I love man in particular..."  
Fyodor Dostoyevsky in The Brothers Karamazov
I suggest that the ideal is to be selective and authentic in both the asking for and giving of emotional support. For one can emotionally support some of one's connections all of the time. And perhaps all of one's connections some of the time. But never all of one's connections all of the time.
To try intentionally to do so, or even to simply fall into such by default, is to risk emotional burn-out and eventual loss of the ability to empathize at all --- ever. Which would surely be a shame. 
--- Phil Friedman   


Post-script:  Everyone is entitled to his or her opinion. This post is an expression of mine. You are free to disagree. You are even free to say so in the comments thread for this post. Indeed, you are invited to do so. All  on-point comments are welcomed and will be treated with respect and answered. So feel free to join the conversation.  --- PLF
Author's Notes: If you found this post interesting and worthwhile, and would like to receive notifications of my writings on a regular basis, click the [FOLLOW] button on my beBee profile. Better yet, elect there to follow my blog by email. As a writer-friend of mine says, you can always change your mind later.
Should you be curious about some of my other writings, you're invited to take a look at the following from my Chicago Stories series:
"Vending Machines Are People Too"

As well, feel free to "like" and "share" this post and my other articles — whether on beBee, LinkedIn, Twitter, Facebook, or Google+, provided only that you credit me properly as the author, and include a live link to my original post.
About me, Phil Friedman:  With 30 some years background in the marine industry, I've worn numerous hats — as a yacht designer, boat builder, marine operations and business manager, marine industry consultant, marine marketing and communications specialist, yachting magazine writer and editor, yacht surveyor, and marine industry educator. I am also trained and experienced in interest-based negotiation and mediation.
In a previous life, I was formally trained as an academic philosopher and taught logic and philosophy at university.
Before writing comes thinking.  ( The optional-to-read pitch) :  

As a professional writer, editor, university educator, and speaker, with more than 1,000 print and digital publications, I've recently launched an online program for enhancing your expository writing: learn2engage — With Confidence. My mission is to help writers and would-be writers improve their thought and writing, master the logic of discussion, and strengthen their ability to deal with disagreement.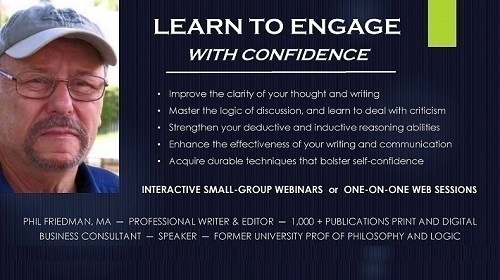 To schedule an appointment for a
free 1/2-hour consult or to sit in on one of our online group sessions
, email:
info@learn2engage.org
. I look forward to speaking with you soon.


""""
You may be interested in these jobs
Found in: Linkedin WW - 1 week ago

---

We are a regional firm in business for over 80yrs and nationally recognized as a top 100 CPA firm. Dozens of awards and excellent reviews. We are continuing to grow and want you to grow with us · What You Need for this Position · 4+ years in public accounting with an emphasis in ...

Found in: Jooble US - 1 day ago

---

Cognizant is looking for Functional Architect(remote) for developing customized product for our clients. The role is expected to drive technology discussions and analyze the current landscape for gaps in addressing business needs. Cognizant needs a motivated individual to challen ...

Found in: Jooble US - 6 days ago

---

Community Hospital of Monterey Peninsula

Monterey, CA

Montage Health's application process has changed effective 12/20/2019. · If you submitted an online application prior to 12/20/2019, you will be required to recreate your profile information if you want to apply to any new positions. You will no longer have access to your previou ...