RUDY MAKES HIS AIRTIGHT CASE FOR TRUMP'S FRAUD ELECTION CLAIMS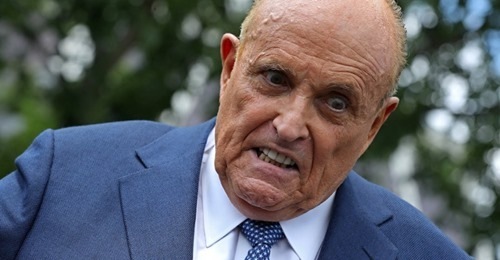 Rudy Giuliani may have made his bones as the Mayor of New York City, but he will be best remembered for his heroic efforts to save democracy by ensuring President Donald J. Trump receives justice in the presidential election in which he was cheated.
The following is the transcript of a recent trial in Pennsylvania as Atty. Giuliani presented his case on behalf of the president.
BAILIFF: All rise.
RUDY: Do we stand now? Is that what you want? You want us to stand?
(JUDGE WILLIAM CLYBORNE ENTERS, SEES RUDY, SHAKES HIS HEAD, CHOKES BACK VOMIT, AND SPEAKS)
JUDGE: Be seated.
CLERK: Case number 436-907-44-B, Donald J. Trump versus The Commonwealth of Pennsylvania.
RUDY: Is that us? Are we on?
JUDGE: Mr. Giuliani, am I to assume you are representing the plaintiff in this case?
RUDY: Yes, your honor. I like plantains. Like them a lot. Very tasty
JUDGE: (SIGHS) Not plantains, Mr. Giuliani. Plaintiff–– are you the one who brought this case before the court?
RUDY: Yes, your Honor. I come here today, seeking justice. It's outrageous that President Trump was cheated out of his rightful re-election campaign by the dirty tricks and awful, horrendous, criminal cheating by that no-goodnik socialist Joe Biden and––"
JUDGE: Save your arguments, Mr. Giuliani, until we review your case.
RUDY: But your Honor…
JUDGE: Mr. Giuliani, I have reviewed the complaint you filed. Upon opening the envelope, I found nothing more than shredded newspaper, a rotted apple core, and a gold wedding band.
RUDY: You found it! Thank God, so that's where my wedding band went…
JUDGE: None of the contents in the envelope constitute a legal complaint.
RUDY: Your Honor, the shredded newspaper represents the way Joe Biden shredded the Constitution in denying my client, President Donald J. Trump, the second term in office he so rightly deserves. He has made America great again and––"
JUDGE: Do you have any evidence of election malfeasance, Mr. Giuliani?
RUDY: I'm glad you asked, your Honor. Yes. Yes, I do. An airtight, bulletproof case. Rock-solid evidence. (GUILIANI TAKES A DRAMATIC PAUSE) I heard the Biden people had machetes, machine guns, and nuclear weapons and would not allow poll watchers to watch as they counted the ballots and––
JUDGE: You heard?
RUDY: Yes. From many people. Not only that, I heard they took ballots cast for Trump, put them in a big pile, and had a huge bonfire. And they read Chairman Mao's red book of Communism by the firelight because they want to destroy America and––
JUDGE: Do you have any proof of these claims?
RUDY: These are reputable sources, your Honor. From good people who wouldn't lie.
JUDGE Have they signed affidavits supporting their testimony?
RUDY: They're not writers, your Honor. There were also angry Antifa crowds who intimidated Trump voters. They were helped by gangs of rapists who came up from Mexico in a caravan, a caravan! Very bad hombres, your Honor, and––
JUDGE: Have they signed affidavits?
RUDY: Well, no, your Honor. But trust me, they're good, honest people. Patriotic and God-fearing red, white, and blue Americans intimidated by the Satanist army of pedophile cannibals who are the Democrat Party.
JUDGE: Mr. Giuliani, do you have one shred of evidence to support any of your claims, support your case?
RUDY: I found Hunter Biden's computer, your Honor. He used his laptop to hack the election system and cast over seventy million illegal votes for his father and––
JUDGE: Proof, Mr. Giuliani, do you have any legal proof?
RUDY: I'm not one for paperwork, your Honor. But I know in my gut what happened. President Trump knows what happened. You know what happened. Everyone knows what––"
(THE JUDGE BANGS HIS GAVEL)
JUDGE: I am dismissing this case as frivolous, ridiculous, a total time suck, and an embarrassment to our legal system.
RUDY: But, your Honor, my client was cheated out of––
JUDGE: Bailiff, please shoot Mr. Giuliani, and put us all out of our misery.
(THE BAILIFF REMOVES HIS SERVICE WEAPON AS RUDY RUNS OUT OF THE COURTROOM, MAKING THREE STOOGES YELPING SOUNDS)
———————————————————————————————-
Enjoy PD Scullin's debut novel "SAWDUST: Love is wilder than a circus," a humorous romp across America with a circus in the early '80s. You're a click away from a helluva fun ride. Buckle up and go.
You may be interested in these jobs
Found in: Jooble US - 6 days ago

---

CenterWell Primary Care

Kent, WA

Description · The Physical Therapist 2 provides services that help restore function, improve mobility, relieve pain, and prevent or limit permanent physical disabilities of patients suffering from injuries or disease. · The Physical Therapist 2 work assignments are varied and fre ...

Found in: Jooble US - 1 day ago

---

Software Resources

Florida

Software Resources has an immediate, contract job opportunity for a Legal Billing Reviewer. Position is Remote in Jacksonville or Tallahassee, FL. Job Summary : · This position reviews and analyzes submitted legal and vendor invoices for reasonableness and accuracy and ensure ...

Found in: Jooble US - 3 hours ago

---

Westminster Palms

Bradenton, FL

Description · WESTMINSTER BRADENTON MANOR · ESSENTIAL DUTIES AND RESPONSIBILITIES: · Comply with all applicable rules, policies, standards and guidelines related to employment with Westminster Services and its communities. · Inspect company vehicles for defects and safe operating ...