Ignore Deadlines As They Are Artificial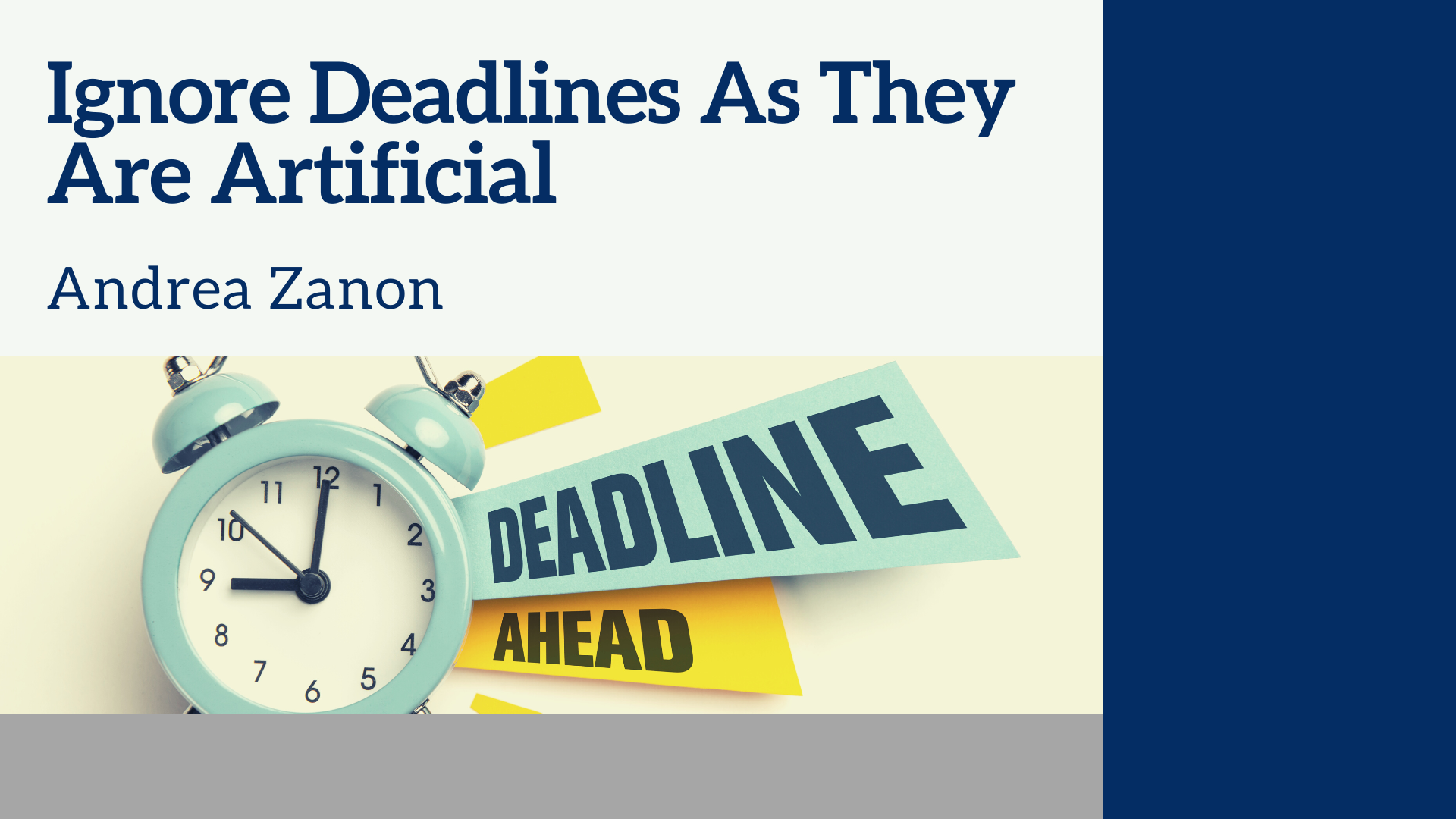 Hi everyone. Ignore deadlines. That's what my message to you is today. A lot of these deadlines, the majority of them are self imposed. They rarely lead to the consequences they threaten to cause and they take focus out of our lives distracting us from what we should really focus on.
So learn to manipulate these deadlines. Let others get distracted by them. Ignore them completely. Because as you do that, you become more risk aware and you let everybody else fret about them. And you learn to focus on what you have absolute control over
I'm not suggesting to be irresponsible, but if you focus on delivery and what you have absolute control over you become unstoppable. Again, ignore deadlines. They are completely artificial. And they'll take away so much stress and energy from our lives.
Learn from General Napoleon to ignore at all cost deadlines…He used to instruct all his top generals to bring him urgent communications after 2 weeks of reception because by the time these 2 weeks passed most of these urgent deadlines will have sorted themselves out.
Let go of deadlines and noise, and focus on delivery more every day.
Self Improvement
You may be interested in these jobs
---

Chico's

Allen, United States

Join our chic team, dedicated to a styling and social experience that inspires women to express their individuality. · POSITION OBJECTIVE: · The Support Associate is responsible for supporting a cus ...

---

Loves Travel Stops & Country Store

Magee, MS, United States

Req ID: 426762 · Address: 1790 Simpson Highway 49 Magee, MS, 39111 · Welcome to Love's · Where People are the Heart of Our Success · Restaurant Assistant Manager · Working at Love′s as a Restaurant As ...

---

NP Now

Whittier, United States

Job Description · Job DescriptionPatient-centered, nonprofit, regional healthcare network seeks a BC / BE Family Medicine Physician in Los Angeles, CAOver 300 days of sunshine/year · About the group: ...