Happy New Year?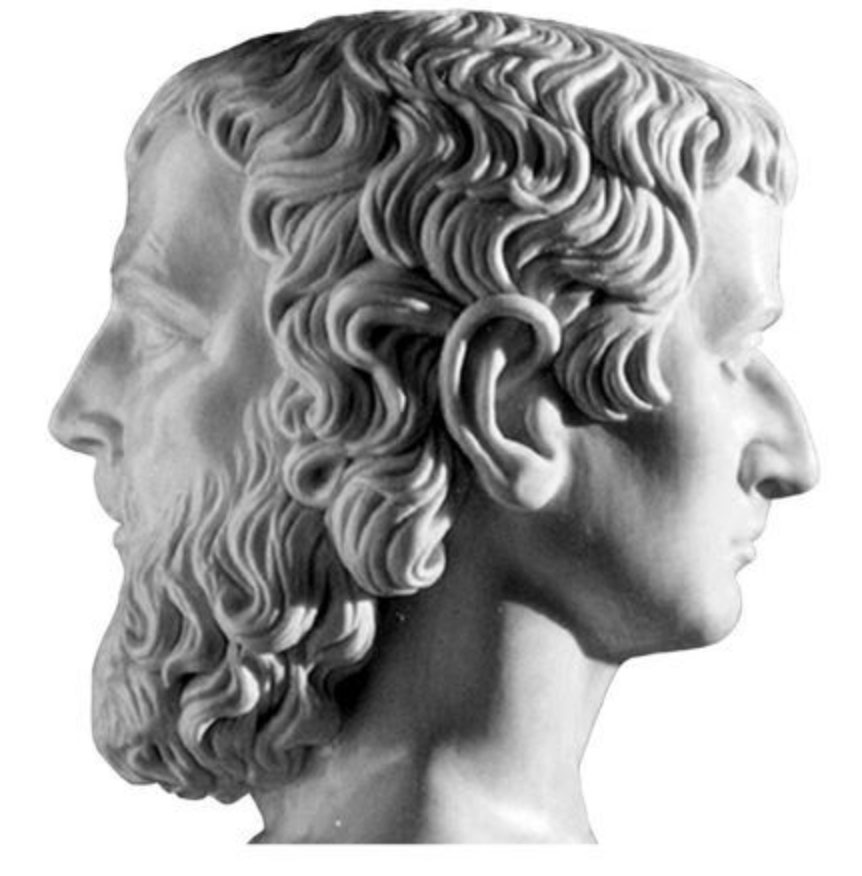 Janus, the two-faced god of gateways, beginnings and transitions was often found above the Roman villa lintel, a blessing on all those who entered and departed. Julius Caesar made Janus the symbol of the New Year in 46 B.C.E. when he instituted the Julian calendar and named the first month of the year after the bi-visaged deity. January and the transition from the old to the new year has been a special time of looking back and looking forward, and buying new gym memberships ever since.
"Last year, I ate my face off; this year I will eat salads twice a day." "Last year I was mean to my lover; this year I will be the embodiment of Eros-Aphrodite-Cupid-Parvati combined." "Last year I slowly sank into the couch cushions; this year I will train for the Ironman, lift weights five times/week, take up Salsa dancing, kickboxing,  and Bikram Yoga." "Last year. . . " well, you get the idea.
In 1582, Pope Gregory VIII reordered the year to shave the extra eleven minutes in the Julian calendar and bring Easter back closer to the spring equinox. Of course, not everyone liked that. Protestants thought it was a papist plot. England didn't get around to recognizing the new calendar until 1752, but presumably during those intervening years they still got blind drunk on December 31 and hugged complete strangers at 12:11 a.m. No, wait, scratch that. That's what Yanks do; Brits simply wouldn't be comfortable with the hugging bit.
Not everyone celebrates the New Year according to what is now the Gregorian calendar. The Chinese celebrate in early February and many of the rest of us show up in Chinatowns in our local cities for the paper dragon parades and egg-filled moon cakes. The Korean Seollal, around the same time is a quieter affair and lasts three days versus the Chinese fifteen. Nyepi, the Balinese observance in early March is a day of silent meditation, an inspiring idea, though not exactly a million people squished into Times Square watching the ball drop (not this year).
There is a cluster of cultures who celebrate the New Year around the spring equinox in late March to mid-April:
Vikram Sawant - the Hindu New Year. There are many different New Year's days in India; this one seems to be consecrated with giving gifts and blessings.
Ugaadhi -celebrated in some southern Indian states in early April.
Pahela Baishakh, Bengali New Year, a mid-April fete in Bangladesh and Northern India with street fairs and music. 
Nowruz -The Iranian New Year is on the equinox, and a mirror is placed in the center of the table, a literal symbol of reflection.
Kha b' Nissan is the Assyrian New Year celebrated in parts of Iran, Iraq and Turkey. The name means April 1 and consecrates rebirth with parties and parades and fresh flowers..
Puthandu, the Tamil New Year and Aluth Avuruth, the Singhalese New Year are observed in Sri Lanka both around April 14, as are the Thai and Burmese New Year.
Then there are the New Year's celebrations from around the autumnal equinox to the beginning of November:
Rosh Hashanah -the Jewish New Year in late September, a time of reflection, followed closely by Yom Kippur, the day of atonement. (Something, upon reflection, we all may need to do more of.)
Hiriji, the Islamic New Year is also celebrated in late September. Shiites and Sunnis both memorialize the holy month of Muharram, when the Prophet journeyed from Mecca to Medina, though in different ways.
Diwali, the Festival of Lights is jubilated as New Years in some states in northern India
Samhain, (pronounced Sow-Ihn) is what we came to call Halloween, but ancient Celts and Saxons saw it as a time to communicate with their ancestors in the Other World to prepare themselves for the new year which began November 1. Some I know from my free-spirit days use this time to reflect and renew.
Whatever the day we observe, it is a time to reflect on last year and renew our commitment to the kind of person we want to be in the next. 
I grew up as the only person in a family of five born north of the Mason-Dixon line. My father was called Reb at work, and I was sneered at as a Yankee at family gatherings. New Year's day dinner always had a Southern flair, ham for happiness, rice for riches, black-eyed peas for peace, collard greens and green beans for growth. (The greens and beans were cooked to death with ham hock and fatback. I was twenty-three before I learned that green beans could be crunchy and not have pork in them.) And cornbread, there was always cornbread on New Year's. I don't remember what it stood for,  but, slathered with butter and jam, it never started the weight-loss resolutions off on the right foot.
The dinner was a "wishin' and hopin'" kind of New Year's resolution. Maybe if I just eat enough rice, I won't have to work so hard. 
In one of my friend's families everyone had to stand between dinner and dessert and tell their resolutions. Later they were held accountable for achieving them… or not. Ours were more private and less demanding, but we did them and talked about them some. I still use some of the time in late December to reflect and plan.
This year, 2022, may be a tough year. Pandemic-year III is riven with economic and political strife, a year to take action to improve our environment, to support our families, friends and our disadvantaged communities.
This year I will turn three quarters of a century old. When that happens, nine and a half months from now, will I be healthier, happier, more loving and giving, more productive? My thoughts will start me on that journey; my actions will lead to that destination.
Janus, the old face looks back; Janus the young face looks forward. We cannot spend all our energy focused in either direction. We must be in the present and the now, where have been and are becoming merge. "Every human heartbeat is a universe of possibilities."*
What and how will we be this Happy New Year?
*This is a quote from Shantaram by Gregory David Roberts, a crime-adventure novel set in 1980s Bombay with surprisingly lyrical language and intimations of transformation.
You may be interested in these jobs
Found in: Jooble US - 3 days ago

---

Eaton Corporation

Kearney, NE

Full time

Eaton's Vehicle division is currently seeking a Preventative Maintenance Technician to join our 3rd shift team. This position is based at our Kearney, NE facility. Earn up to a $3,500 sign on bonus Position Overview: · This position requires the ability to help maintain and re ...

Found in: Jooble US - 4 days ago

---

Carrols Corporation

Columbia City, IN

Restaurant General Manager About Us · Carrols Corporation is one of the largest restaurant companies in the U.S. and is headquartered in Syracuse, New York. Carrols owns and operates more than 800 restaurants under the BURGER KING brand with plans for continue growth. Carrols o ...

Found in: Jooble US - 1 week ago

---

Costco Wholesale Corporation

Irvine, CA

Job Description · Packs member orders into boxes and transfers items to a separate cart for Cashiers. Performs clean-up, cart retrieval, merchandise restocking and runs for items as directed.