5 years ago · 4 min. reading time · visibility 0 ·
From Boxes to Bookcases: The Resurrection of a Library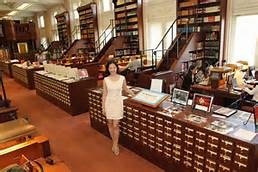 I don't read as much as I used to and,  looking back, it's probably a good thing.
Good or bad, my personal library is a snapshot of who I am and what I've become..
I read a lot during my formative years, which explains a lot.
In fact, I was scolded for jumping the gun on my first trip to the library in elementary school.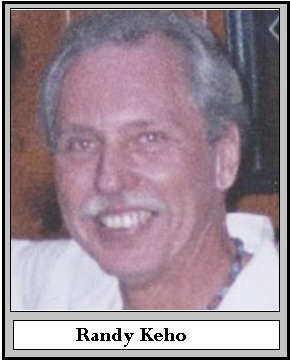 I grabbed a book off the shelf and began to read before the teacher gave us our formal introduction to the much hallowed depository. It was a book about Abraham Lincoln and the American Civil War.
Reading and writing came easy to me. Spelling -- not so much.
Like everyone, I have my favorite subjects and authors. 
They've changed over the years, but I've kept every book, creating a personal vault of knowledge.
Until last week, my library has been stored in boxes stacked in my parent's basement.
Due to two divorces and a few corporate transfers, moving them from place to place just wasn't in the cards.
As I approach the age of 60, I think it's safe to say I've moved for the last time.
Actually, I'm living in my parent's house.
I moved back a few years ago to take care of my aging father, who is suffering from dementia.
He's now 90-years old and in a local nursing home.
I lost my 86-year old mother a couple of months ago. She also suffered from dementia.
So, I decided to rummage through those boxes and return the books to where they rightfully belong -- in a bookcase.
It was an amazing trip down memory lane.
The subjects range from my first passion -- military history --  to Irish history and verse, to contemporary music, to mind expanding authors and their associated chemicals -- including alcohol.
My fathers experiences during World War II inspired me to trace his unit's path through Belgium and into Germany.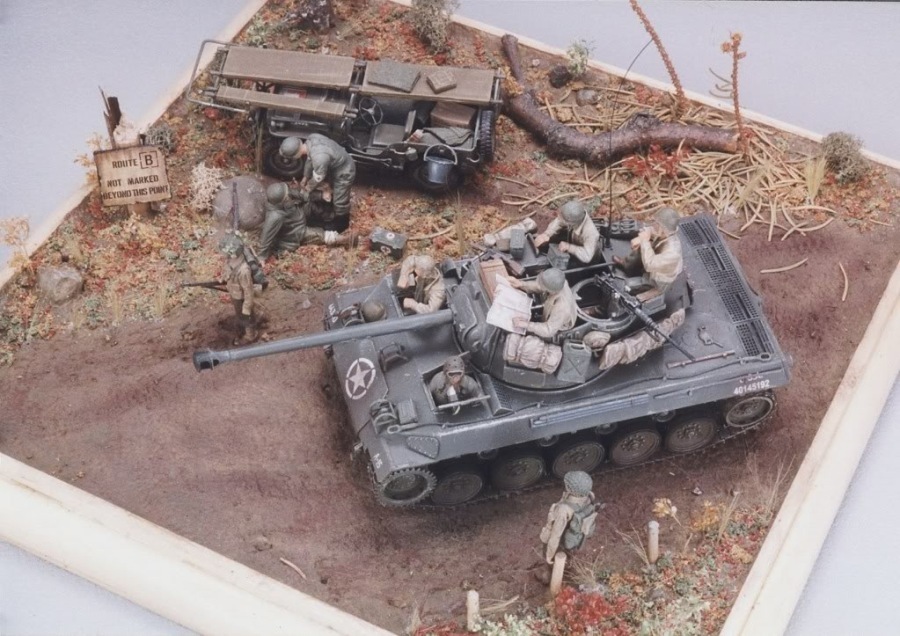 His tank destoyer unit was attached to Gen. George S. Patton's 4th Armored Division. However, he rarely spoke of it.
Until a few years ago, the related books were basically about mechanized warfare.
They include 
Steel Inferno: The 1st SS Panzer Corps in Normandy
by Michael Reynolds,
Panzer Commander: The Memoirs of Hans Von Luch
by Hans Von Luch,
Citizen Soldiers
by Stephen E. Ambrose, and
Another River, Another Town: A Teenage Tank Gunner Comes of Age in Combat -- 1945
by John P. Irwin.
Then, I stumbled upon
Patton's Best: An Informal History of the 4th Armored Division
 by Nat Frankel and Larry Smith.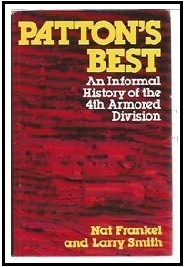 It provides nearly a day-by-day account of the unit's movements and battles from January of 1942 to June of 1945.
To think my father participated in one of the greatest achievements in military history makes me even prouder to be his son.
My mother's heritage was also an inspiration.
She was born and raised in Belfast, Northern Ireland, and immigrated to the United States in 1950.
As a result, I yearned to learn about Irish history and the many famous writers and storytellers who resided in the Emeral Isle.
While growing up, I read a number of newspaper clippings and newsletters sent to us from her youngest sister, who remained in Belfast.
There were often graphic images of the carnage resulting from the Irish Republican Army's war against the British.
The family home was smack dab in the middle of the area impacted by the "troubles."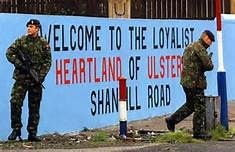 There were bonfires at the end of the street, which was constantly patrolled by the British Army.  It was the late 1960s.
My mother told me at a young age that, contrary to public opinion, the "troubles" were economic in nature and not religious. The Protestants were the haves, a product of British rule, and the Catholics were the have nots.
She said everyone in the neighborhood got along just fine, despite thier particular religious affiliations.
As a Protestant, she had many Catholic friends and vice versa.
Angela's Ashes
by Frank McCourt was her favorite book. It's a memoir written by McCourt, a naturalized American author,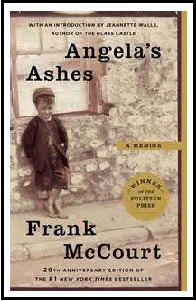 who was born and raised in Limerick, Ireland. It won the Pulitizer Prize for Biography or Autobiography in 1997.
In addition to McCourt's award-winning book, my library of Irish history consists of
Befast Diary: War as a Way of Life
by John Conroy,
The Man Who Made Ireland: The Life and Death of Michael Collins
and
The IRA: A History
 both by Tim Pat Coogan.
For Irish verse, it consists of
The Next Parish Over: A collection of Irish American Writing
edited by Patricia Monaghan,
Great Irish Short Stories
edited by Vivian Mercier,
Tales of Old Ireland
edited by Michael O'Mara,
44 Irish Short Stories
edited by Devin A. Garrity, and
Irish Fairy & Folk Tales
by William Butler Yeats.
Some of you may be familiar with Karen, my guardian angel. She knows me better than anyone.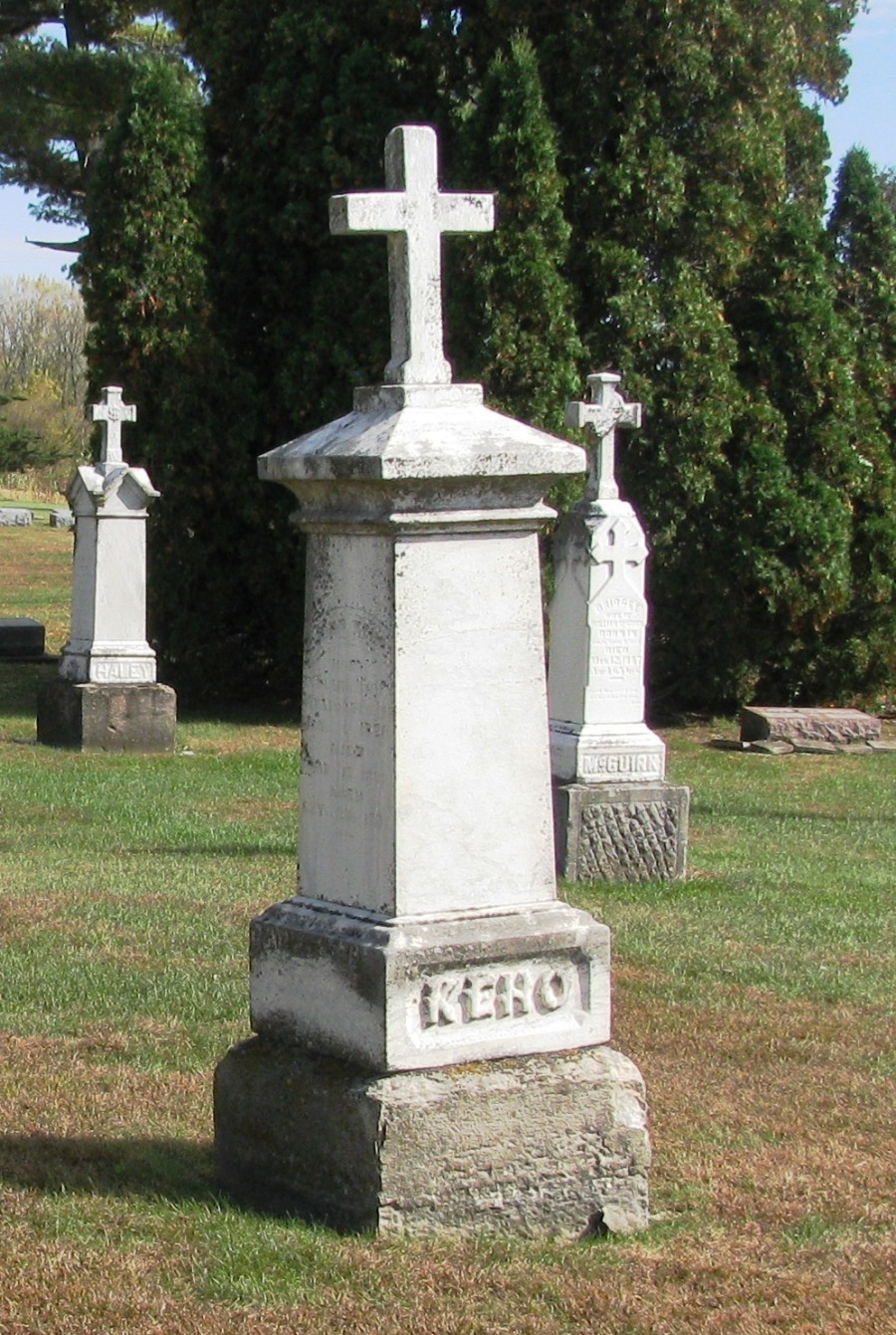 And, unlike me, she always knows what makes a great gift.
As a result, my library includes
Danny Boy: The Legend of the Beloved Irish Ballad
by Malachy McCourt, who just happens to be Frank's brother, and
Irish Local Names Explained
by P.W. Joyce.
With the help of Joyce's book, I was able to locate and learn about where my my father's ancestors most likely originated, which is County Wexford in the southeast of Ireland. The original spelling is Keough, which means "Resist Unto Blood."
The photo to the right is of my great, great grandfather's headstone located in the family's section of a nearby cemetery. He immigrated to the United States in the 1846 and served during the American Civil War.
By the way, my father's family is Catholic, adding credence to my mother's insight that the "troubles" are economic rather than religious.
A follow-up to this post will reveal the subjects and authors that consumed my interest and spurred my imagination as I came of age and pursued an advanced education. They could be considered Bohemian.
Here's that link to my diorama: 
https://www.bebee.com/producer/@randy-keho/dad-s-wild-ride-to-hellcat-and-back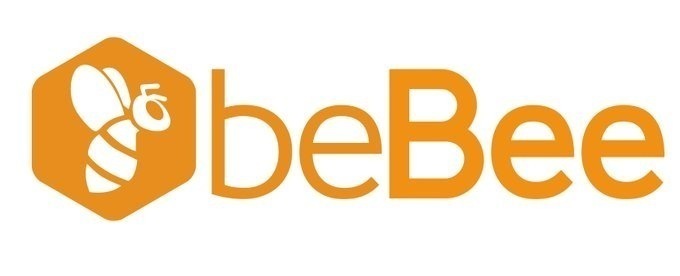 """"""""