CYBER NINJAS DECLARE TRUMP WON 100% OF ARIZONA VOTES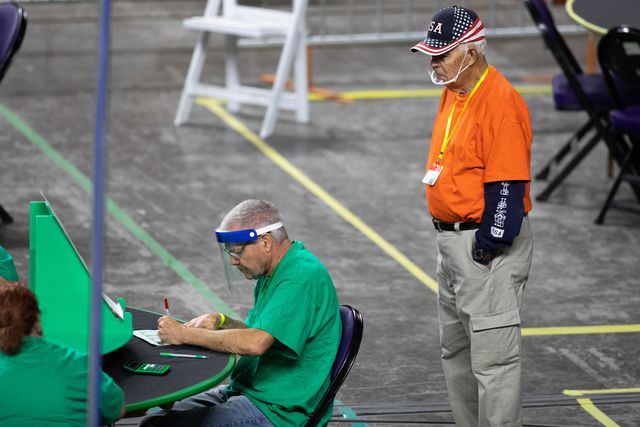 Since April 23, Cyber Ninjas have been hard at work to prove election fraud in Maricopa County, Arizona, and now the team of crack crackpots says they have their results: An unanimous victory for Republican Donald J. Trump.
"We went through a recount of all 2.1 million ballots," says 'Chubby' McGuire, Cyber Ninja #1, "and although it was a heck of a lot of work, it was worth it. After we disqualified the fake Biden ballots and re-allocated the voters' real intentions, we can confidently declare President Trump received 100% of the votes. It was a landslide victory, just like he said!"
McGuire is proud of the efforts of his group.
"The Cyber Ninjas did a bang-up job," McGuire reports. "I think every Arizonan and American can feel confident we got to the truth. If we saw a ballot marked for Biden, we knew something fishy was going on. So we proved it came from China, Italy, or outer space. These space aliens are very clever, and they don't want President Trump making America great again."
'Chubby' says the most challenging task was determining voter intent.
"Our people did find some ballots marked for Biden," McGuire tells The Lint Screen. "When we'd find one of these, we'd flag it. Then we'd take those ballots to Madam Claire, one of the most gifted psychics in Phoenix. She waved her hands over the ballots and declared the voters intended their votes be cast for Donald J. Trump. So naturally, we had to put those votes in his column. Thank God we have people like her to help us with the very scientific process we use in unearthing cheating in elections."
The stout election super sleuth says he wants to get disgraced twice-impeached ex-President Donald Trump back into office as soon as possible.
"Once we get Trump back," McGuire says, "I hope he shuts down all these silly elections. Otherwise, we'll run the risk of more incidents like January 6. Patriots aren't going to stand by and allow democracy and the will of certain people to disrupt this great country. We can't have people like Biden in office. I say Trump is emperor for life, and I have 2.1 million ballots that agree with me."
——————————————————————–
Read PD Scullin's debut novel "SAWDUST: Love is wilder than a circus," a humorous ride across America with a circus in the early '80s. This book has earned 100% 5-Star reviews on Amazon. Act now and save during pandemic pricing. You're a click away from a fun, unforgettable ride. Buckle up and go.
You may be interested in these jobs
Found in: beBee S2 US - 2 days ago

---

Tufts Medical Center, Nursing

Boston

Full time

Job Description · The professional registered nurse possesses and applies the skills and knowledge necessary for the delivery and management of patient care from admission through discharge. · The professional registered nurse is knowledgeable of current trends in healthcare incl ...

Found in: Jooble US - 54 minutes ago

---

Federal Reserve System

Dallas, TX

Company · Federal Reserve Bank of Dallas · A requirement of this position is that you must be fully vaccinated against COVID-19 or qualify for an accommodation from the Bank's vaccination policy; the Bank will provide accommodations as needed by law for individuals unable to be v ...

Found in: beBee S2 US - 4 days ago

---

Bunge

Red Oak

Regular, Full time

Summary: · The Lab Tech is assigned to night shift. The position is paid $19.57 per hour. Health and welfare benefits begin on date of hire, there is a perfect attendance award, and an annual bonus. · Essential Functions: · Conduct and analyze laboratory testing on processed flou ...