A pivotal COP28 ahead and why it matters
Canada's Minister of Environment and Climate Change, Steven Guilbeault, is currently traveling to participate in the 7th Ministerial on Climate Action on the road to COP28. He will be co-hosting the 7th Ministerial on Climate Action (MoCA7) alongside the European Union and China, on July 13 and 14, 2023, in Brussels, Belgium. Minister Guilbeault is expected to make a significant announcement regarding climate financing.
The Climate Conference of the Parties (COP) is the most prominent annual summit which is organized by the United Nations under the leadership of a rotating selected country. Last year it was organized by Egypt, and in the previous year by the United Kingdom. The conference has been held annually since the first United National climate agreement in 1992. This summit is used by governments and other key stakeholders to agree on policies to limit global temperature rises and adapt to impacts caused by climate change and variability.
One of the most important recent COP summits was the COP15 that was held in Paris in 2015 and which resulted in the Paris Climate Agreements. This is a legally binding agreement with the overarching goal to limit the increase in the global average temperature to below 2°C above pre-industrial levels and promote investment to limit the temperature increase to 1.5°C above pre-industrial levels. This general movement is now captured by a relatively new trend called Net-Zero.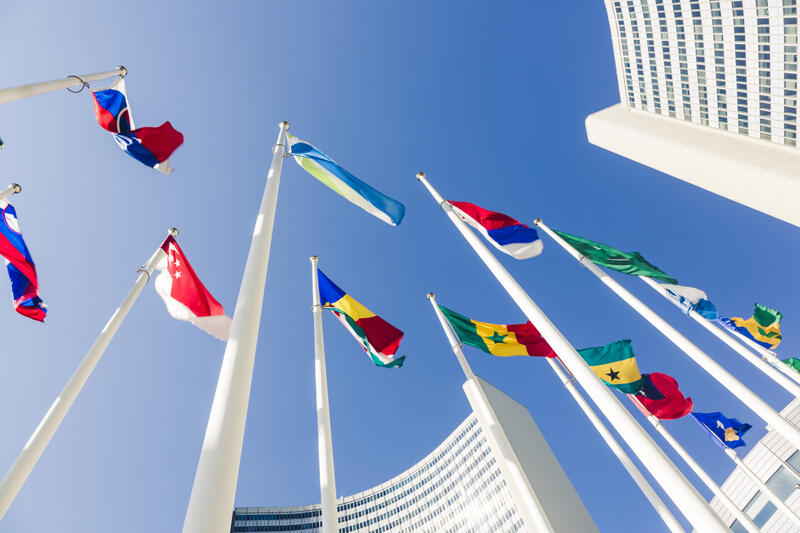 COP 28 will take place from November 30 until 12 December 12, 2023 in the United Arab Emirates (UAE). I was just in Abu Dhabi helping organize a panel for COP28. Interested prospective participants can consult the notifications to Parties and Observers page regularly for advance information.
Global decarbonization deliverables
Reaching net zero emissions means removing an equal amount of carbon dioxide (CO2) from the atmosphere as we release it. To decarbonize the global economy, and reach Net-Zero, we need to reduce the level at which the greenhouse gases going into the atmosphere are harmonized by their complete removal.
Based on the commitment of 2021, which was adopted in Glasgow, we should reach this level by 2050 if all countries deliver on their commitment. According to carbon research institutes, on the 1.5-degree Celsius target, the atmosphere can absorb (with a starting point at the beginning of 2020), no more than 400 gigatonnes (Gt) of CO2 if we are to stay below the 1.5°C threshold.
With emissions at a constant level, the existing "carbon budget" would be expected to be used up in less than eight years from now. Based on the reduction trends (which have also been impacted by COVID 19 economic and financial crisis), we will unlikely make the cut.  In financial terms, under the 1.5°C Net-Zero plans almost $30 trillion dollars will have to be invested by 2050 (UN and Davos Economic Forum). This corresponds to roughly four per cent of annual GDP (in 2021 money). While these investments are high, we should look at the investment opportunity at hand, not only the cost associated with climate mitigation.
Time for the UAE to showcase sustainability leadership
For the first time, an oil and gas producer will host the global climate summit. This is both powerful and controversial. The UAE is one of the world's biggest oil producers, and the President of the event this year will be Sultan Ahmed Al Jaber who is also the CEO of the Abu Dhabi National Oil Company (ADNOC). As oil and gas companies have resisted climate policy changes and lobbied to extend the lives of hydrocarbons, activist groups and global foundations are criticizing the UAE climate's role claiming they cannot set the right example to take decarbonization and climate adaptation seriously. While this is a valid criticism, Al-Jaber has taken the new role with aggressive ambitions and humility. He has argued that, "as it is the fossil fuel industry that must change most to stave off the climate crisis, an oil industry insider was best placed to make that change".
"Working with the UNFCCC Executive Secretary alongside the UN Climate Change High-Level Champion and the UAE Youth Climate Champion, I will strive to build consensus amongst parties to drive climate action. Together, we will prioritize efforts to accelerate emissions reductions through a pragmatic energy transition, reform land use, and transform food systems. We will work to mobilize solutions for vulnerable countries, operationalize loss and damage, and deliver the most inclusive Conference possible," writes Sultan Ahmed Al Jaber, President-Designate for COP28 UAE in his welcome message. (Image credit: COP28)
The objectives of COP28
Soon before the opening of COP28, the United Nations will publish the first two-year assessment of global progress to slow down climate change called the "global stock-take" The overview was established during COP26 in Glasgow and is scheduled to be repeated every five years. Everybody expects limited progress in terms of decarbonization progress, in spite of the bold commitments by most countries to reach Net-zero by 2050.
Having attended four COP summits over the last 20 years, I can report that these bureaucratic events will not produce breakthrough outcomes. However, we can anticipate the UAE to play a bold card, using its abundant capital, and energy leadership to ensure that this Summit is about investment and action, unlike the previous two COP events in Egypt and in the UK, which were mostly political shows. There is also clarity that the private sector and capital markets will play a larger role to promote green-growth, clean tech and decarbonization going forward.
What are the risks if decarbonization does not succeed?
Crossing the 1.5°C threshold risks unleashing more severe climate change impacts, including more frequent and severe droughts, floods, heatwaves and wild fires. The price-tag to reach Net-Zero is clearly significant, however the cost of unmanaged and unpredictable climate change (based on business as usual) would be much higher as climate events are projected to affect about 20 per cent of global GDP by 2040. In the U.S. alone, according to the White House, natural hazards could cost the U.S. federal budget about $2 trillion per year, a 7.1% loss in annual revenue by the end of the century.
 
So, there is ample pressure on and scrutiny of UAE and Al Jaber to prove that this COP is for the planet and not their existing energy leadership. The UAE has the opportunity to show the oil sector leadership to accelerate the transition to green growth, but the window is closing fast. They need to show ambition in ending the fossil fuel era and ramping up the era of renewables and green growth. They are strategically placed to do so, but the world needs to understand their vision and their ability to deliver it on it.
The UAE leadership should focus on showing the world that we are sitting in one of the biggest business opportunities of our generation, as some estimates point to at least $12 trillion of annual sales by 2030 across transport, power, and blue/green hydrogen. If the UAE can de-politicize the summit for the climate and keep the focus on turbocharging decarbonization investments, we all win, including the environment.
Entrepreneurship
You may be interested in these jobs
---

Marvel Medical Staffing

Vacaville, United States

Marvel Medical Staffing is seeking an experienced Physical Therapist for an exciting Travel Allied job in Vacaville, CA · Shift: · Inquire Start Date: 02/26/2024 Duration: 13 weeks Pay: $1971.2 / Week ...

---

Markel Corporation

Red Bank, NJ, United States

What part will you play? If you're looking for a place where you can make a meaningful difference, you've found it. · The work we do at Markel gives people the confidence to move forward and seize opp ...

---

H&R Block, Inc.

Dearborn, United States

What you'll bring to the team... · Experience in accounting, finance, bookkeeping or tax · Experience completing individual returns · Experience working in a fast-paced environment · Comfort working w ...