4 years ago · 4 min. reading time · visibility 0 ·
3 Tips To Using Competition Effectively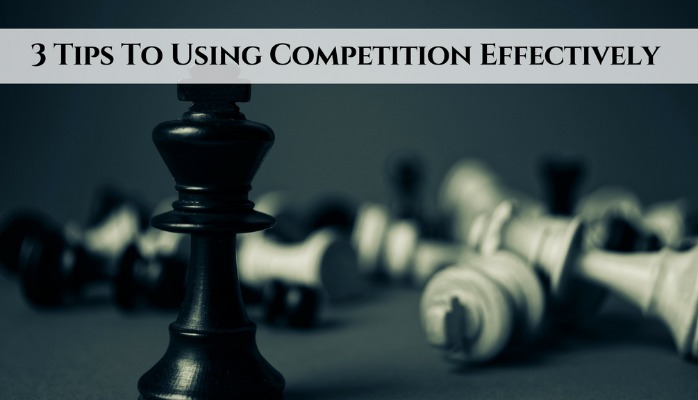 So if you're like most people, you probably look at your competition as the enemy. Don't feel bad because 99% of people do. But is this true? Can your competition be used to your benefit, even get you leads, and earn you money?
Think of problems as an absolute diamond mine. The world's biggest problems are the world's biggest market opportunities. Solve a really big one, and you can help millions of people and become a millionaire in the process. The best part is you can do this effortlessly! So how do you do that? Who do you get to help you? Your competitors can be your biggest help; they are right there in the competition for success with you. However, many look at problems as if they shouldn't have them, and they look at their competition as if "I wish I was them. Two sure fire ways to make sure you do have the success you desire as an entrepreneur, keep your Dream."
As an entrepreneur, comparing yourself to others is almost natural. How can we not compare ourselves to our peers? We have been conditioned to do that all our lives. We see all the success around us and it looks like the success just happened over night. However, we neglect to see all the books, webinars, events, mentors, and obstacles that others face during that journey to success. Just like an Olympic athlete, competition can be one of the healthiest things for your business when used correctly. Yet, "When your eyes are on the competition during the competition, your eyes are completely off the finish line". A great example is star Olympic athlete Chad Le Clos was ahead of Michael Phelps during the 200-meter butterfly final at the Olympic Games in Rio. But, because his focus left the finish line and was only on his competion during the last part of the race, Phelps took home the Gold medal.
When I started blogging online, a guy named David was the first person I looked up to as someone doing it "right". After following his audios for some time, I saw my business grow and my marketing got better and better. However, after some time, when it came to starting new things in my business such as using social media to market myself, I found myself COMPARING myself to him. David and his content has been around for almost 10 years. For months this kept me from taking the action I needed to daily to get my blog up to speed. If you look book at my blog, you'll notice time missing from not writing articles. My blog had to be perfect. It had to be as good or better than David's. Comparing my blog to his put me in a rut. A place where no entrepreneur can find success.
I one day remembered a quote, from the a child's movie "Kung Fu Panda". Yet, it still had meaning for me. "But no matter what you do, that seed will grow to be a peach tree. You may wish for an apple or an orange, but you will get a peach." – Master Oogway. I was trying to be the best that David could be, instead of the best I could be. I am not David. It is not very often, I get wisdom from a children's movie.
Let me share 3 ways to help you compete against the best in your industry/niche while also helping you stay 100% focused and out of the viscous comparison cycle.
Reflect on your growth daily. Write down each day the good things you've done to get better and better. Imagine going to sleep every night ONLY thinking of the things you did NOT accomplish. Over time, this would create a sense of worry and it would greatly take away from ANY sense of accomplishment. However, imagine if you finish your day, don't hit all your goals but truly reflect, giving time and thought to all the positive things you did well, no matter how small. Now, you'd feel productive, and have a sense of accomplishment, and over time you'll realize each day you've gotten better and better. As an entrepreneur, our job is to complete OUR marathon. It is our Marathon, Not the race of our competitors.
Create/Write/Read your life/business vision daily. This is a detailed vision of your ideal life and business, a "perfect day" if you will. I like to keep mine next to my computer. This is because I use it everyday. Now, describe your absolute perfect day on paper. Each morning and afternoon, read it out loud with the conviction that it is already happened in your life/business. This will keep your eyes on YOUR goals each day. Not your competitions. The competitions' finish line is NOT always yours, every if your in the same business. Instead of you pushing to achieve your goals, your goals are pulling you. So imagine, before you were pushing a cart with your goals to a finish line. Now, the cart has a rope and if self propelled and is pulling you along to it. The hard work is holding on to the rope, or your dream and goals and keeping up with the momentum.
Train daily. Train with purpose. In every profession, the people that practice getting better each day are typically the individuals at the top of their field. Training daily in your niche will greatly increase your competence. I, for example, listen to daily training audios, and inspirations CD's from other leaders. These are probably the most important part of my day. As your knowledge increases, so will your confidence. As you become more confident in a particular area, you will naturally start to keep your eyes off of your competition because your only TRUE competition is yourself. You will rarely feel the need to look towards your competition for knowledge in that particular area because you are confident and competent in that area. Add a specific type of training to your schedule everyday. At least 30 minutes committed to getting better and better. Schedule this training around the same time daily so there are no continues interruptions of your very important training time. Like I said, above, I wanted to use social media sites to go viral. David told me, only use one or two at a time. The reason is you want to train and master one site at a time. Otherwise, you will dilute your effort and time over all of them.
Use these 3 tips daily to increase your skill sets continuously throughout building your business. Keep your eyes and focus on your goals. Yet, NEVER allow your Goal become Idolatry. Anything that takes the place of God in your life is idolatry and never quenches our spiritual thirst.
"