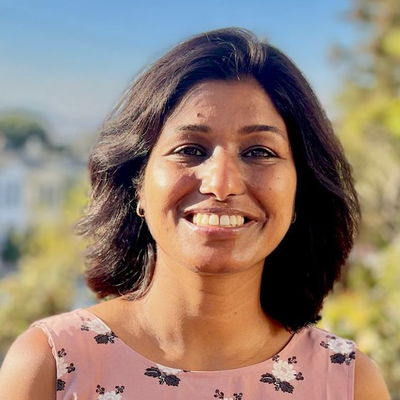 About Sangeetha Kandoi:
Sangeetha Kandoi, PhD, 
I'm an accomplished, highly motivated, dedicated, and an experienced scientist with strong background in stem cell biology, disease modeling and precision medicine development. My passion in stem cell biology inspired me to pursue my PhD and postdoctoral research to explore avenues of regenerative medicine by utilizing stem cells and organoid tools.
Experience
Expertise in stem cell biology, regenerative medicine and cell therapy approach led me to my current position, as Postdoc to lead various projects at the University of California San Francisco. I develop proof of concepts, validated the model systems, developed proper tools for identification and establishment of in vitro human model platforms for studying neurodegenerative diseases. This position requires the solid experimental and managerial skills and technical capabilities which I have acquired extensively during my academic and industrial training. My knowledge and expertise enhance my capability in regenerative medicine and drug discovery. These skills along with my innovational, problem-solving, and collaborative spirit are a perfect fit for the position. During my years at UCSF, I have developed two independent projects focused on developing human model systems for two different inherited retinal degenerations including Retinitis Pigmentosa and Cone Rod dystrophy. I elucidated the mechanism of novel cause of Retinitis Pigmentosa using patient-specific retinal organoids and further discovered a small molecule drug which could potentially alleviate the cause of blindness in patients. This work was published in the prestigious eLife journal and garnered me with various travel awards to present at the national and international meetings multiple times. During my post-doctoral fellowship at UCSF, I have received numerous travel awards, two postdoctoral fellowships, 2023 Emerging vision scientist award by National Alliance for Eye and Vision research (NAEVR) and a prestigious People's choice winner award for my research. Currently at UCSF, I have been involved in at least four different projects, all of which could potentially fuel the development of therapies to combat the vision loss.
Education
Over the past 15+ years of my research experience, I gathered expertise in stem cell biology, molecular biology, by establishing human model system to study and develop therapies for inherited retinal degenerations (IRD). Some of the strong skill sets include reprogramming patient-specific iPSC line from IRD patients, retinal organoid differentiation, small molecule drug testing,  validating cell therapies, confocal and fluorescent microscopy (high content imaging), ImageJ, Fiji, ELISA, developing transgenic iPSC lines, immunohistochemistry, Graphpad PRISM, western blot, RNA and DNA isolation, critical judgment and strategic thinking, inclusive and collaborative skills.
Professionals in the same Scientific sector as Sangeetha Kandoi
Professionals from different sectors near San Francisco, San Francisco County
Other users who are called Sangeetha
Jobs near San Francisco, San Francisco County
---

Spring Fertility

San Francisco, United States

Who is Spring Fertility? · We're a passionate, dedicated team of leading physicians and scientists who came from some of the best research hospitals and fertility centers around the world to become t ...

---

Capital One

SAN FRANCISCO, United States

NYC 299 Park Avenue (22957), United States of America, New York, New YorkSr. Director, Technical Program Manager - Generative AI SystemsAre you interested in leading programs that deliver on critical ...

---

Carter's

West Valley City, United States

Part time

Sales Associate - 24H150 · QUESTIONNAIRE-3-52 · 1171 · Employee Type: · RegularIf you are a CURRENT Carter's employee, you MUST apply through the Internal Career Link within the My Career & Performanc ...