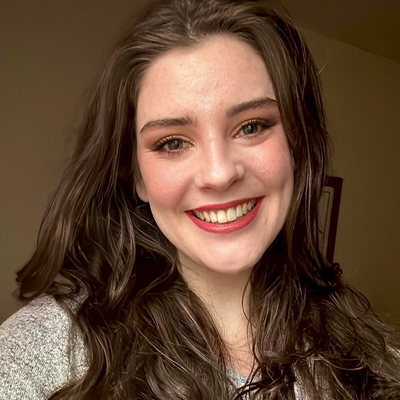 About Mary Rose Stelzer-Weise:
I graduated Summa Cum Laude in May 2021 from Eastern Kentucky University with a degree in Communication Studies and a minor in Public Relations. During college I served as a Public Relations officer and then President for EKU Dance Theatre. There I found my passion for marketing. I loved the research and planning, networking and meeting a variety of people, and learning what ideas and strategies related to people. I discovered that marketing was storytelling, and I was eager to dive into the next chapter.
In the fall of 2021, I began working at Bluegrass Youth Ballet (BYB), a non-profit dance studio in Lexington, KY, as a children's ballet teacher. I quickly became heavily involved in the studio's social media and marketing, and was promoted to Social Media and Marketing Director in July of 2022.
My social media goals were to grow the reach and following of BYB's Instagram and Facebook pages. I began posting consistently, increased the number of posts per week, targeted content to the primary audiences of each platform, encouraged audience engagement in content, and implemented reels to increase reach. With this social media strategy, I raised the Instagram page reach by 376.8%, Facebook page visits by 162.7%, and Instagram followers by 957.1%. 
Additionally, I had an active role in advertising, marketing material creation, and engaging with media outlets for BYB events. I prepared our social media advertising plans and created graphics. I furthermore served as a liaison between news media and BYB's Artistic Director, scheduling interviews and sending press releases. For our last production of The Nutcracker, we exceeded our attendance goal by 25%, and outsold our projected numbers for our Sugar Plum Fairy Tea Party event by 50%.
My role with BYB was not limited to outreach. I worked with a team to maintain internal communication at BYB by sending information to members, updating the website, and creating materials to distribute throughout the studio.
I am ready to tell more stories. I would love the opportunity to collaborate with other professionals, leveraging my experience, education, and passion to create fun and innovative strategies for marketing plans. I am excited by challenges and love taking the unique needs of diverse clients to create a plan personalized for their brand and audiences. 
Experience
Bluegrass Youth Ballet, Lexington, KY— Social Media and Marketing Director, Dance Teacher, and Receptionist
October 2021 - May 2023
Led content creation for posts and videos on Facebook and Instagram.
Assisted in updating and maintaining the company website.
Researched, identified, and communicated with potential advertisers.
Composed press releases and communicated with media outlets.
Assisted in event planning and execution for shows and fundraising.
Assisted in sponsorship procurement and grant writing  to gain funding.
Created and sent mass marketing emails to selected audiences with Mailchimp.
Organized events and appearances for production promotion. 
Demonstrated excellent communication skills while serving as liaison between parents, students, faculty, and staff.
Created visually appealing posters to reinforce class goals and advertise studio events.
Appalachian Shakespeare Center at EKU, Richmond, KY — Communications Intern
May 2021 - July 2021
Created social media posts on Instagram, Facebook, and Twitter to promote App Shakes' summer camp and summer production.
Distributed flyers across town to advertise production.
Gathered biographies from performers and assembled the program.
Noel Studio at Eastern Kentucky University, Richmond, KY — Academic Consultant
August 2019 - May 2021
Peer-to-peer consultations for writing, research, speaking, and multimodal communication projects.
Developed consultation guides for Studio staff.
Education
Eastern Kentucky University, Richmond, KY— BA in Communication Studies, Minor in Public Relations
August 2017 - May 2021
Summa Cum Laude
Professionals in the same Marketing / Advertising / Public Relations sector as Mary Rose Stelzer-Weise
Professionals from different sectors near Louisville, Jefferson
Other users who are called Mary Rose
Jobs near Louisville, Jefferson
---

Mosaic

Lewis, United States

Are you looking for a meaningful work opportunity in your home? Become a Host Home / Shared Living provider with Mosaic at Home and work with an industry leader Income opportunity ranges from $1,450 t ...

---

SAS Retail Services

Helena, United States

Hey detail-oriented person We handle product movement at retail. We display it, we move it, we track it; making sure stores and their product suppliers have the best opportunities for optimal sales. W ...

---

United States Postal Service

Helena, United States

NO EXPERIENCE REQUIRED PAID TRAINING PROVIDED JOB SECURITYThe Postal Service is the largest government related agency in terms of employees. · The Postal Service currently employs nearly 1 million peo ...